Biden's New Student Loan Forgiveness Program Announced — Who Qualifies?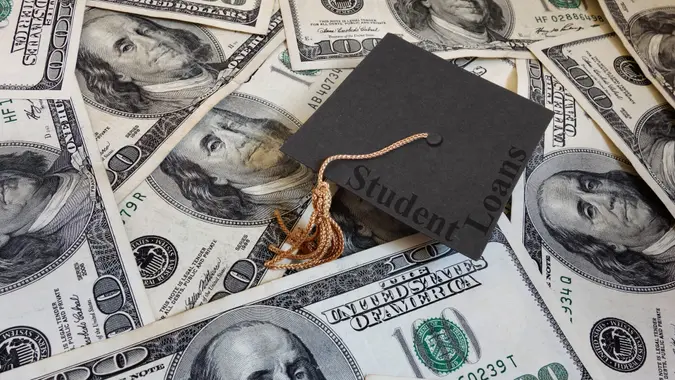 zimmytws / iStock.com
President Joe Biden is determined to provide debt forgiveness to federal student loan borrowers, despite more than a year of having his plans challenged and shot down in the courts. The administration's most recent attempt, unveiled last week, involves using the 1965 Higher Education Act (HEA) to cancel debt for groups of borrowers who fall into five categories.
In a Sept. 29 press release, the U.S. Department of Education cited a debt relief issue paper laying out an initial set of policy considerations to "create a path to debt relief for student loan borrowers in need." The issue paper will be discussed at the first meeting of the Student Loan Relief Committee, scheduled for Oct. 10 and 11.
The new strategy comes months after the U.S. Supreme Court struck down an ambitious earlier White House plan that would have provided up to $20,000 in loan forgiveness per borrower. That plan, unveiled in August 2022, was killed this past June.
Since then, the Biden administration has worked on a series of alternative forgiveness plans to ease the debt burden of millions of students.
"The Biden-Harris Administration has taken unprecedented action to fix the broken student loan system and deliver record amounts of student debt relief," Secretary of Education Miguel Cardona said in a statement. "Now, we are diligently moving through the regulatory process to advance debt relief for even more borrowers. … We're committed to standing up for borrowers and making sure that student debt does not stop anyone from climbing the economic ladder and pursuing the American dream."
This latest loan forgiveness attempt, which focuses on negotiated rulemaking under the HEA, could potentially provide debt forgiveness to these five groups, according to U.S. News & World Report:
Borrowers whose balances are greater than what they originally borrowed
Borrowers whose loans first entered repayment decades ago
Borrowers who attended education programs that didn't provide "sufficient financial value"
Borrowers who are eligible for relief under programs such as income-driven repayment but have not applied
Borrowers who have experienced financial hardship and need support but whom the current student loan system "does not adequately address"
The issue paper, published on the Education Department website, also addressed federal regulations that might allow an agency to "compromise a debt" if the government can't collect the full amount. Reasons include the following:
The debtor is unable to pay the full amount in a reasonable time, based on financial information
The government is unable to collect the debt in full within a reasonable time by enforced collection proceedings
The cost of collecting the debt doesn't justify the enforced collection of the full amount
There is "significant doubt" concerning the government's ability to prove its case in court
Borrowers hoping for quick debt relief from the latest Biden administration effort might be disappointed, however. As U.S. News reported, it will likely be a "lengthy process" that involves a panel of negotiators meeting over several months to try and reach a consensus.
More From GOBankingRates