Student Loan Forgiveness Backfires: The $35,000 Debt Problem Plaguing Borrowers as Payments Resume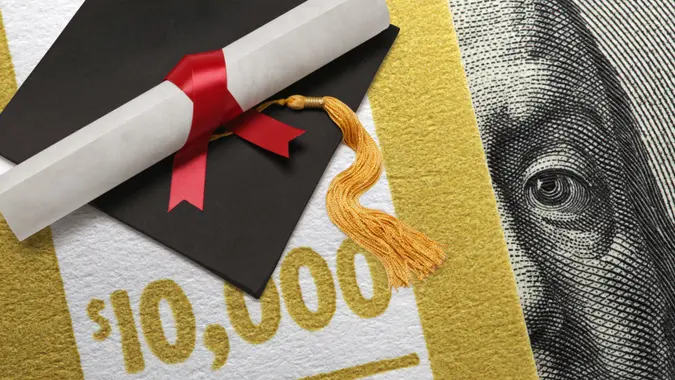 DNY59 / Getty Images/iStockphoto
In a 6-3 June 30 decision, the Supreme Court struck down President Joe Biden's student loan forgiveness program. And now, as the payment pause end is on the horizon, loan interest will resume on Sept. 1, 2023. The change will put a dent in millions of Americans' budgets.
Making the issue even more burdensome for these borrowers is that many of them have accumulated additional debt during the payment pause, according to a new TransUnion study: "Implications of the End of Pandemic Era Student Loan Forbearance."
The study notes that there are 26.8 million consumers with federal student loan debt totaling $1.1 trillion, who are expected to be faced with a resumption of payments for the first time since the beginning of pandemic-related payment moratorium, or for the first time ever if they were not in repayment prior to the moratorium.
And, to put this in context, TransUnion reports that the average consumer with a student loan already carries $35,000 in debt.
In turn, consumers are expected to experience "payment shocks," as 50% of them are expected to have a payment of more than $200 a month, while about one in five will see payments of more than $500.
Liz Pagel, senior vice president and head of TransUnion's consumer lending business, said that these findings are not surprising. She added that payment amounts will vary, but many of these consumers have taken on additional debt since the last time they had to pay their student loans.
These additional credit products mean additional monthly payments, Pagel added, and given the current high interest environment we are in, the monthly payments on any floating rate debt will also be higher.
Indeed, the study found that these new credit products added since the payment pause include bank card debt (53%), auto loans (36%), retail card debt (31%), mortgages (15%) and unsecured personal loans (15%).
"Having to make these additional payments, and having interest beginning to accrue again will require that consumers allocate funds to begin making these payments," said Pagel. "Even though delinquencies will not be reported for another year, savvy consumers will begin making these payments if they can, because interest has restarted."
As part of a slew of measures the Biden administration announced hours after the Supreme Court's rebuke of the program, it said it was instituting a 12-month "on-ramp" to repayment.
This will run from Oct.1, 2023, to Sept. 30, 2024, "so that financially vulnerable borrowers who miss monthly payments during this period are not considered delinquent, reported to credit bureaus, placed in default, or referred to debt collection agencies," according to the administration. 
As TransUnion noted, while this will enable delinquencies do not have an impact on consumer credit files, interest will begin to accrue immediately, so it is in the best interest of consumers to resume payments right away.
"And once delinquencies begin being reported, we will see immediate impact to scores for consumers who go delinquent after that ends," said Pagel.
More From GOBankingRates