Thinking About Retiring? Here's Why Your Company May Pay You To Stay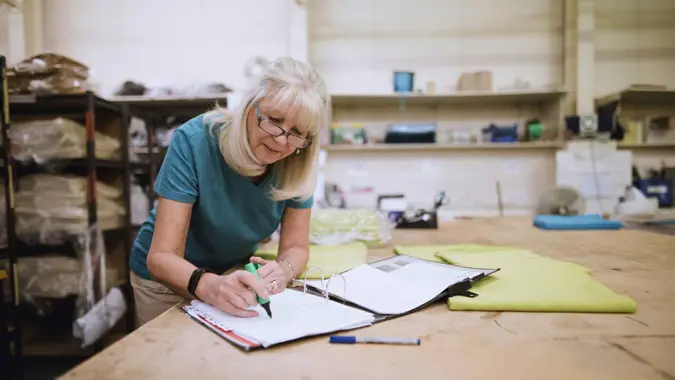 DGLimages / Getty Images
The notion of retiring in your 60s seems to be the norm. But with people living longer and the costs of just about everything continuing to rise, it might be both necessary and worthwhile to keep working in your senior years.
Forbes explained that millions of baby boomers are still retiring since the first wave in 2008 — and even some Gen Xers are starting to retire, too. The result? Fewer working-age people are contributing to the economy. Coupled with a declining workforce participation rate and record-low fertility in a majority of countries, there's going to be a labor market reckoning.
To further this point, the World Health Organization (WHO) reported that the proportion of the world's population over 60 will nearly double, from 12% to 22%, between 2015 to 2050. This will ultimately mean fewer working adults.
To avoid a shrinking, experienced talent pool, employers are taking more measures to make sure you don't quit.
Employers Are Taking Action To Keep Workers For Longer
Wellness Offerings: Mental and physical health is of paramount importance for baby boomers and Gen Xers. Programs that help participants maintain a healthy weight, manage disease, and enhance mental health are being added to wellness offerings for aging workers. For example, it's reported that some companies are adding policies to make the workplace "menopause friendly" in support of older female employees, per Forbes. Employers benefit from engagement, higher productivity and job satisfaction, which are all increased by helping workers achieve a healthy lifestyle as they get older.
Are You Retirement Ready?
Flexible Arrangements: Many older workers indicate that they want flexibility because they care for grandchildren and aging parents. One great example is the technology company Cisco, which offers paid grandparent leave to employees. People want more control over the amount of responsibility their job requires and when they can take sabbaticals, even among non-caregivers. Further accommodations such as more unpaid time off, flexible hours, and job freedom are sought after by this generation of workers.
Financial Security: CNBC highlighted that 56% of Americans aren't financially on track to comfortably retire. For those 55 and over, it's a serious concern since this age group is much closer to leaving the labor market than their younger counterparts. A few ways in which companies are helping to allay such fears are by offering resources such as planning tools, financial literacy courses and budgeting advice. Further, encouraging health savings for future medical expenses also ensures a more stable future. Guiding workers on post-retirement part-time employment that can add to retirement funds is an added plus for employers who may be looking to retain existing talent in some form, even on a contract or part-time basis.
As the world's population continues to grow and the pool of baby boomers and Gen Xers expands, it's in employers' best interest to continue finding ways to retain and attract older talent through incentives that go beyond just cash compensation. As the average life span continues to increase and more workers reach retirement age, encouraging workers to stay on the job longer will be key to avoiding a worldwide talent scarcity and labor shortage in the years to come.
More From GOBankingRates
Are You Retirement Ready?