7 Ways AI and ChatGPT Can Help You Retire Abroad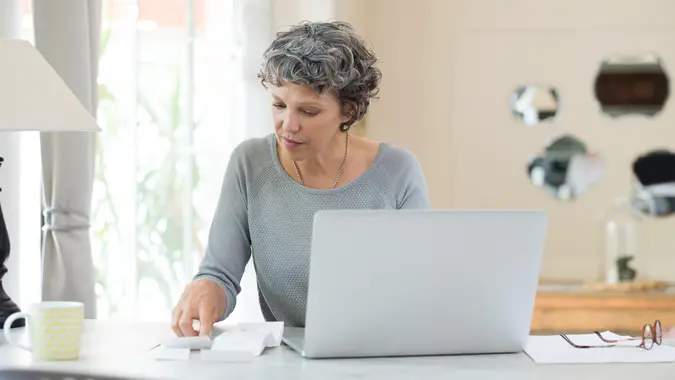 Ridofranz / Getty Images/iStockphoto
The rapid rise of artificial intelligence has been helping people in numerous and various ways, despite the technology's relatively nascent stages. The interest it has sparked and the new uses it can be applied to spans sectors, industries and is found across generations.
So why not use it to help you retire abroad?
"AI and ChatGPT are not just transforming the way we work, but also how we plan for the future," said Casey Jones, founder and head of marketing and finance at CJ&CO. "AI and ChatGPT are powerful tools that can significantly enhance the quality of life for retirees, especially those living abroad. They can provide personalized, efficient, and effective solutions to various challenges that retirees face, from selecting a retirement destination to managing health and investments."
From selecting a low-cost destination that suits your lifestyle and financial needs to providing personalized recommendations, here are a few ways experts say AI and ChatGPT can help you achieve your dream to retire overseas.
Picking a Low-Cost Destination
AI large language models (LLMs) such as ChatGPT could be a valuable tool in helping retirees pick a low-cost destination, said Paul Wood, FRSA, chief technology officer of COG.
"For example, it could take data about cost of living, healthcare quality, climate, and other factors important to retirees, and suggest destinations that fit a retiree's specific needs and budget," Wood said.
And already, travel sites such as Expedia, have launched ChatGPT plug-ins recently so users can get recommendations on places to go, where to stay, how to get around and what to see and do based on the chat, according to a press release.
Are You Retirement Ready?
"A traveler can start a conversation directly on the ChatGPT site and select the Expedia plugin to bring a trip to life. When they're ready to book, they go straight to Expedia," according to the release.
KAYAK made a similar move, saying that its ChatGPT plug-in "will act as a virtual travel assistant, allowing for more conversational interactions with KAYAK's search engine. Users can head to ChatGPT and ask it questions in the same way they would ask a human," according to a blog post written by none other than ChatGPT.
Finding the Right Property
If you're looking for a retirement home abroad, AI tools can scour listings and provide recommendations based on your budget and preferences, explained Josh Richner, marketing director at National Legal Center.
Learning Language and Translating
For retirees planning to settle in a foreign country, language can be a significant barrier, and AI-powered language learning tools can help them learn the local language more effectively, Jones said.
"ChatGPT, with its ability to understand and generate human-like text, can serve as an interactive language tutor, providing instant feedback and personalized lessons," Jones said. "Moreover, AI can also provide real-time translation services, making it easier for retirees to communicate in their new home."
Lifestyle Planning
As Wood explained, AI can also help retirees plan their lifestyle in retirement, which can include suggesting activities based on their interests, recommending communities or clubs to join, and even helping them learn new skills or hobbies.
Are You Retirement Ready?
"With recent advances in AI that allow large language models to browse the web, AI could also help retirees stay up-to-date with new activities available in their area that the retiree may be interested in," Wood said.
Helping With Visas
As Richner explained, AI tools can help you apply for visas by assisting with the paperwork, and making sure everything is filled out correctly and sent in on time.
"It could even suggest countries where your visa application might be more successful than others, based on factors like age, employment history or other data points that it has processed," Richner said.
For example, Visto.ai is an immigration platform that makes Canadian immigration easier and uses technologies including open-AI platform Chat GPT.
"If someone decides to work with an immigration firm that uses Visto, they benefit from our automation and AI too – a custom platform that walks them through the steps of uploading the right documents, AI that assists with drafting documents (that might otherwise take hours), automated updates on the progress of your file, e-signatures and more," said Visto.ai CEO and immigration lawyer Josh Schachnow.
"No more emailing or calling back and forth with your immigration professional the old fashioned way, and we're happy to be saving everyone – people who want to come to Canada and the professionals they work with – a ton of time to make the immigration experience that much simpler," he added.
Are You Retirement Ready?
Simplifying Banking Abroad
Some AI tools can make banking and investing easier and more efficient across time zones — qualities that can help retirees living overseas.
As Investors.com reported, Vanguard recently launched an AI-powered chatbot for customers to ask questions or request transactions.
"It allows us to communicate quickly and efficiently with participants at scale," said Amber Brestowski, head of institutional investor advice and client experience at Vanguard told Investors.com. 
And JPMorgan is about to roll out a chatbot called IndexGPT, which among other things, would be "analyzing and selecting securities tailored to customer needs," according to the application filed on May 11 with the United States Patent and Trademark Office.
Yet, experts also stress the fact that the technology is just emerging and recommend that, "at least at this stage, that any AI output is supervised by a professional in the relevant field."
"A human can provide context and personal understanding," Wood said.
The sentiment was echoed by Phil Siegel, founder of CAPTRS, who said that when it comes to retirement tools, those are at the point where expert financial planners can use them productively but are not yet ready for retirees to use them directly in a "safe" manner.
"Maybe in 2024 that will change but I would let those tools develop before using them directly yourself. For those who use high service brokerage firms they will probably do a good job of helping retirees along by vetting tools first. Follow their lead," he added.
Retirement Planning
Sastry Durvasula, chief information and client services officer with TIAA, said that AI, machine learning and particularly generative AI and LLMs have game-changing potential in the retirement space and can help when retiring abroad.
Are You Retirement Ready?
For example, Durvasula said that AI-powered systems can analyze financial transactions, detect patterns and identify potentially fraudulent activities.
"This helps protect retirees from falling victim to financial scams or potential fraud, which can be prevalent in some locations," Durvasula said.
Another aspect is regulatory compliance, as when retiring abroad, individuals need to navigate various regulatory frameworks and compliance requirements.
"AI solutions can assist in monitoring and ensuring compliance with local and international financial regulations. This helps retirees avoid legal complications, potential penalties, and safeguard their financial well-being," Durvasula said.
There are also several personal finance apps accessible, which can make retirement from overseas easier.
For example, the Eyeballs app, an AI-powered investment management app, can help retirees stay connected to their advisor from a distance, said Mitchell Morrison, founder at Eyeballs Financial.
"The app can help those overseas with automatic communication and instant access to their investment accounts," Morrison said. "They will have their questions about financial statements answered immediately, without waiting for a regular call with them. This will help a lot with time zones too."
More From GOBankingRates