Why Do Some Americans Over 60 Say 'Never' to Retiring?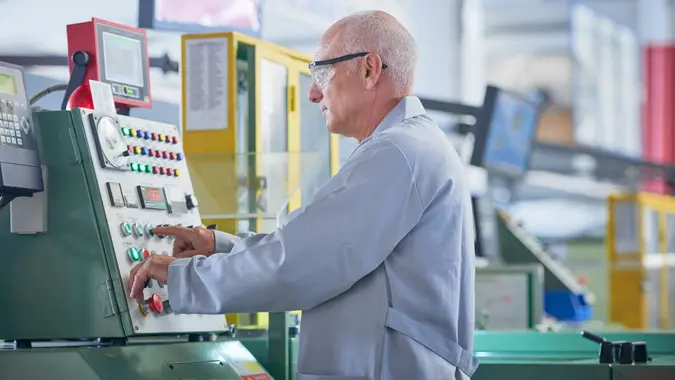 stockvisual / iStock.com
Saving for retirement is one of the biggest financial hurdles Americans face, with millions unprepared. But must one go quietly into the gentle night of retirement and (likely) live on a fixed income that isn't up to their working life standards? Or is there another way to go about one's golden years? 
Some Americans are embracing the #NeverRetire movement, which is exactly what it sounds like. It means never retiring. It's an intense approach — one that doesn't exactly celebrate relaxation. But not only is the trend in motion; it's already somewhat here. There's even evidence that the #NeverRetire movement is already happening amongst boomers. 
"Many baby boomer business owners have chosen to continue working in their companies long past retirement age," said Laurie Barkman, business transition expert and adjunct professor of entrepreneurship at Carnegie Mellon University's Tepper School of Business. "Over the past 10 years, the mergers and acquisitions community has anticipated an acceleration of companies selling to the next generation.
"According to data from Wilmington Trust, baby boomers own 2.3 million businesses in the U.S.; however, the predicted tsunami of baby boomer business sales has not materialized around the country as expected, despite the large numbers." 
Even more interesting is the fact that #NeverRetire is gaining steam to the point where it has another, even catchier name. 
"So many of my clients do not want to retire that I had to come up with a new term, FILE (Financial Independence, Live Early) as opposed to FIRE (Financial Independence, Retire Early)," said Jay Zigmont, Ph.D., CFP, founder of Childfree Wealth. "If FIRE or retirement is an on/off switch, FILE is more of a dimmer switch of doing the right work at the right time at the right amount. The key is to find work you enjoy doing, and then retirement is less of a goal, if it is a goal at all."
Are You Retirement Ready?
But are there perks to staying in your career (or a profession of some kind) forever and ever? Turns out there are. 
Seeing This as a Positive Trend 
The #NeverRetire movement may actually be perceived as a positive trend that represents longevity and continuous prosperity both for oneself and the economy. 
"The positive trend is [that] people living longer and healthier lives provides a societal and economic good," Barkman said. "It enables business owners to delay difficult decisions even longer."
Prolonged Income 
The most resounding benefit of never retiring is the lasting income. This helps in a few ways. 
"Financially, working into later years helps to offset any draw against savings and investments," said James J. Ciprich, MBA, CFP, partner and wealth advisor at CI RegentAtlantic. "This will help to hedge longevity risk, which is beneficial as more people are now living into their nineties and beyond." 
Ongoing Benefits 
"Additionally, to the extent net income from work allows them to minimize withdrawals, assets have a higher likelihood to grow, which may enhance the value of an estate, if that is a goal," Ciprich said. "Finally, benefits from an employer, such as health insurance, can potentially offset some out-of-pocket costs that traditional Medicare may not cover."
Longer Value of Retirement Fund
Chances are you'll have to retire at some point. But the longer you postpone, the more ample your retirement fund will be. 
"As soon as a person retires in full, one gets his or her retirement, and it starts to get depleted," said Raymond Quisumbing, a registered financial planner and founder of OhMyFinance. "To extend the life of one's retirement fund, one may opt to work either part time or full time."
Are You Retirement Ready?
Caring for Dependents 
Caring for others — be they kids, elderly folks or disabled friends/family — is a reality for many. According to AARP, more than one in five Americans (21.3%) are caregivers. That's some 53 million adults. 
"In certain cases, Americans over 60 find themselves responsible for supporting adult children or other dependents," said Alec Kellzi, CPA at IRS Extension Online. "Financial obligations such as college tuition or healthcare costs for family members can significantly impact retirement plans. As a result, some individuals choose to prolong their careers to ensure their dependents' needs are adequately met."
Personal Fulfillment 
Work is, for many, a way to make life impactful and meaningful. By not retiring, you can continue on this path of contributing that you know and love. 
"By having work, one gains a sense of fulfillment and pride," Quisumbing said. "One is able to further contribute one's skills, knowledge and expertise, making a more positive impact on one's community as well as industry and family."
Protection Against the Unknown 
The idea of retiring can be frightening, because it is so very unknown. Not retiring makes submerging into that fear ever delayable. 
"The fear of not having anything to do in retirement can be a big driver for [business] owners," Barkman said. "They don't have a plan for what they'll do after they leave. Identity may play into this as well. What will happen to their identity once they are no longer associated with the business, if the title or prestige is gone?"
Are You Retirement Ready?
Some think of retirement as "an eternal abyss," as Matt Edwards, senior finance advisor and the managing director at Auto Finance Online says.
Why step into that when you just keep on keepin' on at your job? 
"Many fear that stepping away from their careers would lead to a loss of purpose and structure in their lives," Edwards said. "Work often provides a sense of identity, and the prospect of retiring and entering an unfamiliar phase can be daunting. As such, they choose to prolong their working lives, seeking continued purpose and fulfillment through their professional endeavors."
The Cons of Never Retiring 
Never retiring does have quite a few pros, but it also has cons.  
"The downside to this trend for business owners is that it can hurt owners financially if they wait too long to sell," Barkman said. "When a sale is forced because of illness or death, it will likely have a negative impact on business value. It also puts pressure on family members and management teams to continue their legacy even if succession plans are not defined."
More From GOBankingRates
Are You Retirement Ready?