Why Some Retired Baby Boomers Have Lost a Third of Their Buying Power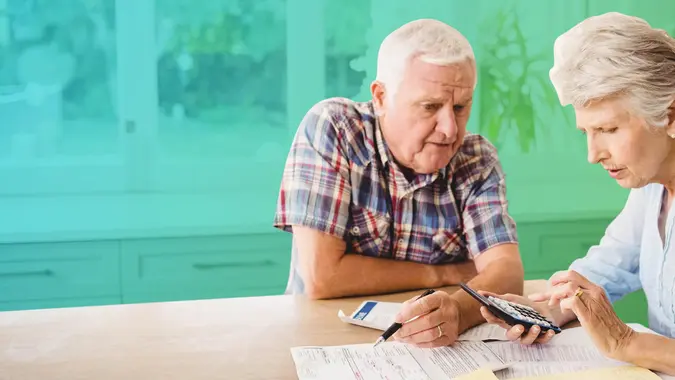 A combination of factors, including soaring inflation, has weakened the buying power of Social Security benefits, particularly for the oldest and disabled adults who have received benefits the longest, according to a recent report by The Senior Citizens League (TSCL).
About 36% of people who retired in 2000 would need an extra $516.70 more per month in 2023 — $6,200 for the year — to maintain the same level of buying power they had when they retired, the report found.
"Over the course of a typical retirement, which today can last more than 25 years, the buying power of Social Security benefits can erode," said Mary Johnson, TSCL Social Security policy analyst who wrote the report. "The loss deepens over time, and this study finds that over the past 23 years the loss to buying power [is] 36%."
Inflation Is Beating COLA
Johnson explained that the main drivers of the loss of buying power in Social Security benefits has to do with prices that are rising faster than the Social Security cost of living adjustment (COLA), as the price index that's used to calculate the COLA does not measure the costs of retirees over the age of 62. It measures the costs of younger urban workers who have different spending habits. 
"For example, the Consumer Price Index for Urban Wage Earners and Clerical Workers (CPI-W) which is used to calculate the COLA assumes that adults younger than 62 only spend 7% of their incomes on healthcare," Johnson said. "On the other hand, surveys by The Senior Citizens League have found that adults age 65 and up spend about 16% of their income on healthcare."
Are You Retirement Ready?
While there was a mild 4% improvement of buying power from the report of March 2022 through February 2023 and inflation isn't increasing as fast as a year ago, Johnson said, the reality is that many prices are still high. 
"And let's be real," she said. "There are any number of prices that are unlikely to go back down. Think about the costs of dental services, which are not covered by Medicare. Dental care rose by about 16% from 2021 to 2022."
Healthcare Has Always Cost a Lot
The biggest expense for most seniors is healthcare. And that's before inflation made healthcare more expensive. TSCL's report found that out-of-pocket prescription drug costs are up an eye-popping 311% since 2000 while Social Security benefits are up just 78%. Meanwhile, dental services are up 275%, Medicare Part B premiums are up 262% and total medical expenses are up 177%.
"Anyone who is currently under retirement age, please learn from these scary statistics. Social Security is not enough to live on during retirement," said Todd Stearn, founder and CEO of TheMoneyManual.com. "People living on Social Security are facing harsh conditions. They can try to decrease their housing costs by moving somewhere less expensive or taking in roommates or moving in with family. Another option, if they are able, is to work part time to make more money."
Several experts don't see much hope for improved conditions in the near future, saying that while inflation may cool down, it does not guarantee a recovery in boomers' spending power.
"Even if the rate of inflation slows, the overall impact on their purchasing ability may persist," said Hartej Sawhney, CEO of Zokyo. "Additionally, a decline in total spending in the economy can further exacerbate the challenges faced by boomers."
Are You Retirement Ready?
How Boomers Can Compensate
So, how can boomers make up for the loss of a third of their buying power?
According to TSCL's Johnson, making up the loss is not something a retiree can easily or even typically do; it entails having a stream of income that covers costs as Social Security buying power drops. 
"That needs to come from pensions, savings, real estate rentals and other sources of retirement income," Johnson said. "Generally, decisions that should be made during one's working years or prior to starting benefits. A loss of one-third of your buying power is not really something that can be made up. It's something you can't recover."
Other experts say it's never too late to make course corrections; adjustments during retirement can still make a big difference.
But one size definitely does not fit all, said Lena Haas, head of wealth management advice and Solutions at Edward Jones. She said the options are varied and often done in combination, ranging from relatively simple, such as cutting back expenses, to potentially complex, like purchasing an annuity.
"Some of the most common financial course corrections retirees make are also the most impactful: reducing debt and increasing savings," Haas said, noting that a recent Edward Jones survey showed that 51% of retirees say they have reduced or eliminated mortgage, credit card or other debt to be more financially secure, with 60% saying this decision significantly improved their wellbeing in retirement.
Haas added, "Focusing on debt with highest interest payments is particularly impactful in the current interest rate environment."
Are You Retirement Ready?
More From GOBankingRates