Why This Florida Retirement City Is Attracting More Gen Z and Millennials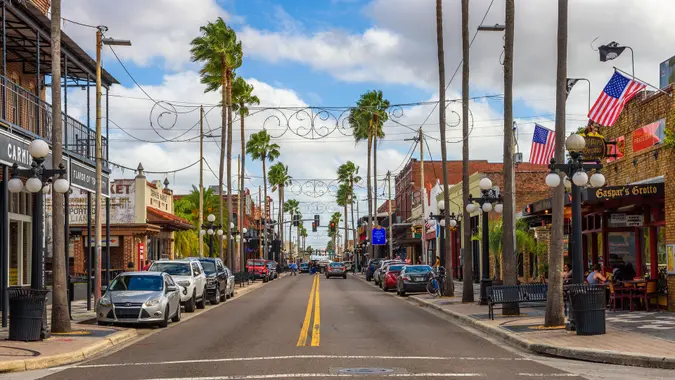 miroslav_1 / Getty Images
Tampa, Florida has long been a retirement paradise for many Americans and the winter home to Canadian snowbirds looking for relaxation, a great selection of leisure activities and subtropical sunshine.
While younger generations can't take advantage of Florida's numerous tax benefits for seniors, they can partake in the city's constant state of evolution and its flourishing, vibrant entertainment, nightlife and restaurant scenes. Yes, the Big Guava has suddenly become the place to be among millennials and Gen-Zers.
According to SmartAsset's 2022 edition of its "Where Millennials Are Moving" study, Tampa ranked in the top ten of cities that experienced significant increases in their millennial populations. The study found that the city had the ninth highest "net migration" of people between the ages of 25 and 39 moving into the city from a different state.
Earlier this year, Forbes declared Tampa-St. Petersburg-Clearwater the best place to live in Florida and for good reason. In addition to everything mentioned above, the area is drawing younger people who are captivated by Tampa's growing diversity and unhurried pace. Rich in art and culture, Tampa has become the ideal destination in Florida for millennials "disenchanted with Miami's flashiness," according to the Wall Street Journal.  
Of course, Tampa is still the number one destination in Florida for golden agers. As the Tampa Bay Times states, its population of residents over 65 is 18.7% of the city's total, placing it atop of the 53 "oldest" major metro areas in the U.S., per Forbes data.
Having some of the most pleasant weather in the world helps, but Tampa is surprisingly affordable too. Forbes states that Tampa's cost of living sits at the national average and its median home price just a fraction above and it has no state income tax, considerations that appeal to today's financially savvy younger residents.
Are You Retirement Ready?
A new study by U.S. News & World Report, which measured indexes based on happiness, housing affordability and health care quality, among others, considered Tampa to be the fourth best place to retire in the country, behind fellow Florida delight Pensacola and two Pennsylvania cities, Lancaster and Harrisburg.
And new employers from all walks of industry life — "from advanced manufacturing to financial services and life sciences," says Forbes — are moving base to Tampa. Known unofficially as the technology and innovation hub of Florida, the city is attracting a youthful workforce and a spate of entrepreneurs.
"Information technology is one of our fastest growing industries," said Craig J. Richard, President and CEO of the Tampa Bay Economic Development Council. "Over the past few years, we've seen a steady increase in interest from tech CEOs, particularly in the sectors of cybersecurity, fintech, and health tech, who are discovering that Tampa is an ideal place to grow their companies."
The Sunshine State has always been known for its heat, but it's quickly become a hot spot for a younger crop of millennials and Generation Z individuals wanting to make a move and plant roots.
More From GOBankingRates