88% of Americans Don't Trust That Social Security Will Fund Comfortable Retirement, Study Shows — Do You?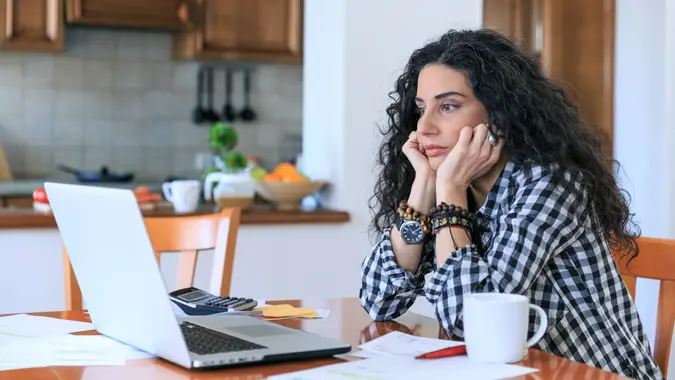 valentinrussanov / iStock.com
While lawmakers haggle over how best to fix Social Security before one of its major funding sources is depleted, the vast majority of Americans doubt that the program will offer enough money to finance a comfortable retirement.
Nearly nine in 10 (88%) Americans say it is "critical" to have another source of guaranteed income beyond Social Security benefits in order to retire comfortably, according to a new survey from Allianz Life Insurance Company of North America.
The survey of 1,005 U.S. adults, conducted in March and released on April 10, found that roughly three-quarters (74%) of respondents say they can't count on Social Security benefits when planning their retirement income.
Seventy-eight percent worry that they might not be able to afford the lifestyle they want in retirement due to the increased cost of living, while 62% would rather have their money sitting in cash accounts instead of putting it into stocks and other assets subject to market swings.
Are You Retirement Ready?
"Social Security benefits are often the backbone of a retirement strategy but it cannot be your entire strategy," Kelly LaVigne, Allianz's vice president of consumer insights, said in a press release. "A strong retirement strategy will ensure you have enough guaranteed income to cover your essential expenses. That guaranteed income can come from Social Security benefits along with other investments and protection products such as annuities."
The economy remains a concern to many Americans, with more than half (57%) of respondents saying they worry about a major recession. Although that is down from last year's figure, roughly four in 10 (41%) of Americans are still concerned they'll be laid off because of an economic downturn in 2023.
"A strong retirement strategy will address potential risks like inflation and taxes," LaVigne said. "You can't prepare for everything, but you can prepare for anything — if you start preparing for retirement early."
However, uncertainty surrounding Social Security makes retirement planning a tricky endeavor.
As previously reported by GOBankingRates, the annual Trustees' report, released on March 31, estimates that the program's Old Age and Survivors Insurance (OASI) Trust Fund will become depleted in 2033 — one year earlier than projected in the 2022 report. When the fund runs dry, Social Security benefits would have to be funded solely through payroll taxes, which cover only about 77% of current benefits.
Are You Retirement Ready?
Lawmakers are at loggerheads about what to do about it. Many Democrats advocate increasing revenues through higher Social Security payroll taxes, while some Republicans aim to pare down the program by privatizing part of it or raising the full retirement age to collect benefits.
With the prospect of reduced Social Security benefits, many Americans want to increase retirement savings. But even that is a worry — especially for Gen Xers, many of whom will hit retirement age over the next decade just as the OASI fund is running out.
The Allianz survey found that 43% of Gen Xers worry their employer will suspend their 401(k) match. That compares to 38% of millennials and only 24% of boomers. Two-thirds of Gen Xers say they are keeping more money out of the stock market than they should, and 85% worry that they might not be able to afford the lifestyle they want in retirement because of the increased cost of living.
Take Our Poll: Do You Think the US Should Raise the Medicare Tax on High Earners To Help Save the Program?
Are You Retirement Ready?
"Gen Xers are entering … critical years of retirement preparation," LaVigne said. "Many people are often in their highest earning years in their 40s and 50s and finally able to really save a significant amount of money for retirement. This is when they need to establish strategies and really focus in on how they are setting themselves up for the retirement lifestyle they want."
More From GOBankingRates
Are You Retirement Ready?