Could Social Security Become an Optional Program? Here are the Pros and Cons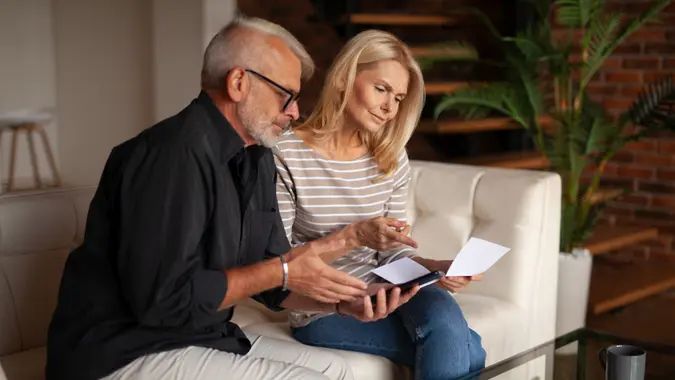 Andrii Zastrozhnov / Getty Images/iStockphoto
A recent survey from SeniorLiving.org found that a significant number of Americans feel Social Security should be an optional program, with workers able to make the choice to pay into the program or not. While fewer than one-fifth of Americans polled said that Social Security should be optional, that number increased to 31% among millennials and Gen Z, the youngest generations in the workforce.
Learn: What Is the Average Social Security Benefit at 65?
See: With a Recession Looming, Make These 3 Retirement Moves To Stay On Track
While making Social Security optional has not been discussed much, it's interesting to weigh the benefits and drawbacks of giving Americans more control over saving for retirement.
"Younger people may feel Social Security should be optional for a few reasons," said Corie Wagner, senior editor, industry research, at SeniorLiving.org. "When you are in your twenties or thirties, retirement can feel like an abstract idea. It feels like a lifetime away," she said.
Also, as younger Americans struggle with housing and student loan payments, they might feel their money could be put to better use today — especially with no guarantee that Social Security benefits will be around when they retire.
Finally, Wagner said, "Others still might want to make their own choices about retirement savings, and they may prefer to invest in stocks or other assets rather than handing part of their income over to the federal government."
This last point is one of the key "pros" in favor of making Social Security optional, especially since the federal government recently passed the SECURE 2.0 Act, which, among other things, will help make it easier for American workers to start or grow a 401(k) retirement plan.
Pros of Making Social Security Optional
You might be surprised to learn that privatizing Social Security is an idea that's been around since 1997 — and possibly earlier. A paper from The Brookings Institute explored the notion. Many of the benefits cited in the paper also apply to making the system optional.
Americans could receive greater returns on private investments. Some Americans may be better-equipped to build their own retirement nest egg, with or without the help of financial advisors. Social Security accounted for about 60% of the monthly income of the seniors SeniorLiving.org studied. But that figure could shift if Social Security taxes weren't mandatory and Americans had more income to invest privately.
It would give American workers greater control over saving for retirement. Making Social Security optional would give American workers more freedom when it comes to how they spend (or save) their money. "While Social Security is an essential income source for most older Americans, there could be some upsides to optional participation. It would allow people to freely decide the best way for their families to prepare for retirement," Wagner said.
It would help alleviate concerns that workers will never get back the money they paid in if the Social Security trust fund runs out in 2034, as projected. "Younger people may also be concerned that Social Security will not be around when their retirement years arrive, so there might be a sense that they're contributing to a program they'll never benefit from," Wagner added.
Americans could devote more money to current living expenses. Many younger Americans are barely making ends meet now. It's difficult to focus on retirement if you're struggling to buy food or make housing payments in the short-term.  
Cons of Making Social Security Optional
In general, 88% of Americans polled by SeniorLiving.org — across demographics and party lines — agreed that reducing Social Security would rob those who paid into it for years, but 22% agreed that paying into Social Security should be optional.
Here are a few of the major drawbacks to making Social Security an optional program.
It will accelerate the timeline for the Social Security trust fund to run out of funds. Current projections have the Social Security trust fund running out of money by 2034, as GoBankingRates recently reported. However, payroll taxes will fund roughly 78% of benefits after 2034. If some Americans opt out of having that payroll tax go toward Social Security, it will make Social Security benefits harder to maintain for those who already paid into it.
Other investments are not as reliable or guaranteed. Social Security Intelligence explored the return on investment for Social Security vs. private investments. The Social Security portion of an employee's FICA tax is 12.4%, but employers pay half of it. If you were to invest your 6.2% of it and receive a 7% on your investment — and you were at 50% of the average wage index — your money would last past age 85. However, if you only received a 3% return, you'd run out of money at age 80. One of the benefits to Social Security is that you can collect it as long as you live.
For higher wage earners who make 100% of the national average wage, their money invested at a 7% rate of return would last them past age 100. However, if they only received a 3% return, it would run out at age 84. Couple these figures with the fact that Social Security is not taxed unless you have a certain level of other income, and it's clear that Social Security remains a more certain investment.
Social Security is adjusted for inflation, while investments are not. Social Security has a lot going for it as a public safety net. In addition to providing a solid return on your investment, it's adjusted nearly every year based on the cost-of-living. While some Americans in the survey said that even this year's substantial COLA increase of 8.7% was "not enough," other investments are not adjusted for inflation and, in fact, returns may decrease.
Take Our Poll: How Big of a Sign-Up Bonus Would It Take for You To Change Banks?
Read: Social Security Is Fine As Is, Say 63% of Americans Over 65 – 72% Still Think There's One Urgent Problem
It may remove a safety net many older Americans rely on. In the short-term, it may sound like a good concept to hold onto more of your gross income and invest it yourself. But, according to Federal Reserve figures, 25% of non-retired Americans had no retirement savings in 2019. Social Security may not meet all a person's financial needs in retirement, but it's an important safety net for older adults since no one knows what the future will bring.
More From GOBankingRates