How President Biden Impacted Social Security in 2022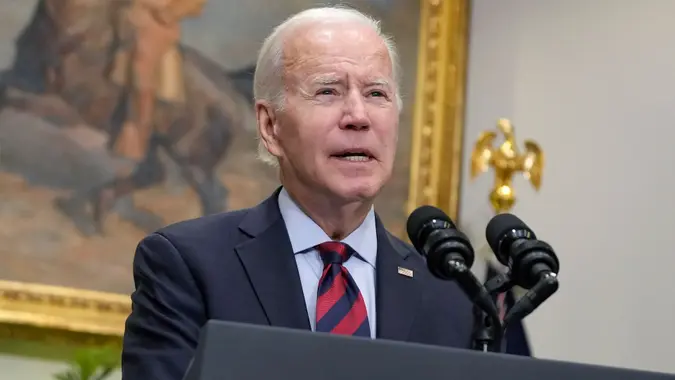 Manuel Balce Ceneta / AP / Shutterstock.com
President Biden's Inflation Reduction Act included provisions that help seniors and retirees pay for Medicare, including capping the cost of insulin, making vaccines free and limiting out-of-pocket expenses for Medicare Part D prescription coverage.
Good Question: Can I Draw Social Security at 62 and Still Work Full Time?
Also Learn: How Much Does a Person on Social Security Make?
But 2022 also brought significant changes to the other major program that tens of millions of seniors rely on in retirement: Social Security.
Many of the most significant updates would have happened anyway, regardless of who was in office. But President Biden is also pushing for sweeping overhauls to the program that would require legislative action.
Another Massive COLA Is Coming in the New Year
In 2021, President Biden oversaw the biggest Social Security cost-of-living adjustment (COLA) in 40 years, a 5.9% increase that took effect in 2022. This year's COLA jumped to 8.7%, which is the increase that seniors will enjoy in their checks starting in 2023. The increase will boost the average recipient's monthly check by $146, from $1,681 to $1,827.
While the last two COLAs are among the biggest ever, and they will both take effect during the Biden administration's time in office, their proponents can't directly credit the president for them and their detractors can't directly blame him.
COLAs emerged from the hyperinflation era of the 1970s, which eroded the purchasing power of seniors' pensions, benefits and fixed incomes at a record pace. Until the mid-1970s, Social Security benefits could increase only through an act of Congress. However, the 1972 Social Security Amendments included a COLA provision that automatically adjusted payments to account for inflation.
The first automatic COLA — an 8% increase in benefits — took effect in 1975, and a new adjustment has followed nearly every year since. The largest ever was a 14.3% increase in 1980, followed by 11.2% the next year.
COLAs are a direct reflection of the inflation rate, not of presidential leadership or a lack thereof.
Taxable Income and Earning Test Maximums Will Increase in 2023
The Social Security Old-Age, Survivors and Disability Insurance (OASDI) program is funded through a 12.4% tax on earnings. Employers and employees split the bill, with each party responsible for 6.2% of every check. Another 2.9% funds Medicare, with employers and their workers each paying 1.45%.
The cost of being your own boss is called the self-employment tax; sole proprietors must pay the entire 15.3% by themselves.
Those percentages are fixed rates set by statute, but OASDI caps the amount of taxable income that any person or couple can be required to pay. In 2022, individuals paid Social Security and Medicare taxes on income up to $147,000. In 2023, taxable earnings will max out at $160,200.
Another adjustment from 2022 deals with the so-called income test. The SSA temporarily decreases payments for recipients who continue to earn income despite claiming benefits before full retirement age.
In 2022, the maximum allowed income was $19,560, or $51,960 in the year the earner is set to reach full retirement age. In 2023, it will jump to $21,240 and $56,520. Benefits are never reduced for income earners who have reached full retirement age.
As Usual, Social Security Was a Political Football in 2022
Social Security is 12 years away from a 23% decrease in benefits that will become unavoidable in 2034 without legislative action. Republicans and Democrats both spent the run-up to the mid-term elections promoting their own plans to preserve benefits and/or cut costs while attacking the other party's ideas.
President Biden derided proposals from top GOP leaders, which included sunsetting Social Security and Medicare every five years and re-evaluating both programs annually.
Top Democrats, on the other hand, have called for expanding Social Security and Medicare by increasing the taxable income cap to $400,000 and raising taxes on those who earn more than $250,000 a year.
Biden proposed other sweeping changes, including changing the way the SSA measures inflation from the Consumer Price Index for Urban Wage Earners and Clerical Workers (CPI-W) to the Consumer Price Index for the Elderly (CPI-E). The president believes the change would more accurately reflect the actual cost-of-living increases that most beneficiaries experience.
Biden also wants to increase the special minimum benefit paid to low-earning workers to 125% of the poverty level and raise the primary insurance amount (PIA) to account for higher late-life expenditures.
Opponents of the president's proposals, like the conservative Heritage Foundation, say Biden's plan would hasten insolvency and worsen shortfalls while making tax increases on ordinary households inevitable.
More From GOBankingRates