How To Tell If That Call From Social Security Is a Scam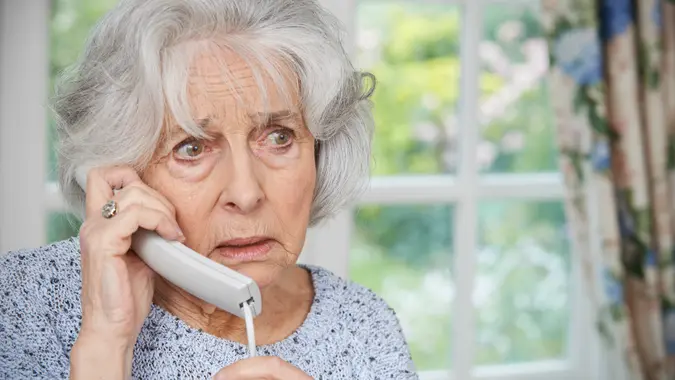 Highwaystarz-Photography / iStock.com
If you've ever answered the phone or received a voicemail threatening you with legal action for overpayments of Social Security or requesting you pay them in an unusual way, you've already had a brush with a scammer. Scams are big business to the criminals who engage in them for the sad reason that they work.
Also See: What You Can Do If Your Social Security Isn't Enough
Learn More: The Biggest Problems Facing Social Security
Kerry Sherin, a consumer advocate at BeenVerified, said the Federal Trade Commission has tracked over $1.5 billion in imposter scam losses in 2021 alone.
Chris Hauk, consumer privacy champion at Pixel Privacy, said, "In 2020, more than 700,000 reports of Social Security-related scam calls were reported, leading to a total loss of $45 million among Social Security recipients, for an average of $5,800 per victim."
Here are tips from experts on how to recognize a scam Social Security call and also what to do (or not do).
Read: Jaw-Dropping Stats About the State of Retirement in America
Threats
Whether you get a live phone call or a voice message, "Threatening phone calls that say your Social Security number or benefits are in jeopardy are scams," said Keith Mint, founder of Minted Empire. "In the event that you fail to pay a fine or fee, the Social Security Administration (SSA) will never threaten you with arrest."
Email Requests
Another sign of potential fraud is an email that appears to be from the SSA.
"The SSA will send you a letter with payment instructions and alternatives if you need to make a payment by mail," Mint said. "Government fees and fines should never be paid with store gift cards, internet currency or wire transfers. Scammers choose this kind of payment since it's tough to track them down and get their money back."
Additionally, you can often spot scam emails because they contain misspellings or grammar mistakes, said David Wurst, owner and CEO of Webcitz. "The letters may contain government jargon or official-looking letterhead in an attempt to persuade victims, but they may also contain misspellings and grammar errors."
More for You: All You Need To Know About Collecting Social Security While Still Working
Offers To Increase Benefits for Payment
Some scammers use the hook of offering increased payouts in exchange for what might seem a reasonable fee.
Wurst said, "SSA workers would never promise to boost your Social Security benefits or to provide any other assistance in exchange for cash."
Asking For Your Social Security Number
If the person claiming to be from the SSA asks you to confirm your Social Security number (SSN), it's likely a scam, Sherin said. "The SSA would never call you to confirm your SSN. That scenario simply isn't real."
Also, SSA doesn't call out of the blue, she said, "unless you've already been dealing with them on a personal business matter, such as a benefit claim." In that case, you should have the name of a specific agent and be able to verify that it's the same person you spoke with before.
Find Out: All the States That Don't Tax Social Security
Unusual Forms of Payment
One easy warning sign of a scam, said Matt Campbell, CFO at Budgetable, is "when the caller requests a payment via cryptocurrency, gift cards or wire transfer. Social Security will never request payment this way. … The cost of falling for a Social Security scam is quite significant and generally in the thousands of dollars."
Do's and Don'ts
Sherin urges people to protect themselves by not responding. "A response, even a request to 'take you off the call list,' can draw attention from scammers who will attempt to convince you there's a problem." Feel free to hang up on a suspicious phone call, too.
Sherin also warns against clicking unverified links, which can "potentially download malicious software, such as ransomware, spyware or a computer virus."
Don't provide personal information. "Unless you have previous dealings with the caller, be leery of providing any information — even the last four digits of your SSN," Sherin said.
Verify the caller. If you are unsure, ask the caller for a name and phone number and then call the SSA at 800-772-1213 to verify the information, said Daniel Chan, CTO of Marketplace Fairness.
In general, to be safe from this kind of scam or any other, be skeptical, don't give away information unless you absolutely can verify the source and don't send any form of payment.
More From GOBankingRates