Is Eliminating Social Security for the Wealthy a Viable Option? 2 Presidential Hopefuls Think So — Here's Why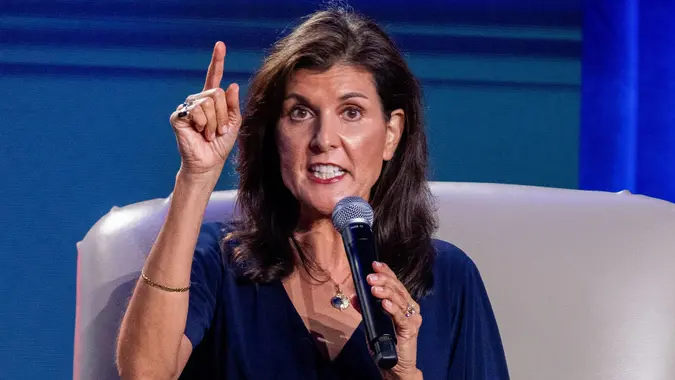 Nathan Posner / Shutterstock.com
The future of Social Security — and finding a way to address the program's potential shortcomings — has been a point of contention among politicians for quite some time. And now, Republican presidential candidates offer divergent opinions and solutions as to how to keep Social Security funded, with some proposing to eliminate benefits for the wealthy altogether.
Yet, as NBC News noted, during the third Republican debate none of the candidates said they would cut benefits for seniors, "a position that would alienate older voters who reliably turn up at the polls during election years."
Nonetheless, former South Carolina Gov. Nikki Haley and former New Jersey Gov. Chris Christie reiterated their view that Social Security benefits should be eliminated for wealthy retirees — a move, as The Wall Street Journal reported, "that would mark a major philosophical change in a program that was designed to be near-universal."
Haley and Christie Agree on Cutting Benefits for the Wealthy
Haley's views were laid out in her presidential candidacy's economic program, in which she noted: "We'll keep these programs the same for anyone who's in their 40s, 50s, 60s, or older, period. And we'll preserve Social Security and Medicare for the next generation. I'll limit benefits for wealthy people."
She's also a proponent of raising the retirement age, but "only for younger people who are just entering the system."
"Americans are living 15 years longer than they were in the 1930s. If we don't get out of the 20th century mindset, Social Security and Medicare won't survive the first half of the 21st Century," she stated in her plan.
Are You Retirement Ready?
And in a Nov. 9 post on X, formerly Twitter, Haley wrote: "If a politician tells you we don't need to make any changes to Social Security and Medicare — they're lying to you. Those programs start running out of money in less than 10 years."
Meanwhile, Christie also wants to raise the retirement age for workers who are now in their 30s and 40s, according to NBC.
And during the debate, he said that ultra-wealthy Americans — such as billionaire Warren Buffett — are wrong to claim Social Security benefits.
"I'm the only person on this stage who will be honest about this. Social Security was established as a safety net program to make sure that no one would grow old in this country in poverty. Rich people should not be collecting it, and if we want this program to last we need to raise the retirement age," Christie posted on X, along with a clip of the debate.
DeSantis and Scott Agree To Leaving Social Security As-Is
As for Florida Gov. Ron DeSantis and Sen. Tim Scott of South Carolina, they said they wouldn't change the program at all, NBC added.
Finally, Vivek Ramaswamy said that his plan to reduce spending, through measures such as cutting federal agencies and staff, would help save Social Security, according to USA Today.
Issues around Social Security benefits and the continued funding of the program have been much debated, and several experts have been raising the alarm. 
For instance, a recent report by The Senior Citizens League (TSCL) found that one-third (36%) of older adults have lost their buying power and would need an extra $516.70 more per month — $6,200 more in 2023 — than they are currently getting to maintain the same level of buying power as in 2000. This is, the TSCL argues, due to the erosion of benefits.
Are You Retirement Ready?
And as GOBankingRates previously reported, in an alarming annual report released in March, the Board of Trustees of the Federal Old-Age and Survivors Insurance and Federal Disability Insurance Trust Funds said that Social Security will be able to pay full benefits until 2034 — but will then face funding shortfalls if lawmakers don't take action.
According to them, Social Security's combined Old-Age and Survivors Insurance (OASI) and Disability Insurance (DI) trust fund reserves will be depleted in 11 years. Then, Social Security could still pay 80% of scheduled benefits using its tax income, even if policymakers took no steps to shore up the program.
More From GOBankingRates