10 Jaw-Dropping Stats About Social Security in America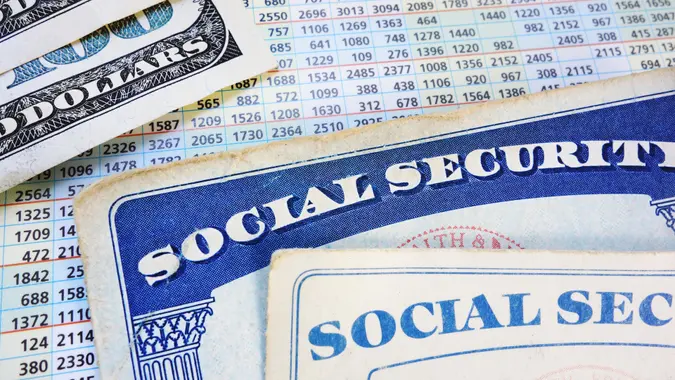 zimmytws / Getty Images/iStockphoto
The Social Security Administration (SSA) will pay benefits to nearly 67 million Americans every month in 2023 for a total of more than $1 trillion over the course of the year. That's more than the entire annual GDP for many countries. But even those gargantuan numbers aren't the most striking statistics regarding the biggest program in America's social safety net. 
Here's a look at 10 astonishing statistics about Social Security.
It Keeps More Than 22 Million Americans Out of Poverty
According to the Center on Budget and Policy Priorities, 22,457,000 more people would live below the poverty line without their Social Security benefits. No anti-poverty program in America can boast a comparably successful track record.
The number of minors living in poverty would jump by a little more than one percentage point without Social Security. For adults between 18-64, it would increase by around three percentage points. But older Americans stand to lose the most by far. 
Are You Retirement Ready?
For those 65 and up, the percentage living in poverty would rocket from the current 9% to 37.8%.
Around 90% of Older Americans Rely on It
Those over 65 would suffer without Social Security the most because so many in that age group rely on the program to get by. According to the SSA, nearly nine out of 10 in the 65-plus demographic collect benefits — and those benefits account for 30% of all income among seniors, in general. About 40% of them — 37% of men and 42% of women — rely on Social Security for at least half their income.
Another 12% of men and 15% of women count on Social Security for 90% of their income.
Take Our Poll: Do You Think the US Should Raise the Medicare Tax on High Earners To Help Save the Program?
More Than 3 Out of 5 Beneficiaries Are Not Retirees
While most beneficiaries are retired workers — about 77% — more than one in five are not. 
Additionally, about 7.6 million recipients are disabled workers, and the program also covers their 1.2 million dependents. Roughly 25% of today's 20-year-olds will become disabled before they turn 67, which is especially problematic considering 65% of private-sector employees do not have long-term disability insurance. 
Are You Retirement Ready?
Another 5.9 billion Social Security recipients are survivors, which leads to another distressing statistic. More than one in eight of today's 20-year-olds will not live to the current full retirement age of 67.
Women Get About 77 Cents for Every $1 Paid to Men
According to the SSA, women have longer life expectancies than men and therefore spend more years collecting Social Security — 21.5 years after turning 65 compared to 18.9 years for men. The result is that women account for 55.3% of beneficiaries ages 62 and up, and that number naturally rises with age. Women represent 63.9% percent of beneficiaries 85 and older.
According to the SSA, women also tend to earn lower incomes and spend fewer years in the workforce, which reduces their average benefits. The median woman's monthly benefit is $1,403, which is about 77.34% of the $1,814 paid to the median man.
Each Degree Level Adds Hundreds Per Month in Benefits
The median monthly Social Security benefit increases with each consecutive educational level achieved. According to the SSA, here's how median monthly benefits vary by degree:
Less than high school: $1,160
High school diploma: $1,485
Associate degree: $1,630
Bachelor's degree: $1,790 
Graduate degree: $2,027
Are You Retirement Ready?
White Recipients Get Hundreds More Per Month Than Minorites
Race joins gender and education as the three major factors behind Social Security disparity. According to the SSA, here's how median monthly benefits vary by ethnicity:
White, non-Hispanic: $1,667
Black or African-American, non-Hispanic: $1,397
Hispanic or Latino, any race: $1,177
All other races, non-Hispanic: $1,343
Beneficiaries Got Their Biggest Raise in 4 Decades This Year
Congress mandated annual cost-of-living adjustments (COLAs) to help benefits keep up with inflation in 1975 — and the biggest COLA in history came just six years later in 1981.
The second-biggest was this year.
In light of last year's painful inflation, recipients got an 8.7% raise in 2023, increasing the average beneficiary's monthly check to $1,827 from $1,681 the year before — and that, too, was the result of a big boost. In 2022, recipients enjoyed an unusually high 5.9% COLA.
In 1981, it was a whopping 11.2%.
The SSA Cuts Dozens More Checks Per Recipient Today 
In 1940, the average 65-year-old had a life expectancy of just under 14 years. Today, it's more than 20 — at a bare minimum, that's 72 extra checks for someone who claims benefits at 65.
Are You Retirement Ready?
The SSA has to dig deeper every year to meet its obligations, and that trend is not on pace to change any time soon.
Each Recipient Will Lose Half a Taxpaying Worker in 12 Years
In 2022, there were 58 million Americans over 65. The SSA projects that number will grow to 76 million 12 years from now in 2035. As the number of potential beneficiaries increases, the workers supporting them are spread thinner and thinner. Last year, there were about 2.8 covered workers for every beneficiary. By 2035, it will be just 2.3.
Benefits Are on Pace To Fall by 25% in 2035
According to the SSA, the trusts that fund Social Security will be depleted by 2035. That year, incoming taxes alone will have to fund the program — but it won't be enough. Without congressional action, the program will be able to pay just 75% of scheduled benefits in 12 years.
More From GOBankingRates
Are You Retirement Ready?
Are You Retirement Ready?