58% of Gen X Will Rely on Social Security for Retirement — 8 Reasons Why This Is Bad News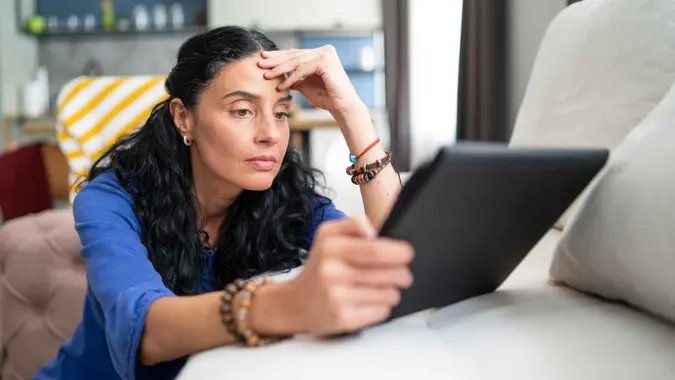 valentinrussanov / Getty Images
Social Security has long been in crisis mode. According to the SSA, benefits are expected to be payable in full on a timely basis only until 2037. After that point, the reserves will be exhausted. Congress will need to make changes to the scheduled benefits and revenue sources for the program to continue funding retirees in full beyond then.
With the present dangers the program is facing, it's critical that all generations — including Gen X, who will be nearing or in retirement by 2037 — have a retirement plan that doesn't rely on Social Security benefits. Unfortunately, the majority of Gen Xers don't seem to be fully aware of the gravity of the situation. According to a new study by Prudential, 58% of Gen Xers say they will rely on Social Security benefits as a source of retirement income.
And that's not the only financial challenge they're up against. The survey also found the following money problems Gen Xers are facing as they age.
Paltry Savings
Forty-six percent of Gen Xers anticipate that they will have enough saved to live comfortably in retirement. Unfortunately, 35% of Gen Xers have less than $10,000 saved, and 18% have no savings at all.
No Inheritance
The Great Wealth transfer will apparently not benefit Gen X much —  just 12% say an inheritance will be a source of retirement income.
No Financial Legacy
In addition to not receiving inheritance, most Gen Xers (84%) are not planning on leaving one behind to prospective heirs.
Are You Retirement Ready?
No Pensions
Pensions are nowhere near as common as they once were, and Gen X is feeling the burn. Only 20% of Gen X plan to use pensions as a source of retirement income, and just 11% will mostly rely on a pension.
No Plan
Though a substantial amount of Gen Xers are saving money, nearly half (48%) don't have a plan for their savings.
Inflation
Inflation has negatively impacted most Americans, but Gen X is running out of time before retirement to recover from it. Sixty-eight percent of working Gen Xers are concerned about reaching their savings goals because of inflation.
Overlooking Critical Expenses in Retirement
Thirty-eight percent of Gen Xers aren't looking at the big picture when it comes to a cost that will come up at some point in retirement: healthcare. Many are also not factoring in the potentially necessary expense of assisted living, with 75% not factoring this possibility into their retirement plans.
Delaying Retirement and Working While Retired
Perhaps as a result of all these financial challenges, 47% of all working Gen Xers expect to retire later than they'd planned and 40% percent plan to work part-time after retirement.
More From GOBankingRates