Social Security 101: 5 of the Most Confusing Questions Answered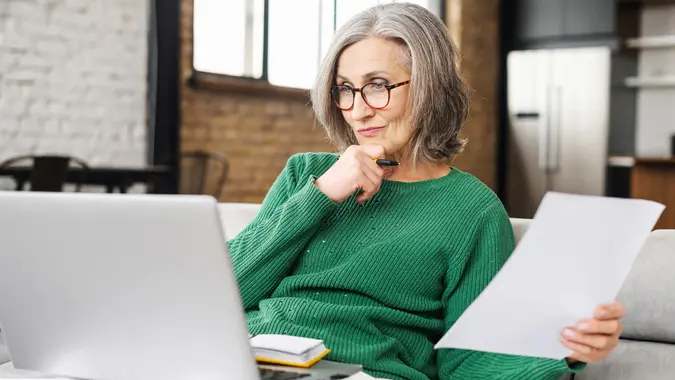 Vadym Pastukh / iStock.com
Most Americans understand the basics of Social Security — you work and pay taxes into the system, then when you retire, you claim a benefit for the rest of your life. But the details of how it all works can be hard to understand, and it can be difficult to know where to look to find all of the answers.
In a recent survey by GOBankingRates, respondents indicated they were most confused by determining the size of their benefit and the age at which they should file for benefits. Nearly 50% of survey respondents indicated difficulty in these two areas. However, there are many other aspects of Social Security that can be equally confusing. Here are some answers to the most commonly misunderstood aspects of Social Security. 
How Do You Determine the Size of Your Benefit?
The most popular question among respondents to the GOBankingRates survey — and indeed, likely among Americans at large — is how you determine the size of your benefit. While the actual formula can get a bit complicated, there are only two components required to calculate your Social Security benefit — your work history and your age. 
The Social Security Administration uses your top 35 highest-earning years to calculate your benefit. The more you earn in those years — up to the annual wage base limit — the more your benefit will be.
Are You Retirement Ready?
You'll also earn more if you wait to file. If you check the benefit that the SSA calculates for you, it is based on your "full retirement age," which for most retirees is now 67. But the size of your benefit will increase or decrease if you claim your benefit after or before age 67, respectively.
Take Our Poll: Do You Think Bankruptcy Is an Acceptable Way To Escape Student Loan Debt?
At What Age Should You File for Benefits?
When you should file for benefits is a confusing question because there is no one right or wrong answer. The age you should file really depends on your own personal situation. But there are common variables that you should analyze to help make your determination.
The first is your own personal financial position. If you literally have nothing to live off when you retire, then you have little choice but to claim benefits as early as possible, at age 62. But if you've amassed a sizable retirement portfolio and don't really need your Social Security payments, you might consider waiting until age 67 or even age 70 to file.
Your health is another critical consideration. Remember, when you claim your benefits, they will remain at that level — with the exception of annual cost-of-living adjustments — until you pass away. That's why it pays to get that benefit as high as possible. But if you're in poor health or your family doesn't have a history of longevity, then it might make sense to claim benefits early. After all, if your life expectancy is only going to be 68 years, it makes much more sense to start drawing income at age 62 than at age 67.
Are You Retirement Ready?
Choosing the correct age to file for benefits is more of an art than a science because it involves so many variables. Even with a good retirement portfolio, for example, you can never be entirely sure how long it will last, and predicting your own life expectancy is even more of a guess. But you can use these two variables to at least give you an approximation as to when it is best to file for benefits.
What Is the Impact of Working While Receiving Benefits?
If you work while you receive Social Security benefits, you might see a reduction in your payments. But don't worry, these withholdings are only temporary and will be restored once you reach full retirement age.
Specifically, if you are under full retirement age, the SSA will reduce your payout by $1 for every $2 you earn above the annual Social Security earnings limit, which is $21,240 for 2023. For the year you reach full retirement age, the withholding drops to $1 for every $3 you earn above $56,250.
Once you reach full retirement age, your benefit will be recalculated to incorporate these withheld payments. Note that after reaching full retirement age, there is no cap on the amount you can earn, and your benefits will never be reduced for working.
Are You Retirement Ready?
What Is the Impact of Claiming Benefits Early — Or Late?
You can claim benefits as late as age 70, and if you do, your payout will be 24% higher than it would have been at your full retirement age of 67. This is because your benefit increases by 8% per year after full retirement age, up to the maximum of age 70.
But if you claim before full retirement age, your benefit is reduced based on a somewhat complicated formula. Claiming as early as age 62, for example, will reduce your benefit by as much as 30%.
When Do You Receive Benefits?
As far as Social Security is concerned, figuring out when you receive benefits is one of its simplest aspects. The SSA publishes a calendar showing when benefits will be paid, and it is broken down by the date of your birth as follows:
Born on the 1st-10th: Second Wednesday of the month
Born on the 11th-20th: Third Wednesday of the month
Born on the 21st-31st: Fourth Wednesday of the month
Are You Retirement Ready?
More From GOBankingRates
Methodology: GOBankingRates surveyed 1,056 Americans aged 18 and older from across the country on between March 17 and March 20, 2023, asking twelve different questions: (1) When you were growing up, which financial topics did your parents talk to you about? (Select all that apply); (2) At what age did you become comfortable with basic money skills (i.e., writing a check, balancing your accounts, budgeting)?; (3) At what age did you start saving and planning for retirement?; (4) How much cash do you think you should have on hand in case of a national emergency?; (5) Do you think a lack of financial understanding has impacted your ability to be financially prepared for the future?; (6) How much did a lack of financial literacy cost you in the last year due to things like not knowing the best way to save for retirement, not being comfortable with investing, not using a budget, etc.?; (7) Which major financial task is most confusing to you?; (8) What percentage do you think you are required to put down on a home when buying?; (9) Do you feel prepared to handle any possible cuts to Social Security benefits?; (10) How has inflation changed how you handle your finances? (Select all that apply); (11) What's the minimum you think experts would recommend you have saved to be comfortable in retirement?; and (12) Which of the following do you find most confusing about Social Security?. GOBankingRates used PureSpectrum's survey platform to conduct the poll.
Are You Retirement Ready?