Social Security 2023: 5 Things Millennials Should Be Focusing on for Retirement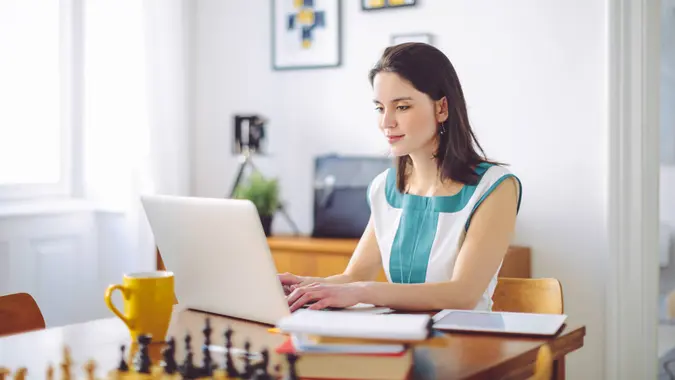 Eva-Katalin / iStock.com
Many millennials know a few things about Social Security. They have an understanding that Social Security means more than just retirement benefits and includes disability benefits. They are aware their benefits will go up each year they are in the workforce, and that Social Security alone cannot cover all of their finances during retirement.
Basic understanding of Social Security aside, what can this generation expect from the program? Here is what millennials can expect from Social Security.
Social Security Will Be a Big Part of Retirement Planning
Millennials should expect Social Security will be a large part of their retirement planning process.
Martha Shedden — president and co-founder of the National Association of Registered Social Security Analysts — said Social Security is a retirement program millennials, and their employers, contribute to with every paycheck through the FICA deduction. Essentially, it's like how millennials contribute to their Roth or traditional IRA accounts and employer sponsored retirement plans.
Take Our Poll: Do You Think the US Should Raise the Medicare Tax on High Earners To Help Save the Program?
Are You Retirement Ready?
While most millennials still have between 25 to 30 more years before they retire, there may be changes to Social Security in the coming years. Jennifer Li, CFP and director of financial planning at EP Wealth Advisors, said millennials will need to pay attention to their eligibility date, the payroll tax, decreasing benefits and age of correction rules to understand how these may affect them in the long run.
There Will Be Social Security Reform, so Pay Attention
It's a bit difficult to fully determine what will happen to the Social Security trust fund. There is speculation funds will be depleted in the 2030s. If something like this should happen and nothing is done to make changes, Shedden said it would put the program back on a "pay-as-you-go" system.
"By 'pay-as-you-go,' we mean that those who are working will be paying for those who are retired," said Shedden. In a "pay-as-you-go" system, Shedden said there would be no more reserves to make up the difference and not enough workers per retiree to pay the full 100% benefits as they are currently prescribed by law.
As it stands now, millennials are well-advised to pay attention to the changes being proposed to Social Security and the effect these changes could have on their future benefits.
Are You Retirement Ready?
Saving More Money
It would be easy for millennials to panic and assume the worst-case scenario with Social Security. However, nothing is certain yet, and this generation has some time left before retirement. 
Li recommends millennials focus on current retirement savings, specifically targeting a net 20% take home (after-tax) pay rate. Additionally, millennials should take advantage of all saving opportunities available to them. This includes maxing out contributions in a company retirement plan, an IRA or Roth IRA or a taxable account.
Prioritizing Investment Diversification
Millennials will also want to prioritize saving as much as investing for retirement. 
Steve Sexton, CEO of Sexton Advisory Group, recommends diversifying your investments and maintaining a diversified investment portfolio to weather the ups and downs of the stock market over the next 25 to 30 years. Sexton recommends that those nervous about investing look into low-risk investment options, such as money market funds or fixed annuities.
Working With a Financial Advisor and a Social Security Expert
Social Security is only one aspect of a millennial's financial picture. Li said millennials should consider working with a financial planner or advisor. They can help address other aspects of their personal finances where they may have more control.
Are You Retirement Ready?
When possible, Shedden recommends millennials also work with an expert on Social Security to ensure their financial health in retirement.
"Social Security will be a major part of their retirement planning," said Shedden. "Those who understand this and seek out professionals who will keep them informed on the topic and count on it as part of their retirement planning, will be rewarded when they retire."
More From GOBankingRates
Are You Retirement Ready?