Social Security: This Year's COLA Increase is Officially 3.2%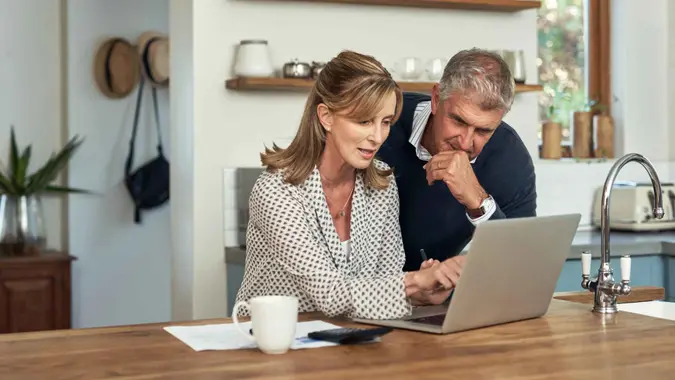 shapecharge / Getty Images
As expected, Social Security recipients will be getting a 3.2% cost-of-living adjustment (COLA) in 2024 — the lowest COLA since 2021, and well below this year's 8.7% adjustment. The Social Security Administration made the official 2024 COLA announcement on Oct. 12 following the release of September's inflation data.
The Consumer Price Index for All Urban Consumers (CPI-U) rose 0.4% in September on a monthly basis, according to the U.S. Bureau of Labor Statistics. That was down from a 0.6% increase in August. On a year-over-year basis, overall inflation rose 3.7%.
This year's declining inflation rate led to the much smaller COLA for 2024, at least compared to 2023 and 2022 (when the COLA was 5.9%). However, a COLA of 3.2% is still the third-highest over the past dozen years.
More than 66 million Social Security beneficiaries will see the 3.2% COLA beginning in January 2024, the SSA said in a press release. About 7.5 million people who get Supplemental Security Income (SSI) benefits will see higher payments beginning on Dec. 29, 2023.
"Social Security and SSI benefits will increase in 2024, and this will help millions of people keep up with expenses," SSA Acting Commissioner Kilolo Kijakazi said in a statement.
The SSA also announced that the maximum amount of earnings subject to the Social Security tax will increase to $168,600 in 2024 from $160,200 in 2023.
The agency is expected to begin notifying recipients about their new benefit amount by mail starting in early December. Recipients who have a personal my Social Security account can view their COLA notice online.
Are You Retirement Ready?
The annual Social Security COLA is intended to help seniors deal with rising consumer prices. It's based on the percentage increase in the Consumer Price Index for Urban Wage Earners and Clerical Workers (CPI-W) in the third quarter.
A COLA of 3.2% would add an extra $57.35 a month to the average Social Security retirement benefit, which was $1,792.37 a month as of August 2023. That's a significant drop from the average monthly increase of about $146 based on the 2023 COLA.
The Senior Citizens League (TSCL), a non-partisan senior advocacy group, noted in an Oct. 12 press release that the 3.2% COLA is "well above" the 2.6% average over the past 20 years. That sounds good on paper, but it doesn't necessarily mean seniors have more buying power.
A recent TSCL survey found that 68% of respondents reported that their household expenses remain at least 10% higher than a year ago, even though the overall inflation rate has slowed. This situation has "persisted over the past 12 months," according to TSCL.
"Worry that retirement income won't be enough to cover the cost of essentials in the coming months is a top concern of 56% of survey respondents," The Senior Citizens League stated.
Although overall inflation has slowed considerably over the past year, prices of housing, healthcare, food and utilities remain high — and each of those items eat up a large part of retirees' budgets.
Even if the annual Social Security COLA might not solve all the financial problems seniors face, some experts say it at least does a better job of protecting finances than other retirement income sources.
Are You Retirement Ready?
"Social Security's COLA is great news for beneficiaries," Kathleen Romig, senior policy analyst at the Center for Budget and Policy Priorities, told MarketWatch. "It will help them keep up with rising costs. Unlike Social Security, the value of private savings — like 401(k)s and IRAs — erodes over time. Most pensions aren't adjusted for inflation, either. Social Security is the only form of retirement income that keeps up with inflation."
More From GOBankingRates