Social Security Debate Takes Back Seat to Biden's New Medicare 'Cuts' — What's Being Proposed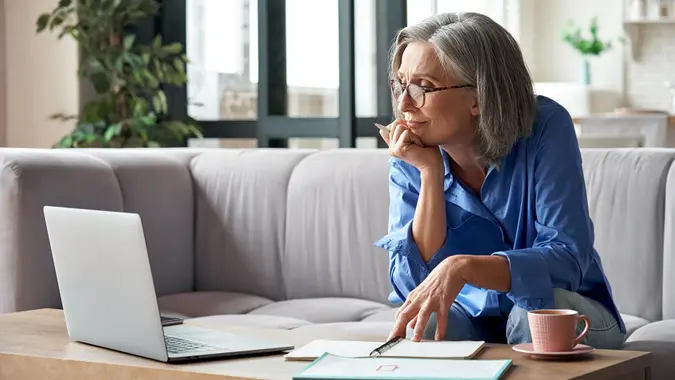 insta_photos / Getty Images/iStockphoto
The current political tug-of-war over Social Security has now extended into Medicare, as lawmakers and insurance industry lobbyists take aim at the Biden administration's plans to rein in Medicare Advantage plans.
See: What Happens to Social Security When You Die?
Find: With a Recession Looming, Make These 3 Retirement Moves To Stay On Track
At issue are a pair of new initiatives by the Centers for Medicare and Medicaid Services to reduce overpayments to Advantage plans and increase the program's oversight. As previously reported by GOBankingRates, federal audits released late last year found widespread overcharges and other payment errors involving MA plans. Some plans have overbilled the U.S. government by an average of more than $1,000 per patient per year.
The administration's aim to cut down on MA overpayments and more closely monitor the program has the support of both bipartisan watchdog groups and economists, the Roll Call legislative news site reported last week.
But some Republicans have framed the new rules as "cuts" to Medicare — something President Joe Biden has said he will not do amid recent debates over the solvency of the program. As with Social Security, the Medicare Trust Fund faces depletion within the next decade, leading to debt ceiling debates on whether to cut funding.
Although Biden has insisted he won't do that, opponents of the new CMS proposals are calling them "cuts" because of their potential impact on Medicare beneficiaries.
"Joe Biden is trying to gut Medicare benefits. Seniors can't trust Democrats to protect Medicare," National Republican Senatorial Committee spokesman Philip Letsou said in a recent statement.
His comment was in reference to a Feb. 15 analysis from heathcare consultant Avalere Health claiming that recent Medicare Advantage changes could lead to "higher premiums" and "fewer benefits" for beneficiaries in 2024 vs. 2023.
Medicare Advantage, also known as Part C, is a private insurance alternative to original Medicare that bundles together Parts A and B and, in most cases, the Part D drug plan. MA plans are designed to cover things you might not get with Original Medicare, such as fitness programs and certain vision, hearing and dental services, according to Medicare.gov.
As Roll Call noted, a "long-awaited" CMS rule finalized last month would claw back more than $4 billion in overpayments made to Medicare Advantage plans over the course of a decade. The rule also would bolster audits of MA plans going forward and make it easier for the government to recoup overpayments. 
Lawmakers aren't the only ones framing the Biden administration's new policies as Medicare cuts. Organizations representing Medicare Advantage plans also have been running ads accusing the administration of cutting benefits. Roll Call cited a recently launched ad from the Better Medicare Alliance, which said: "For 30 million seniors, Medicare Advantage is Medicare. Tell the White House not to cut it."
But U.S. Health and Human Services Secretary Xavier Becerra countered that any claims the administration is cutting Medicare are "categorically false."
Take Our Poll: Are You Concerned the US Debt Ceiling Issue Will Endanger Social Security?
Medicare 2023: This Is How Much Each Plan Will Cost You
"Leave it to deep-pocketed insurance companies and industry front groups to characterize this year's increase in Medicare Advantage payments as a cut," Becerra added. "Disinformation being pushed out by high-paid industry hacks and their allies hurt Medicare beneficiaries and the Medicare Trust Fund." 
More From GOBankingRates