Social Security a Determining Factor in 2024 Election? AARP Says Voters Age 50 and Over Likely To Be 'Decisive Voting Bloc'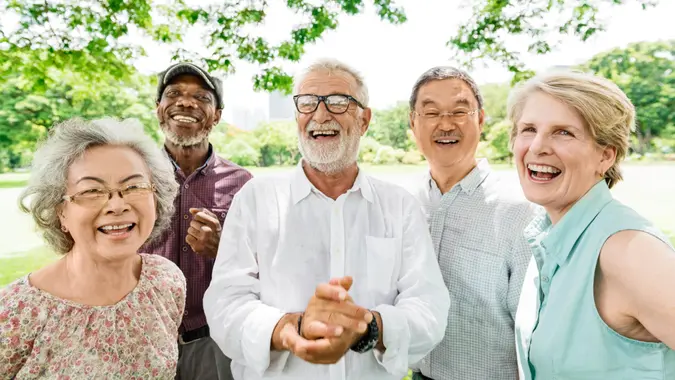 Rawpixel / Getty Images/iStockphoto
Social Security has long been known as the "third rail" of U.S. politics, meaning that proposals to reform the program are usually political suicide. But some 2024 candidates have hinted about reforming or even cutting Social Security, putting them in the crosshairs of older American voters who could have a big say in who controls Congress.
A new AARP survey of 1,200 likely voters in competitive Congressional districts found that voters 50 and older will be the "deciding" voter bloc in 2024. These voters are expected to represent the majority in battleground districts next year. What's more, 50-plus voters report "having significantly higher motivation to vote than younger voters."
Most surveyed voters ages 50 to 64 favor Republican candidates (52%) over Democrats (35%), the survey found. But seniors 65 and older give Democrats (46%) a slight edge over Republicans (43%) — and Social Security/Medicare is the top-rated issue for these voters.
Majorities of voters age 50+ in each party call Social Security/Medicare extremely or very important in deciding their vote next November, according to the survey. More than eight in 10 older Americans (81%) place high importance on Social Security — especially those who serve as caregivers.
"Caregiving and the cost of prescription drugs could very likely be the most important issues of the upcoming election cycle," Nancy LeaMond, AARP's executive vice president and chief advocacy and engagement officer, told MarketWatch. "Candidates can't afford to ignore the issues that matter to the 50+ — who will likely be the decisive voting bloc in 2024 — especially in an election cycle where control of Congress and the White House are both up for grabs."
Are You Retirement Ready?
There's a lot at stake in 2024. The GOP currently holds a narrow majority in the U.S. House, while Democrats control the Senate mainly because of Vice President Kamala Harris' tie-breaking vote.
According to AARP, supporting policies that promote lower drug prices, helping seniors live independently at home and aiding family caregivers "boosts a candidate regardless of their party" and could make the difference in races likely to be determined by very narrow margins.
Social Security has become a hot topic in Washington, D.C., because of a looming funding shortfall. The program's Old Age and Survivors Insurance (OASI) Trust Fund is expected to run out of money as early as 2032 or 2033, leaving it solely reliant on payroll taxes for funding. Those taxes only cover about 77% of current benefits.
There are essentially two schools of thought on how to fix the program — raise taxes to bring in more revenue, or implement cuts to save money. Democrats tend to favor the former while Republicans lean toward the latter.
Maya MacGuineas, president of the Committee for a Responsible Federal Budget, told NPR in March that the "only responsible thing to do" is admit that changes need to be made.
"We disagree about how to do it, but let's sit down and try to figure those out because not doing anything means across-the-board benefit cut for retirees and huge provider cuts, which means there will be much less health care available for people who need it," MacGuineas added.
Are You Retirement Ready?
Following the recent debt-ceiling deal — which left Social Security intact — U.S. House Speaker Kevin McCarthy (R-Calif.) told Fox News that the bill was only "the first step" in a broader GOP agenda that includes further cuts.
"We only got to look at 11% of the budget to find these cuts," McCarthy said. "We have to look at the entire budget … The majority driver of the budget is mandatory spending. It's Medicare, Social Security, interest on the debt."
Meanwhile, some GOP presidential candidates, including former vice president Mike Pence, former South Carolina governor Nikki Haley, and current Florida Gov. Ron DeSantis, have raised the prospect of cutting or privatizing Social Security benefits for future generations.
As The Washington Post reported, DeSantis has floated the idea of cutting benefits for younger people but not for those who currently or will soon claim Social Security.
"When people say that we're going to somehow cut seniors, that is totally not true," DeSantis told Fox News over the weekend. "Talking about making changes for people in their 30s and their 40s so the program's viable — that's a much different thing, and something I think there's going to need to be discussion on."
More From GOBankingRates
Are You Retirement Ready?