Social Security: How Immigration Is Playing an Unexpected and Key Role in Fund Shortage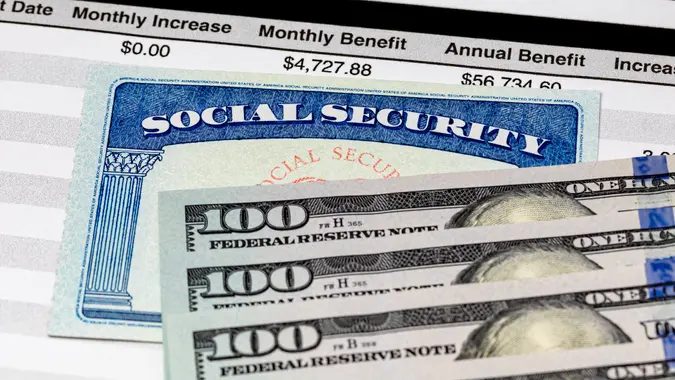 JJ Gouin / Getty Images/iStockphoto
Retirement benefits paid out by the Social Security Administration are predominately funded through payroll taxes, so it stands to reason that when fewer workers pay into the system, Social Security revenue declines. This is becoming a bigger concern because of immigration — and not for the reasons some might claim.
Government Shutdown 2023: Will Your Social Security Payments Stop Now That the Debt Ceiling Has Been Reached?
Find Out: With a Recession Looming, Make These 3 Retirement Moves To Stay On Track
Learn: What Happens to Social Security When You Die?
As Motley Fool recently reported, Social Security's problem isn't that too many undocumented immigrants are crossing into the U.S. and draining the system. Instead, it's that net-legal immigration has been in decline for the past 25 years — and payroll taxes from those immigrants have declined as well.
Since 1998, the net migration rate into the U.S. has fallen each year and is down by an aggregate of 57% since then, according to United Nations data. This trend has led to a drop in young, legal immigrants who help support Social Security through decades of payroll taxes — and it could not have come at a worse time for the program.
According to a recent analysis from the nonpartisan Congressional Budget Office (CBO), the balance in the SSA's Old-Age and Survivors Insurance Trust Fund – which helps fund retirement benefits — will be depleted by 2033. When that happens, you can expect a big reduction in monthly Social Security payments – as much as 23%, according to some estimates.
These kinds of scenarios are based on data compiled by the Social Security Board of Trustees, which tracks employment and other trends. Intermediate cost models in the 2022 Trustees Report are based on average annual total net immigration of 1,246,000 people, Motley Fool reported. However, that figure does not align with recent trends. Between July 1, 2012, and June 30, 2017, fewer than 955,000 total net migrants entered the U.S. per year, according to data from the World Bank. 
If net migration into the U.S. continues to hold steady or decline even further, it's "all but a certainty" that Social Security's funding shortfall will increase, according to Motley Fool.
There could be positive signs on that front. Net immigration to the United States is projected to average 1.1 million people a year from 2023 to 2053, according to a new report from the CBO. That number includes a projection that new lawful permanent residents will increase from an average of 820,000 people a year in the first decade to 860,000 in the third decade.
However, net immigration of foreign-born people without legal status is expected to average 220,000 people a year in the first decade and then fall to 180,000 people a year in the third decade. Net immigration of legal temporary residents is projected to average 80,000 people a year over the period.
Take Our Poll: What Are Your Financial Priorities in 2023?
Illegal immigration continues to be a hot-button issue in the United States, with much of the focus centering on the need to reduce the number of illegal immigrants coming into the country. But that misses an important point: Immigrants without legal status often pay into Social Security but don't get to claim benefits when they retire, MarketWatch reported.
What's more, illegal immigrants who pay into Social Security also don't qualify for the program's other protections, including long-term disability and survivor insurance protection. The result is a net gain for Social Security, which is something the program can sorely use right now, experts say.
More From GOBankingRates