Social Security, Medicare Doomed to Run Out of Money? Experts Weigh In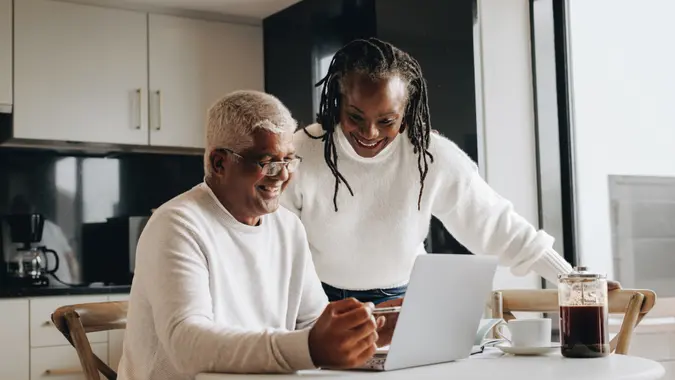 jacoblund / Getty Images/iStockphoto
If you're worried about the future of Social Security and Medicare, here's some cheery news: Neither program is "doomed," according to a new report from the Harvard Gazette.
In fact, the report, released on March 21, stated that the programs are "far from doomed" — which qualifies as good news in an otherwise bleak Social Security/Medicare landscape dotted with political infighting and the prospect of funding shortfalls.
The Harvard Gazette did concede that Social Security and Medicare "are often portrayed as standing on financially unstable ground. The population of those 65 and older is surging, and it's raising concerns about whether proceeds from payroll taxes paid by younger workers will be able to keep pace."
As previously reported by GOBankingRates, the Congressional Budget Office recently estimated that the Social Security Old-Age and Survivors Insurance (OASI) Trust Fund could be depleted as early as 2032. When that happens, the program will have to depend solely on payroll taxes, which currently cover only 20%-25% of benefits. The coming shortfall has been the center of heated debate this year over whether and how to reform Social Security.
Similarly, the Medicare Trust Fund faces depletion within the next decade, leading to debt ceiling debates on whether to cut funding for the seniors' healthcare program.
While those developments do not bode well for Social Security and Medicare, some experts downplay the potential impact. One of them is Louise Sheiner, a senior fellow and policy director for the Hutchins Center on Fiscal and Monetary Policy at the Brookings Institution.
Are You Retirement Ready?
In an interview with the Harvard Gazette, Sheiner said much of the fear right now is based on confusion about what the funding shortfalls mean from a practical standpoint.
"The more the Social Security Trust Fund gets withdrawn, the more we're worried about having to do something that won't put these benefits at risk," she said. "We don't want to get to a point where we suddenly have to act quickly, and people aren't sure if they're going to get their benefits."
At the same time, Sheiner added that she doesn't "think it's inevitable" that Social Security and Medicare will have to be gutted. A lot depends on how lawmakers proceed.
"I think we have bigger problems in our country than the sustainability of Social Security and Medicare," she said. "I think we can raise taxes for now and worry about the other things a little bit later… Social Security and Medicare are popular programs, which makes me think that we will come around to solutions like raising taxes, shaving benefits a little bit here and there. But we won't completely gut the programs. We'll kick the can down the road a little, and I think that's OK. I think we will eventually make that progress."
Are You Retirement Ready?
Sheiner also offered advice for seniors — namely, to not retire too early. Working as long as possible, and delaying Social Security benefits to at least full retirement age, will ensure you get bigger monthly payments when you do retire.
"Delaying retirement has very big benefits," Sheiner said. "You get extra work in and increase your savings; you get bigger Social Security benefits to make up for the fact that you didn't get it earlier. To the extent you can delay retirement, it really is the best thing that you can do."
More From GOBankingRates