Social Security: New Report Shows 'Good News' for Everyone's Retirement Savings (Especially Gen Z)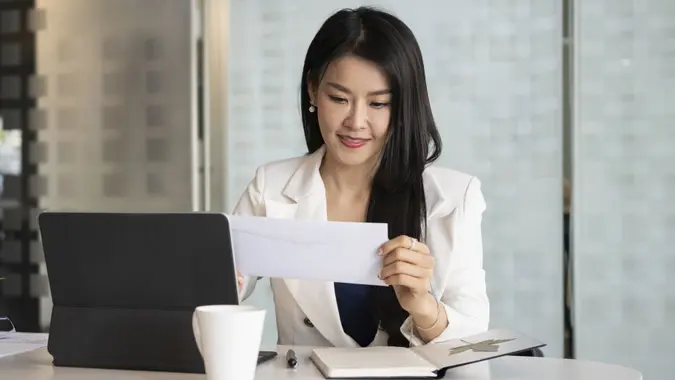 PrathanChorruangsak / Getty Images/iStockphoto
Anxiety over the future of Social Security has had at least one positive impact: Americans have increased their participation in workplace retirement plans over the past 15 years, according to a new Vanguard study — especially Gen Z workers.
The study found that in 2021, 62% of Gen Z workers (ages 18 to 24) participated in retirement plans offered by employers, the Pensions & Investments website reported. That's more than double the participation rate of similarly aged workers in 2006. Average contributions rose to 5.4% from 4.8%.
A similar surge in participation was reported by millennials. In 2021, 83% of millennials participated in their workplace retirement plans and contributed an average of 6.7%, according to Vanguard. That's up from 57% and 6.1%, respectively, in 2006.
"The good news is, all generations are seeing a lift, are seeing an increase across these topics that matter most," Vanguard Strategic Retirement Consulting principal Dave Stinnett told Fox News Digital. "But we're seeing the biggest lift with younger workers."
Stinnett credits part of the uptick to automatic 401(k) enrollments and escalations. Recent trends also ease worries that not enough younger workers are planning for retirement — especially in light of problems facing Social Security.
Are You Retirement Ready?
Those problems include depletion of the Social Security Old Age and Survivors Insurance (OASI) Trust Fund, which is expected to run out of money by the middle of next decade. When it does, the program will have to be funded solely by payroll taxes, which currently cover about 77% of benefits.
The fact that more younger workers are participating in workplace retirement plans is good news in terms of ensuring that future generations don't have to rely as heavily on Social Security as previous generations.
"There was a hypothesis that younger workers, Gen Z and millennials who had lived through these really difficult times, particularly the great financial crisis… that maybe that would alter how they view investing in stocks," Stinnett said. "And what this data shows is that's not the case, is actually they invest, they have higher equity allocations [than] their age cohort from earlier years had."
Overall, U.S. workers today are saving 40% more capital than they did in 2006, even when adjusted for inflation.
Are You Retirement Ready?
"What this paper shows is, across all generations, youngest up to the oldest, you've seen a dramatic change for the better in diversified investing in an age-appropriate way," Stinnett said.
Take Our Poll: Would You Move for a Job That Paid You a $10,000 Signing Bonus?
As Fox News reported, data for the study was drawn from a subset of Vanguard record-keeping clients. It includes 219 defined contribution plans offered by the same set of companies in both 2006 and 2021.
More From GOBankingRates
Are You Retirement Ready?