Social Security: Though Recipients Live Longer, Raising Full Retirement Age Isn't the Simple Solution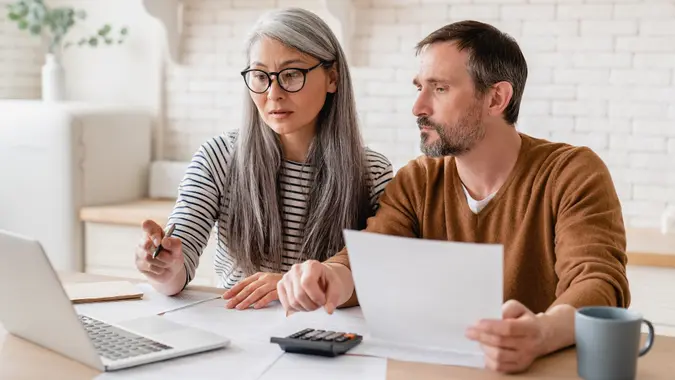 Inside Creative House / iStock.com
One argument in favor of raising the full retirement age for Social Security recipients is that people live longer now than they did when the program started. The original retirement age of 65 was established in 1940, the year Social Security first began paying monthly benefits. Following a change in 1983, the age for collecting full benefits gradually increased to 67.
In 1950, the average American 65-year-old could expect to live another 13.9 years, according to the U.S. Centers for Disease Control. That figure rose steadily to 19.6 years by 2019, though it fell back to 18.5 years in 2020 due to the COVID-19 pandemic. In 2022, the average life expectancy after 65 rebounded to 20-plus years, according to a recent Barron's column bv Laura Haltzel, a senior fellow at the Century Foundation.
While people are living longer, Social Security's finances have begun to shrink. The Social Security Old-Age and Survivors Insurance (OASI) Trust Fund is expected to run out of money as early as 2032. When that happens, Social Security will have to be funded solely by payroll taxes, which will only cover about 75% to 80% of current benefits.
To deal with the shortfall, some lawmakers have proposed raising the full retirement age to 70. Their reasoning is that more people will delay filing for benefits, which will reduce Social Security costs over the near term. And because people are living longer, those cost savings will help cover Social Security payments to the very elderly.
But not everyone is convinced this is the right solution — or at least the fairest one. As Haltzel noted in her column, averages can be "easily skewed." In the case of average life expectancies, not all Americans are created equal.
Are You Retirement Ready?
"The highest-income individuals in our society have experienced longevity gains, while the longevity of the middle and lower earners has remained stagnant or even declined," Haltzel wrote.
She cited estimates from the National Academies of Sciences, Engineering, and Medicine showing that for women born between 1930 and 1960, the life expectancy for those at the bottom of the earnings distribution has declined by four years, while it has increased by five years for those at the top of the earnings distribution.
"Increasing the retirement age for all based on the longevity gains of the better off, which skew the average, punishes those who can least afford it with a benefit reduction," Haltzel wrote.
Those in favor of raising the retirement age say it is the "least painful option" for protecting Social Security's future, she added. Raising theFRA would spare seniors from the "sudden shock" of a cut in benefits and also give younger Americans time to change their retirement plans.
Opponents counter that raising the FRA would leave millions of seniors with less money throughout their retirements — especially those in the lower-income brackets. This is partly because many would still be forced to claim benefits early, years before reaching FRA, out of financial or medical necessity. Doing so means leaving a whole lot of money on the table.
As previously reported by GOBankingRates, a recent study from Fidelity found that if you claim Social Security at age 62 rather than waiting until your full retirement age, you can expect a 30% average reduction in monthly benefits. For every year you delay claiming benefits past your FRA up to age 70, you get an 8% increase in your benefit.
Are You Retirement Ready?
Pushing the full retirement age to 70 from 67 would only widen the financial gap for those claiming early. For this and other reasons, the chances of a higher retirement age making it through Congress are "very slim," Haltzel wrote, although she expects Social Security to be a "major issue" in the 2024 presidential race.
More From GOBankingRates