Social Security: Women vs. Men by the Numbers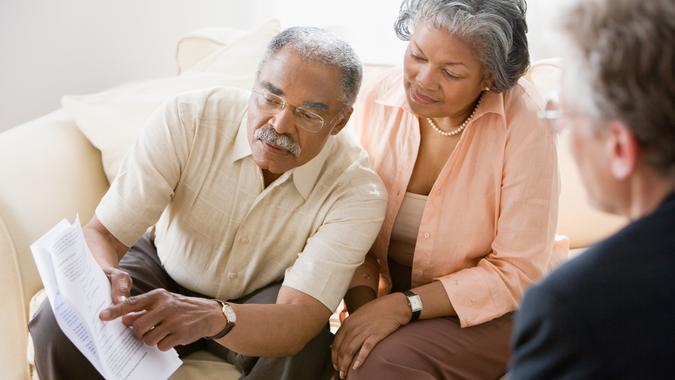 Jose Luis Pelaez Inc / Getty Images/Blend Images
The Social Security Administration regularly reports numbers regarding the "average" Social Security recipient, but statistics vary greatly among individual beneficiaries, especially when men are compared with women. Historic differences between the sexes regarding time in the labor force, earnings and lifespan all play a role in computing Social Security data. Using numbers pulled from the Social Security Administration, the Department of Labor and the Bureau of Labor Statistics, here is a quick look at how some of the most important figures in the Social Security program look when broken down by sex.
Social Security Schedule: When Benefits Will Arrive in May 2022
Be Aware: 15 Worst States To Live on Just a Social Security Check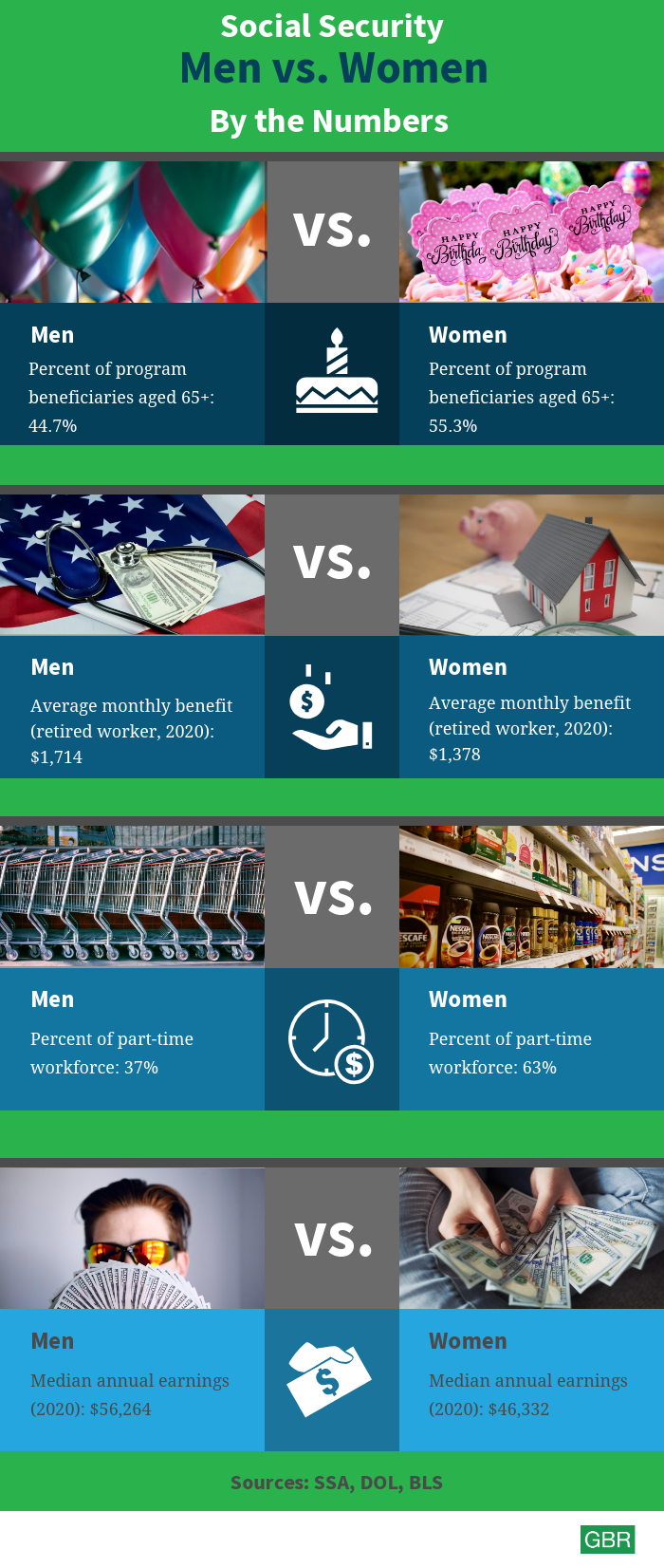 Men Have Higher Incomes …
The gender pay gap refers to the different amounts that men and women earn in the workforce, and its existence has been and continues to be a historical fact. Perhaps not surprisingly, the income differential between men and women in the workforce carries through to Social Security payouts as well. According to PayScale's annual report, in 2022, the uncontrolled gender pay gap showed that women earn 82 cents for every $1 that a man earns. Data from the SSA, DOL and BLS are roughly similar, showing median annual earnings for men at $56,264 vs. the $46,332 earned on average by women. In both instances, that translates into a jump of roughly 22% for men over women. 
POLL: Do You Think the Fed Raising Rates Will Help or Hurt the Economy?
… And Therefore Receive Higher Average Benefits
A major component of the Social Security Administration's formula for determining benefits is the amount of income earned while in the workforce. As men have higher incomes on average than women, it therefore follows that men have higher Social Security retirement benefits on average than women. Men also have higher workforce participation levels, at 69.2% vs. the 57.4% participation rate of women, as of 2019. As more men than women are actually in the workforce contributing to Social Security, this also accounts for some of the higher-benefit discrepancies. 
When you net it all out, the differences are quite dramatic. In 2020, the average male retired worker earned a $1,714 monthly paycheck from Social Security. For retired women, that amount was just $1,378. That means that men on average earned an additional $336 per month, or a whopping 24% extra, even more than the differential in income between men and women. 
More Women Than Men Adopt Part-Time Work
For a number of reasons, women comprise a larger portion of the part-time workforce than men. Historically, women have been less likely to pursue higher education and participate in the workforce, although both of these rates have been consistently trending higher over time. Women in more traditional households are also still likely to take on homemaking responsibilities rather than full-time work, although this is another trend that is reversing.
All of these factors contribute to a higher percentage of women in the part-time workforce. The effect this has on Social Security payments is to lower them for women, as part-time workers tend to both earn less than full-time workers and contribute less to the Social Security system, resulting in lower ultimate payouts.
Women Live Longer Than Men
Women continue to live longer than men, and this too translates into some interesting data from the Social Security Administration. Over 55% of Social Security program beneficiaries aged 65 and older are women vs. men at just under 45%. 
Since women live longer than men, this helps even out the total ultimate payout balances of Social Security over the course of a lifetime. While women draw smaller checks than men on average, by living longer, they also collect more checks than men do. Of course, this doesn't make paying the bills any easier, as women have to do it for a longer time on a smaller paycheck. 
The Bottom Line
The age and income differences that play out in American society between the sexes end up having a big effect on Social Security. As men tend to earn more, they tend to earn higher monthly Social Security benefits. This trend has slowly been reversing over time, however, so it's conceivable that in future generations, this monthly payout discrepancy will diminish or even vanish. For this to be accomplished, more women will have to participate full time in the workforce, and employers will have to pay them the same wages as they pay men. 
More From GOBankingRates