7 Ways People Are Wasting Their Social Security Checks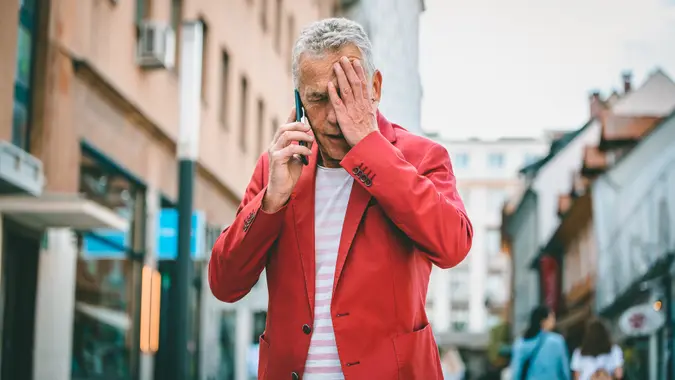 AzmanJaka / Getty Images
Social Security is a vitally important program to American retirees. According to the Social Security Administration, a whopping half of the population aged 65 and older rely on Social Security for at least 50% of their family income, and 25% rely on it for at least 90% of their income.
When combined with the fact that the average monthly retirement benefit is just $1,790.56 as of July 2023, it's essential that beneficiaries stretch their checks as far as possible. Here are seven common acts that make some Social Security beneficiaries overspend when it comes to their monthly checks.
Being Too Generous With Others
It's a natural tendency among many retirees to splurge on gifts for others, particularly family members and charities. While giving in general is a good thing, if you're having trouble making ends meet, it can become a problem.
If you're only living on the average $1,790 Social Security check, for example, that doesn't leave a lot of room for charitable pursuits. If you're tight on cash but still want to help others, consider volunteering your time instead of emptying your pockets.
Eating Out Too Often
With extra free time on their hands, many retirees attempt to fill the hours by exploring things outside of their homes. Generally speaking, this is a healthy thing to do. But if you're tempted to hit all the new restaurants in town every time you go out, it could prove disastrous to your budget.
Are You Retirement Ready?
This is true for everyone, but it can be particularly damaging to retirees living on a fixed income. While you shouldn't become a recluse and avoid eating out 100% of the time, make sure that you only go out to the point that your budget can afford it.
Buying a Brand-New Car
Brand-new cars are reaching nearly $50,000 on average, a price tag that's generally well above what the average retiree living off Social Security can afford. But the worst part about buying a brand-new car, even beyond the hefty price tag, is the massive depreciation they suffer in the first few years after purchase.
On average, you can expect your new car to lose about 20% of its value in the first year alone, with the total amount of depreciation approximating 60% after just five years. If you really need a new car, buy one that's certified pre-owned instead. You'll still likely get at least some level of warranty protection, but you won't suffer nearly as much in terms of depreciation.
Paying for Too Much House
Many retirees are empty nesters, left with just one or two people in a home that used to host four or more. If you're still paying a mortgage on a giant house that you don't really need, you're wasting some of your precious Social Security money. Even worse is the idea to buy a giant house after you retire when you're a one- or two-person household.
Are You Retirement Ready?
If your mortgage is paid off, turn that giant house into an asset by either renting out one or more rooms or simply downsizing and using your equity to pad your retirement fund.
Overindulging in Conveniences
There are a lot of reasons that seniors may overindulge in conveniences. Limited mobility and lack of transportation are just two reasons why you might start relying on delivery services for food and shopping, or on streaming services to keep you entertained. However, it's important to understand that all of these conveniences come at a cost.
If you have absolutely no other way to get food in your house, then you may just have to find a way to cut back your budget in other areas. But, retirees who rely on convenience just because it's available are literally wasting a portion of their Social Security checks.
Gambling Junkets
Some casinos go out of their way to target older gamblers, knowing that they get monthly checks and often have a lot of free time on their hands. Many will even send complimentary transportation or offer other enticements like free lunches just to get seniors into their casinos.
If you're living on a fixed income, though, it's essential to avoid these gimmicks as you could end up blowing your entire Social Security check in a single outing.
Overpriced Prescriptions
Most seniors are on at least one prescription medication, and just like any retail product, sometimes prescriptions cost more depending on where you buy them. Always check to see if your insurance will cover your prescription first, and then shop around to get the best possible price.
Are You Retirement Ready?
Choosing generics over name-brand prescriptions is a great way to save money, and your insurance company might even require it if you want to get coverage.
More From GOBankingRates