Axiom Bank Review: Accessible and Inclusive Banking for Everyone
GOBankingRates Score
Axiom Bank
Our Take: Axiom Bank has been a Black-owned financial institution since its founding 50 years ago. It is a real bank that aims to provide banking services to the most underserved communities by offering financial literacy programs and accounts for customers and small businesses who may have trouble opening accounts elsewhere. Axiom's range of banking services are comprehensive and include bank accounts, loans and CDs.
Accessibility
Breadth of Products
Opening Deposit Requirements
Fees
How did we calculate this?
Pros
Low to no-fee checking and saving accounts
Second-chance checking account for customers with poor credit
Interest-bearing checking available
Money market accounts, CDs, loans and individual retirement accounts also available
Credit repair loans available that use a CD balance as collateral
Cons
Branches limited to Central Florida
Money market account has high balance requirements to avoid monthly maintenance fees
About Axiom Bank
Axiom Bank is a community-based real bank located in Central Florida. Founded back in 1963, it's best known as one of the few surviving black-owned financial institutions. The small bank has 17 branches, most of which are located within Walmart Supercenters.
Although Axiom's branches are all Florida-based, the bank is nationally chartered and provides a wide range of financial services for individuals and businesses. Additionally, GOBankingRates has ranked it as one of the Best CD Accounts of 2021.
Axiom Bank Products
Axiom Bank provides you with a range of banking services, even if you have less-than-perfect credit. Here's more.
Product
Details
Checking Accounts

$25 minimum opening balance
Monthly maintenance fees can be waived
Second-chance checking available

Savings Account

Free savings account with a $25 opening balance and $25 monthly balance requirement
Free withdrawals through Allpoint's network of 55,000 ATMs
Three withdrawals per month allowed

Money Market Accounts

$5,000 minimum daily balance required to avoid $20 monthly service charge
$1,000 minimum opening deposit
Up to six transactions per month allowed

CD Accounts

Seven terms of 6-60 months
0.20%-0.45% APY
Earnings based on term length and the balance amount

Personal Loans

Mortgage and credit-builder loans available
Credit-building loans use your CD balance as collateral

IRAs

Traditional or Roth
$500 minimum opening deposit
Axiom Bank provides unique banking products and a good variety based on your age and financial goals.
Axiom Bank Checking Accounts
All five checking accounts require $25 to open. Opportunity Checking may be Axiom's most unique checking account — it's designed to provide customers with a challenging banking past with a second chance at building a positive banking track record.
Except for senior checking, all accounts have monthly fees of $5.99-$15, although they can be waived by meeting some requirements. You may need to receive at least $500 each month in direct deposits, maintain a minimum daily balance of $1,000 or make at least eight debit card transactions per month.
Features
Most branches are conveniently located in Walmart Supercenters.
Earn 0.050% to 0.075% interest through the Select checking account.
Unlimited check writing for all accounts except AxiomGo digital accounts.
Pros
No ATM fees at over 55,000 locations.
All accounts come with a low opening balance requirement of $25.
Free check orders for Senior checking account holders.
Cons
Opportunity Checking comes with the highest fee of $15 per month.
The fee for Opportunity Checking can only be reduced to $8.95 and is not fully eliminated.
Axiom Bank Savings Account
Axiom Bank's savings account is simple to open and understand. No monthly maintenance fees apply, but you'll need to open an account with at least $25 and keep at least that much as the balance.
Features
Earn 0.05% APY on your accounts.
New account holders qualify for a higher tier of 0.20% interest.
Pros
Minimal opening balance requirements
Free withdrawals possible at over 55,000 ATMs
No monthly maintenance fees
Cons
Limited to three withdrawals per month
$10 fee per excess transactions is high
Axiom Bank Money Market Account
The best money market accounts are popular because they're a hybrid of high-yield savings and checking. Axiom Bank will pay you between 0.05%-0.25% APY (depending on your balance) when you maintain a money market account, but you'll need to keep a $1,000 balance to avoid the $20 monthly fee.
Features
Unlike a savings account, comes with a debit card
$1,000 minimum opening balance required
Tiered interest rates based on your balance
Pros
Earn between 0.05% and 0.25% APY (depending on your balance).
Six transactions per month (double Axiom's savings account conditions)
Pay bills from your money market account.
Cons
$10 fee for each transaction after the sixth.
Axiom Bank CD Accounts
You won't want to miss out on a CD from Axiom Bank. It's been named one of GOBankingRates' Best CD Accounts of 2021. A CD will guarantee an interest rate for a period of time you choose. The best CD rates come when you deposit a higher balance longer. You'll have the option of seven terms of 6, 12, 18, 24, 36, 48 or 60 months to earn more from your savings.
Features
Seven terms of six months to five years
Rates of 0.15%-0.45% APY
Pros
You may qualify for a loan, even if your credit is less than perfect when you use your CD to secure the loan.
IRA and regular CDs earn the same rates.
$500 minimum
Cons
Banking Experience
Central Floridians have their pick of branches, mostly located in select Walmarts, or by accessing online banking anytime. Those who bank outside of the Central Florida area can handle the bulk of their banking needs through the large network of free ATMs and the Axiom Bank mobile app.
Customer Service
Customer service representatives are available by calling 1-800-584-0015. You can also email Axiom.
Accessibility and Branch Availability
There are 17 Axiom Bank branches, most of which are located within Walmart Supercenters.
Mobile and Digital Experience
Axiom's app is pretty straightforward. The bank uses encryption to ensure your valuable personal data remains safe. The app doesn't provide cutting-edge features compared to some banks but offers enough functionality, including:
Account balance inquiries
Manage accounts
View transactions
Set up alerts
Transfer money and send funds to friends and family
Locate bank branches and ATMs
Axiom Bank's mobile app ranks 2.2 on the App Store and 3.2 on Google Play, with most users complaining about flawed functionality after recent updates.
Where to download the app:
Convenience and Ease of Use
You have options when you have questions or need help. Visit a local branch, use the online or mobile banking app, call for support, send an email or read up on a variety of personal finance topics at Axiom's blog.
How To Open an Account
You can open an account by visiting a local branch. It may be the simplest way unless there isn't a branch nearby. Regardless of the method you choose, you'll need to meet these qualifications:
Be a legal resident of the U.S.
At least 18 years of age
Have a valid government-issued photo ID, such as a driver's license or passport
Have a Social Security number or tax ID number
Key Information

Customer Service Number: 1-800-584-0015

Routing Number: 263184815
Axiom Bank Fees
Although most accounts come with minimal fees, there are some you need to look out for. Here's what you need to know about Axiom's fees.
Monthly Maintenance Fees: $5.99-$15 for checking accounts and $20 for money market accounts, although most can be waived.
Returned Item Fee: $34
Cashier's Check Fee: $10
Wire Transfer (Incoming): $10 domestic and $65 international
Wire Transfer (Outgoing): $20 domestic
NSF Fee: $34
Axiom Bank vs. Competitors
Here's how Axiom Bank compares to other similar financial institutions.
| Bank | Best For |
| --- | --- |
| Axiom Bank | Customers who need a second chance |
| Ally | Online banking |
| Synchrony | Credit cards and banking all in one place |
| Discover | Free banking |
Axiom Bank vs. Ally Bank
Ally Bank is one of the top online banks, thanks to its user-friendly website and mobile app. But Axiom offers branch access for people who prefer to do their banking in person.
Axiom Bank vs. Synchrony Bank
Unlike Synchrony, Axiom Bank doesn't provide credit cards to customers at this time, limiting the bank to savings and loans. But if you're looking for second-chance banking, Axiom provides this option while Synchrony does not.
Axiom Bank vs. Discover Bank
Discover Bank has free banking, but it's an online-only bank. Axiom Bank does have some fees but customers can actually visit a physical branch to bank.
Final Take
Axiom Bank is your friendly neighborhood bank — if you live in Central Florida. But even if you don't, you can open and manage your accounts online. The regional bank may be small, but it provides plenty of services the big banks offer, such as checking, savings, money market accounts, loans, CDs and mortgages.
Editor's Favorite

If you've been denied an account at other banks because of issues with your credit score or activity, Axiom's second-chance banking is a good alternative. You'll be able to open an account and even borrow, based on the balance of your CD over credit score, giving you the chance to do things better the next time around. Get started today online or at a local branch.
Axiom Bank FAQ
Here are answers to some of the most commonly asked questions about Axiom Bank.
Is an Axiom mobile deposit free?

Axiom mobile deposits are free, making them a fast and convenient alternative to in-person banking.

How much can I deposit using Axiom mobile deposit?

The daily limit is $2,500 per day.

How long do checks take to clear at Axiom Bank?
Does Axiom Bank offer free money for signing up for an account?

Banks sometimes offer cash bonuses when you sign for an account. At this time, Axiom doesn't have any cash bonuses but does offer a promotional CD rate of up to 2.70% APY for a limited time.
Rates are subject to change. Information on accounts is accurate as of Jan. 10, 2021.
This content is not provided by Axiom Bank. Any opinions, analyses, reviews or recommendations expressed in this article are those of the author alone and have not been reviewed, approved or otherwise endorsed by Axiom Bank.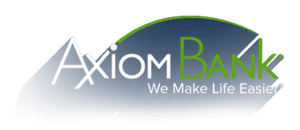 Take Advantage of our Best Offer(s)