Bluebird by American Express Review: A Different Kind of Prepaid Card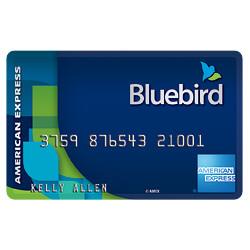 About Bluebird by American Express
Consumers know American Express as a major credit card brand, and Walmart customers likely are familiar with the retail giant's in-store MoneyCenters, which offer a range of financial services, such as money transfers and bill payments. Five years ago, the two companies joined forces to create Bluebird, an Amex-branded financial service.
Keep reading to see if this prepaid debit card is right for you.
What Are Bluebird's Pros and Cons?
Weigh some of the benefits and drawbacks of the account.
What Is the Bluebird Card?
The Bluebird card is your link to a Bluebird financial account offered by American Express and Walmart MoneyCenter. It has many of the same features typically offered by a traditional bank account, such as direct deposit, ATM access, mobile check deposit and the ability to pay bills online at Bluebird.com or through the Bluebird mobile app.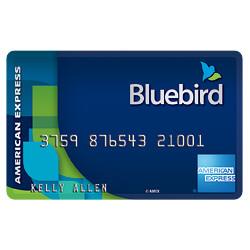 Bluebird allows you to perform the following financial management tasks:
What You Can Do With Bluebird

Add funds

You can add funds to your Bluebird account via direct deposit, by depositing cash at a Walmart store, by making a debit card transfer or by mobile check capture.

Get money from ATMs

This includes free withdrawals at over 30,000 MoneyPass machines and cash pickup at Walmart stores.

Pay bills

Pay your bills with your Bluebird card or online bill pay.

Send money to other people
Make Your Money Work For You
You're protected from fraud if your Bluebird card is lost or stolen. For users of Bluebird, Amex also provides free purchase protection for up to 120 days for eligible items that you buy with your card.
How Does the Bluebird Account Work?
Bluebird account services are tied to the card, which you can get by either registering online at Bluebird.com or downloading and registering through the Bluebird mobile app. There's no cost to apply, and you'll receive your Bluebird card through the mail within seven to 10 business days.
Walmart also sells a $5 starter kit that provides a temporary Bluebird card, which you can then register online if you want to start using the service right away. The temporary card lets you spend up to your available balance anywhere that accepts American Express cards. Bluebird also allows temporary cardholders to track their balance and transaction history online. This card deactivates once you get your personalized Bluebird card.
You can order a Bluebird card for up to four other people under the Subaccount designation, set limits on their spending and ATM use and review their transactions.
Make Your Money Work For You
Who Should Use the Bluebird Card?
A Bluebird card is appealing to people in a number of different scenarios. It's ideal for people who want an easy way to make payments that won't allow you to overdraw your account, for parents who want to help kids budget money or monitor their spending, or for consumers whose past financial history has hindered their ability to open a traditional bank account.
What You'll Need To Open an Account
A Bluebird account requires users to be at least 18 years old, live in the United States and have a valid Social Security number. For Subaccount members, the limit drops to age 13.
What Are Prepaid Cards?
A prepaid debit card is just that: a card that allows you to deposit money onto it to make purchases. You can use it as you would a credit card, but you'll never receive a bill. Instead, money is drawn from your pre-funded account, and you can't spend more than you have. The Bluebird app allows you to deposit checks.
How It Compares to Debit Cards and Credit Cards
A prepaid debit card and a debit card tied to your bank account are very different. With the prepaid card, you are spending only money you have loaded in advance to your card. With a bank debit card, if you have opted-in to the overdraft program with your financial institution, your purchase or ATM withdrawal will be completed, but you'll likely have to pay an overdraft fee as well as make a deposit to cover your expenditure.
Make Your Money Work For You
When you use a credit card, you are committing to repay money at a future date, and if you don't have the funds available when the bill arrives, you'll pay interest when the bill arrives. With a prepaid card, you'll never pay interest.
Is a Bluebird Card FDIC Insured?
In general, yes, and up to $250,000 per depositor. When you add money to your Bluebird account, the money is placed into a custodial account and one or more banks insured by the Federal Deposit Insurance Corp. Currently, Bluebird uses American Express National Bank.
There are two exceptions, however. Should you open your Bluebird account with a temporary card, that money isn't FDIC insured until your account is fully established. In addition, when you put money onto your card, it won't be insured until the money is transferred into the custodial account. It takes about one day for the money to move into the account.
Final Take
The Bluebird account works well if you don't qualify for a traditional bank account or prefer not to have one. You still get advantages like having a Bluebird card backed by the American Express name that lets you hold, access and spend funds. Review the services, fees, and conditions to decide if it's right for you.
Click through to read about the best online banks.
Barb Nefer contributed to the reporting for this article.
This content is not provided by the companies mentioned. Any opinions, analyses, reviews or recommendations expressed in this article are those of the author's alone and have not been reviewed, approved, or otherwise endorsed by American Express or Walmart.
Editorial Note: This content is not provided by American Express. Any opinions, analyses, reviews, ratings or recommendations expressed in this article are those of the author alone and have not been reviewed, approved or otherwise endorsed by American Express. American Express credit card products are not available through GOBankingRates.com.
Our in-house research team and on-site financial experts work together to create content that's accurate, impartial, and up to date. We fact-check every single statistic, quote and fact using trusted primary resources to make sure the information we provide is correct. You can learn more about GOBankingRates' processes and standards in our editorial policy.
Make Your Money Work For You