Bluebird Card Review: American Express Prepaid Card
GOBankingRates Score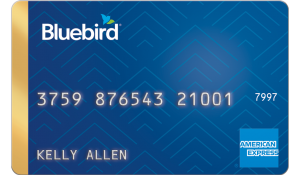 Quick Take: The Bluebird Card from American Express, Member FDIC, is a reloadable prepaid debit account with many shared features of traditional checking accounts. Some features come with fees, although fee-free options are available for most. The card can be an affordable alternative to a traditional checking account when used responsibly.
Fees
Features
Money Management Tools
Security
How did we calculate this?
Pros
No monthly fee
Free online bill payment
Multiple ways to load the card
Cons
No cash-back rewards
Daily and monthly cash reload and deposit limits
Bluebird Card Overview
The Bluebird® American Express® Prepaid Card works in much the same way as a checking account, but without check-writing privileges.
The Bluebird card comes with the same benefits and services extended to all American Express® Card Members. It allows for online bill pay and early direct deposit and includes purchase protection and fraud protection. Like many prepaid debit cards, the Bluebird Card can be fee-heavy. However, American Express provides fee-based and fee-free options for most features, making the card more affordable than some prepaid cards. 
Make Your Money Work For You
Key Features
GOBankingRates gave the Bluebird Card 4.5 out of 5 stars based on the following key features.
Fees
The Bluebird Card doesn't have a monthly fee, but accountholders can incur ATM, cash reload, mobile check deposit and other fees if they are not careful to stick to the card's fee-free options. Here is a comparison of the fee-based and fee-free options of some of the card's features:
Reloading: Accountholders can reload the card at any Walmart without paying a fee. Other participating retailers may charge up to $3.95.
ATM Transactions: ATM transactions via a MoneyPass ATM are fee-free. Out-of-network ATM transactions have a $2.50 fee, and some also have an ATM operator fee.
Mobile Check Deposits: Accountholders can make free mobile check deposits with the Money in 10 Days option. The fee for the Money in Minutes option is the greater of $5 or 1% to 5% of the check amount, depending on the type of check.
Features
The following are some of the primary features of the Bluebird Card:
Usable anywhere American Express is accepted
Mobile check deposit
Online bill pay
Direct deposit with early pay
Easy account freeze if the card is lost or stolen
Make Your Money Work For You
The card also comes with many of the benefits and features every American Express® Card Member receives, including purchase protection, 24/7 access to American Express Customer Service and roadside and emergency assistance.
Money Management Tool
The Bluebird Card's mobile app and online account access make account management easy. Accountholders can use the Bluebird money management tools to:
Schedule online bill payments
Create, track and save for money goals
Set spending limits and alerts
Security
The Bluebird Card comes with fraud protection, and deposited funds are FDIC-insured. For lost or stolen cards, accountholders can quickly freeze the account online or with the mobile app. Customer service is available anytime to assist with fraudulent transactions or other security concerns.
How the Bluebird Card Stands Out
The Bluebird Card's affordable fee schedule makes this card a stand out among many other prepaid debit card options, many of which charge monthly fees, bill payment fees and more. Accountholders can use most of the Bluebird Card's many features and account management tools for minimal fees.
Comparable Bluebird Card Options
While the Bluebird Card is light on fees, other cards may offer better perks.
Make Your Money Work For You
PayPal Prepaid Mastercard
The PayPal Prepaid Mastercard enables accountholders to earn cash-back rewards and open high-yield savings accounts. However, the card comes with a $4.95 monthly fee and a $2.50 ATM fee. A PayPal account is required to access all card features.
Netspend Visa Prepaid Card
The Netspend Visa Prepaid Card has cash-back rewards, high-yield savings and several fees. Monthly plans cost between $5.00 and $9.95 per month or $1.95 per transaction. Accountholders also incur fees for card reloads and ATM withdrawals.
How To Apply for a Bluebird Card
Those interested in a Bluebird Card can register for an account at Bluebird.com, though it isn't currently available to Vermont residents. Applicants must be at least 18 years old — 19 in Alabama and Nebraska — and have the following available:
Name, address, valid email address and DOB
Social Security number
Driver's license or ID
A credit check is not required. Applicants may need to provide additional documentation for identity verification before an account is approved. 
Applicants can purchase a temporary Bluebird Card at Walmart before registering for a Bluebird account.
Who the Bluebird Card Is Best For
The Bluebird Card is best for those needing a spending account while having no checking account. The card's few fees make it an affordable and secure deposit option for day-to-day spending and paying bills without the need to carry cash or a credit card.
Make Your Money Work For You
Final Take
A checking account is the best option for most people who need to pay everyday expenses and bills. Still, the Bluebird® American Express® Prepaid Card provides much of the same functionality, making it a good checking account alternative. To avoid excessive fees, applicants should carefully read the terms and fee schedule and know how to prevent mobile deposit, ATM and other fees.
FAQ
Those interested in the Bluebird Card often ask the following questions about the card and its features.
What bank issues the Bluebird Card?

American Express issues the Bluebird Card.

What is a Bluebird Card used for?

A Bluebird Card can be used for purchases, bill payment, money transfers and more.

How much money can you put on a Bluebird Card?

Bluebird accounts can collectively hold up to $100,000. The amount of money allowed on a Bluebird Card per day or month depends on how the money is added.
For instance, you can load $2,500 per day and $5,000 per month in cash. You can deposit $5,000 daily and $10,000 monthly with mobile deposit.

Can you withdraw cash from the Bluebird Card?

Yes, you can withdraw cash with the Bluebird Card using any ATM that takes American Expres. Out-of-network ATMs charge a $2.50 fee and possibly an ATM operator fee. Use an in-network MoneyPass ATM to avoid fees.
Make Your Money Work For You
Rates and fees are accurate as of Dec. 29, 2022, and are subject to change.
Editorial Note: This content is not provided by any entity covered in this article. Any opinions, analyses, reviews, ratings or recommendations expressed in this article are those of the author alone and have not been reviewed, approved or otherwise endorsed by any entity named in this article.
All information about the Bluebird® American Express® Prepaid Card has been collected independently by GOBankingRates. The Bluebird® American Express® Prepaid Card is not available through GOBankingRates.
Editorial Note: This content is not provided by American Express. Any opinions, analyses, reviews, ratings or recommendations expressed in this article are those of the author alone and have not been reviewed, approved or otherwise endorsed by American Express. American Express credit card products are not available through GOBankingRates.com.