Cathay Bank Review: Full-Service Banking for Asian American Communities and More
GOBankingRates Score
Cathay Bank
Quick take:
Cathay Bank offers a full suite of personal checking and savings products, along with mortgage loans, credit cards and investment products. First opened to serve the Chinese American community in the Los Angeles area, the bank has expanded to several other areas in the U.S. that also have large Asian American populations. Their website is available in English, Chinese and Spanish. It now ranks in the GOBankingRates
Top 100 Banks
list. As of February 2022, select West Coast
HSBC
account holders will be migrated to Cathay Bank. If you're coming in from HSBC or considering the bank's services, this review will provide you with everything you need to know.
Rates
Breadth of Products
Accessibility
Mobile App
How did we calculate this?
Pros
Website and customer service available in English, Chinese and Spanish
Competitive interest rates
Full range of products for all banking needs
Cons
Branch locations are only in nine states in the U.S.
About Cathay Bank
Cathay Bank was founded in 1962 to serve the Chinese American community in Los Angeles. It now has over 60 branches in nine states and ranks as No. 15 in the GOBankingRates Best Regional Banks category. The bank also has a branch in Hong Kong and representative offices in Beijing, Shanghai and Taipei. The website is available in English, Chinese and Spanish.
Cathay Bank Products
Cathay Bank offers checking, savings, money market and CD accounts, as well as mortgage loans and credit cards. There are checking and savings options for people at all stages and income levels, from student and basic checking to long-term CDs and retirement accounts.
Checking Accounts
Cathay Bank offers five checking accounts: Student Advantage Checking, Basic Checking, Simple Checking, Personal Checking and Cathay ValuePlus Checking. Basic and Simple Checking are similar products that are offered in different states. Basic and Personal Checking come with unlimited check writing.
When deciding on which account to open, keep in mind that Simple Checking, for residents of California, Washington, Nevada and Texas, has a higher opening deposit of $25 and a $6 monthly maintenance fee that can be waived with qualifying direct deposits of $100 or more in total each monthly statement cycle. The Basic account for residents of New York, New Jersey, Massachusetts, Maryland and Illinois has no monthly service charge and a $10 minimum opening balance. Personal checking comes with a $100 opening balance and a monthly fee of $10 per month which can be waived with qualifying direct deposits of $100 or more in total each monthly statement cycle.
ValuePlus Checking allows you to earn interest, currently to APY depending on the balance. But the $15 monthly maintenance fee for this account cannot be waived.
Savings Accounts
Cathay Bank offers several savings account options. They all pay interest based on your account balance, with rates ranging from to APY.
Passbook Savings uses the traditional passbook that gets updated when you go into a branch to make a deposit or withdrawal, while Statement Savings issues quarterly statements. Each can be opened with as little as $100 and has a $3 per month maintenance fee.
Student Savings has a minimum opening balance of just $10 and no monthly maintenance fee.
Money Market Accounts
Cathay Bank offers two money market accounts to choose from. Each account offers the convenience of check writing, while earning interest. However, you're limited to six transactions per month.
The Smart Money Market account has a $5,000 minimum opening balance and pays between APY and APY, depending on the balance. For higher balances, the Optima Money Market has a $100,000 minimum opening balance and pays between APY and APY, depending on the balance.
CD Accounts
Cathay Bank offers certificates of deposit for terms ranging from seven days to five years. Rates depend on the term of the CD as well as the deposit amount. Longer terms earn higher interest rates.
To choose a Cathay Bank CD, start by selecting a term between 7 days to five years. Interest rates range from to APY. Cathay Bank CDs have a $2,500 minimum opening deposit. Interest rates rise for deposits of $50,000 or more.
Best Features
Cathay Bank is one of the highest-ranking banks in the country based on its strengths in several categories. Its interest rates aren't industry-leading, but are competitive, beating out some of the larger bank's nominal rates. 
While the mobile app is fairly robust, the bank's strongest feature is its breadth of products. Due to the number of account options and financial services, its accessibility score was higher than average — plenty of options and customer service reps trained to assist clients in three languages.
Editor's Favorite

Cathay Bank supports customers in English, Chinese and Spanish for a more inclusive experience. The sense of community it delivers is one of the regional bank's strongest features.
Banking Experience
Cathay Bank branches are located in nine states across the U.S. as well as in Asia. Customers who may have banking business in Hong Kong, Beijing, Shanghai or Taipei will find it convenient to bank there as well. The bank also offers online and mobile banking for times when there is no branch nearby.
Accessibility
Cathay Bank has over 60 branch locations in the United States and customers have access to PULSE Select and MoneyPass ATMs with no service charge.
Customer Service
Cathay Bank has customer service agents available 6:00 a.m. – 7:30 p.m. PST, Monday through Friday, and automated account information available 24 hours a day, 7 days a week by calling 800-922-8429.
How To Open a Cathay Bank Account
The Cathay Bank website does not support account opening. To open an account, you must visit a branch.
Mobile & Digital Experience
The Cathay Bank mobile app is available for iPad, iPhone and Apple Watch on the App Store, where it has a rating of 4.1 stars. For Android users, it's available on Google Play, where it has a 3.8-star rating. With the mobile app, you can deposit checks, pay bills, transfer funds and check your account balances on your mobile device. For quick access to your account balances and recent transactions, the Cathay Bank mobile app supports Touch ID and passcode authentication.
Cathay Bank vs. Competitors
If you're shopping for a new bank, it's important to find the one that's best for you. Here are some other banks you might be considering, so you can see how Cathay Bank stacks up against the competition.
| Bank | Best For |
| --- | --- |
| Cathay Bank | Multilingual service and broad product line |
| Bank of America | Branches and ATMs nationwide |
| East West Bank | Checking and savings options for seniors |
| Wells Fargo Bank | Overdraft protection |
Cathay Bank vs. Bank of America
Cathay Bank offers services that are specific to Asian American customers, including those who want to bank in Hong Kong, Beijing, Shanghai and Taipei. Bank of America has 4,300 retail banking locations and 16,000 ATMs nationwide.
Cathay Bank vs. East West Bank
East West Bank offers senior checking and savings accounts with no monthly maintenance fees for customers age 62 and up — options you won't find at Cathay Bank. Cathay offers more mortgage options though, especially for investment properties.
Cathay Bank vs. Wells Fargo Bank
Wells Fargo Bank offers overdraft protection by linking your checking and savings accounts, and using your savings balance to cover any overdrafts in checking. Cathay Bank offers better interest rates, even on low balance savings accounts.
Final Take
Cathay Bank is a great choice for those who would like bilingual banking services and who are located in one of their service areas. Competitive interest rates and a wide variety of products mean you can use Cathay Bank for all of your financial needs. Although the number of branches is limited compared to some big banks, there is a nationwide network of surcharge-free ATMs available, as well as online and mobile banking.
Cathay Bank FAQ
Is Cathay Bank FDIC-insured?

Yes. Deposits at Cathay Bank are FDIC-insured up to $250,000 per depositor.

Who owns Cathay Bank?

Cathay Bank is a division of Cathay General Bancorp, a publicly traded company.

Does Cathay Bank offer mobile check deposit?

Yes. Mobile check deposit is available for all Cathay Bank checking and savings accounts except Passbook Savings and CDs. Customers can deposit up to 10 checks per day, totaling up to $10,000.

Does Cathay Bank offer free money for signing up for an account?

Cathay Bank does not currently offer a cash bonus for signing up for an account.
Cynthia Bowman contributed to the reporting for this article.
Rates are subject to change; unless otherwise noted, rates are updated periodically. All other information on accounts is accurate as of Aug. 22, 2022.
Editorial Note: This content is not provided by any entity covered in this article. Any opinions, analyses, reviews, ratings or recommendations expressed in this article are those of the author alone and have not been reviewed, approved or otherwise endorsed by any entity named in this article.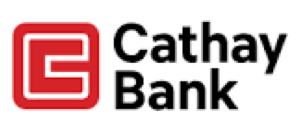 Take Advantage of our Best Offer(s)