Receive a $5K Bonus? Here's Where Money Experts Advise Putting the Money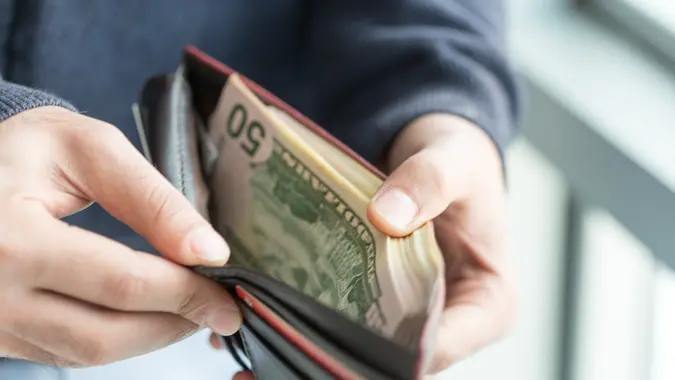 cnythzl / Getty Images
Getting an unexpected $5,000 bonus would solve a whole lot of financial problems for most Americans. How you decide to solve them depends on your personal financial situation.
If you are heavily in debt and behind on the bills, then your focus will probably be on paying those debts down. If you are all caught up on your bills but behind on retirement savings, then building those savings might take priority. Those who are financially comfortable might decide to treat themselves to a luxurious vacation or donate money to their favorite charity.
A GOBankingRates survey of 1,005 U.S. adults conducted in January 2023 aimed to find out how people might spend the money. One of the survey questions was, "If you received an unexpected bonus of $5,000, what's the first thing you would do with it?" Here are the answers, in order of importance:
Pay off debt: 32.74%
Catch up on past due bills: 21%
Save it for short-term expenditures or emergencies: 17.71%
Save it for a long-term goal: 12.74%
Pay for a vacation: 9.65%
Pay for a major home improvement: 6.17%
More than half of respondents would put the money toward debt or bills, while less than one-tenth would splurge on a vacation. Those numbers give you a pretty fair idea of the financial situation many Americans find themselves in these days.
Most financial experts would applaud using a $5,000 bonus to pay down debt, catch up on bills and build emergency funds.
"If people get a surprise $5,000, there's a tendency to think of it as bonus play money," Aliya Padamsee, a director of financial solutions at Fidelity, said in a blog on the company's website. "But think about using it as an opportunity to get ahead, not to stay in the same place."
Fidelity recommends keeping either one month's rent or at least $1,000 (whichever is more) in a savings account at all times. If you don't have that savings on hand, put part of the bonus into a new savings account. Beyond that, Fidelity advises paying down your high-interest credit-card debt and establishing an emergency fund that would cover three to six months of expenses.
If you already have sufficient savings and are free of credit-card and other high-interest debt, then most financial advisors suggest putting your bonus money into financial vehicles that will help it grow.
A US Bank blog recommends increasing contributions to your 401(k), 403(b) or IRA account.
"Consider contributing at least 10-15% of your pre-tax salary each year to your retirement accounts," US Bank said. "If you've already maxed out your contributions, consider opening or adding funds to other investment accounts, such as health savings accounts (HSAs), brokerage accounts or robo-advisors."
If you are raising a young family, Morgan Stanley recommends increasing your education savings to help pay for the ever-rising price of college. One good option is a 529 Education Savings Plan, which offers tax-free earnings growth and tax-free withdrawals when used for qualified education expenses.
Take Our Poll: What Are You Worth to Your Company?
New Car Market: Prices Are About To Plummet Due To Oversupply
Other options are to put all or part of your $5,000 bonus into stocks, bonds, mutual funds, exchange-traded funds or real estate investments. If this is the route you take, be sure to diversify your investments so you don't put all your money into the same type of asset. Funds offer a way to diversify your holdings in a single asset. If you are new to investing, consider hiring a financial advisor to help ensure the highest returns.
More From GOBankingRates