7 Fears That Keep You Poor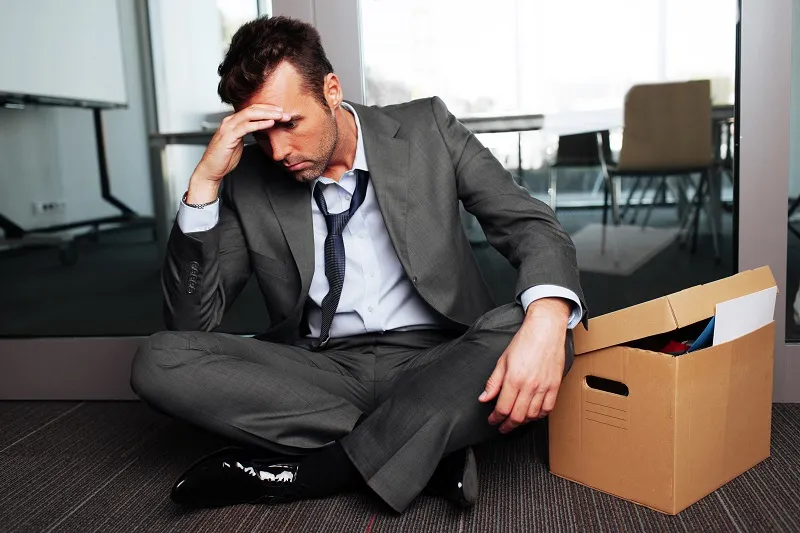 Your financial fears might not only be holding you back; they might be keeping you poor.
Certified financial planner (CFP) Tom Corley found when researching his book, "Rich Habits," that 63 percent of the millionaires he studied had taken a risk in pursuit of wealth compared with only 6 percent of lower-income people. "Why? Because the poor allow the fear of failure to put the brakes on pursuing their dreams," he said.
However, it's not just a fear of failure that's stopping you in your tracks. Everyday money worries might be hindering your ability to achieve financial success. GOBankingRates recently surveyed more than 5,001 adults in the U.S. to find out what their biggest financial fears are. Here are the top seven fears along with tips for overcoming them.
1. Always Living Paycheck to Paycheck
With 20 percent saying they're afraid that they'll always be living paycheck to paycheck, this was the biggest fear among those surveyed by GOBankingRates. Women are more afraid than men — 25 percent versus 18 percent — of being caught in this cycle. And adults earning $100,000 or more are more likely than those earning less to say that living paycheck to paycheck is their biggest financial fear.
Make Your Money Work for You
The primary reasons that people — even the wealthy — live paycheck to paycheck are poor budgeting and poor planning, said Derek Gabrielsen, a chartered retirement planning counselor with Strategic Wealth Partners. Without a budget and plan, your spending isn't prioritized and you don't have goals that will help you build your wealth.
"Having a budget and a good financial plan should hopefully alleviate a lot of financial fears," Gabrielsen said.
Read: 2 in 5 Americans Fear Always Living Paycheck to Paycheck
2. Living in Debt Forever
It's not surprising that 18 percent of those surveyed by GOBankingRates said living in debt forever is their biggest fear. After all, Americans have nearly $12 trillion in debt, according to the most recent figures from the Federal Reserve Bank of New York.
Jeff Rose, a CFP and founder of GoodFinancialCents.com, said that new clients often come to him not knowing how much debt they owe. Because they're afraid to face their debt, they don't know how to handle it and it gets in the way of reaching other financial goals. "Accept it, breathe in a brown paper bag, then you'll know what you're dealing with," and you can make a plan to eliminate it, Rose said.
Make Your Money Work for You
3. Never Being Able to Retire
This fear ranks third among those surveyed by GOBankingRates. But truthfully, more people should be worried about not being able to retire; nearly 30 percent of workers recently surveyed by the Employee Benefit Research Institute said they have less than $1,000 in savings.
However, if that fear is leading you to inaction because you think there's no way you'll ever be able to save enough, then you will be poor in retirement. "Fear is a horrible planning strategy," said Joshua Self, a CFP with Envision Wealth Planning. Rather than worry about not being able to retire, take steps to ensure a comfortable retirement.
Related: 17 Clever Ways to Save More for Retirement
4. Losing a Job (tie)
GOBankingRates found that this is the biggest fear for 15 percent of those surveyed. If you're spending your time worrying about losing your job rather than finding ways to keep it, then you probably are putting yourself at greater risk of ending up unemployed.
Corley writes in "Rich Habits" that successful people engage in the process of self-improvement daily: "They read industry periodicals and technical material specific to their profession or trade. They become students of their industry, profession or trade."
Make Your Money Work for You
If you can't shake the fear of losing your job, get a backup plan. Look for ways to make more money to give yourself a cushion in case you do lose your job.
5. Having Your Identity Stolen (tie)
The 15 percent of survey respondents who said having their identity stolen is their biggest fear certainly have a right to be afraid. In 2014, $16 billion was stolen from 12.7 million victims of identity fraud, according to Javelin Strategy & Research, a company that conducts in-depth research on fraud and security.
But being afraid of identity theft won't protect you from it. Unless you're taking steps to guard your personal information, you're putting yourself at greater risk of losing hundreds or thousands of dollars to identity thieves — which could leave you poor.
To minimize your risk of identity theft, Javelin Strategy & Research recommends that you use strong passwords for accounts, sign up to receive alerts from your financial service providers when there is activity on your accounts, secure your mobile device with a passcode and download an app that will allow you to remotely lock your phone and erase data if it is stolen. Sign up for credit monitoring if there's been a data breach at a company you do business with, and immediately notify your bank, credit card or other service provider if you suspect fraud.
Make Your Money Work for You
Read: 8 Identity Theft Myths You Should Ignore
6. Not Being Able to Afford a Home
Homeownership is part of the American Dream." Yet, 9 percent of adults surveyed by GOBankingRates said their biggest fear is not being able to achieve this dream. But in reality, many people might be able to afford a home — just not the home they want, Gabrielsen said. And this is what gets people in financial trouble.
Gabrielsen said he has seen many young adults buy too much home too soon. As a result, they struggle to make ends meet and put other priorities — such as saving for retirement — on the back burner. He cautions people to make sure that the house they're buying or building fits into their overall financial plan.
7. Losing All Your Money in the Stock Market
Although just 7 percent of those surveyed rank losing their money in the stock market as their top fear, there's no doubt that the market's gyrations can be scary for many. However, "if you have a fear of losing all your money in the stock market, you'll continually put off investing," said Nikki Turosky Smith, a CFP with GreenWell Financial. "Without the element of time, investing to grow your wealth is not going to work under most circumstances."
To lower your risk, you don't want to put all your money into just one stock because you could lose it all if the company goes bankrupt, said David Kring, a CFP with Conestoga Wealth Management. Instead, invest in mutual funds that own shares of many companies, which — barring Armageddon — have pretty much zero chance of going out of business at the same time, he said.
Keep reading: 9 Best Mutual Funds to Invest in
If you want to know how to make more money, don't let any of these fears lead you to inaction. Corley said you can overcome these financial fears by taking small steps. "Each time you conquer your little fears, you gain confidence to face the larger ones," he said. "Eventually, facing your fears becomes a daily habit that will automatically silence those negative voices forever."
Take control of your finances, and start making more money today.