Most Americans Have $1,000 or Less in Savings — How To Increase That Amount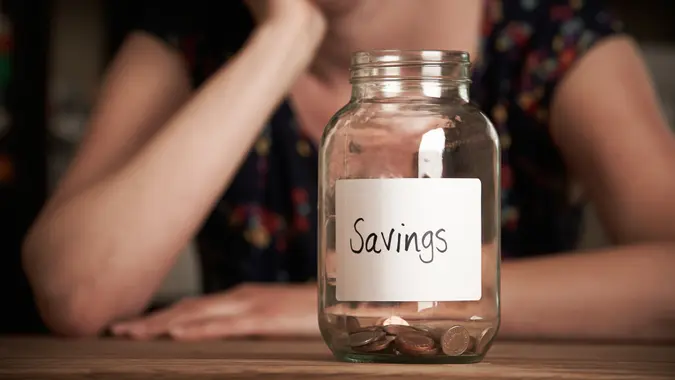 SpeedKingz / Shutterstock.com
Several factors have made the road to savings arduous for many Americans. The combination of inflation, soaring rates (which impact everything from mortgages to auto loans to credit card payments) and the looming resumption of student loan payments has left little to set aside for rainy days or for retirement.
The numbers speak for themselves. A new GOBankingRates survey found that most Americans have $1,000 or less in personal savings in 2023; a third have $500 or less saved, while 8.5% have between $501 and $1,000.
Meanwhile a whopping 11.4% said they have no savings, the survey found. 
Interestingly, the 35-44 age group leads the pack of those with no savings, at 13.8%. This group is followed by the 18-24 group, with 12.4%; the 55-64 age group, with 11.4%; the 65-and-over group, with 10.6%; and the 25-34 group, with 9.8%.
"Personal saving rates have been on a steady decline since mid-summer last year, so I'm not particularly surprised by the results of this survey," said Michael Micheletti, chief communications officer at Unlock Technologies. "After the vast majority of consumers used government stimulus money to pay down debt and strengthen their balance sheets, we are seeing this regression play out both with the rise in debt burdens and the fall of saving rates."
In terms of generations, the 45-54 age bracket takes the lion's share of Americans with less than $500 in savings, with 42%. They are closely followed by the 35- to 44-year-old cohort, with 40%. 
Make Your Money Work for You
On the other hand, the 65-and-over age group predictably has the highest rate — 27.5% — of those with savings totaling $10,000 or more. 
The survey also underscored the fact that there is a gender gap in terms of personal savings. More women (37%) have less than $500 in savings, compared to 29% of men. Meanwhile, more women (13%, vs. 10% of men) said they have no savings. 
What Can Americans Do To Increase Their Savings? 
Austin Kilgore, analyst at Achieve Center for Consumer Insights, offered several tips on how to boost personal savings.
First, he said, make sure the budget includes savings as a line item, which means you need to have a simple budget first. 
"Including savings as an expense item means that it becomes a bill you pay to yourself," Kilgore said. "Many experts recommend saving 10% of all income received. Too much? Go with 5%, 2% or whatever you can consistently handle. Automate the transfer via direct deposit or with your financial institution to streamline the process."
Kilgore also recommended tracking expenses day by day, adding them up and comparing them to your budget. 
"Find out where your money goes and where you can cut back," he said. "Many people will be surprised to find where their money really goes." 
Get in the habit of considering whether any expense is essential and cut down on costs such as subscriptions and memberships.
Not skimping on retirement savings is also crucial, Kilgore said, adding that if you work for an employer with a matching retirement savings program, not participating is like giving money away.
Another tip is to pay with cash. 
"It's common that people will spend up to 15% to 20% less when paying with cash," he said. "They're also less inclined to break larger bills, so when possible, take larger bills with you when shopping."
Make Your Money Work for You
Picking up a side gig is also a solution. While it's not for everyone, many people will find it's an excellent time to pick up some additional money to devote to savings, he said. 
Finally, Kilgore said to try to "shop smarter."
For instance, look for store brands at the grocery store instead of name brands or try farms, orchards and farmers markets.
"If you don't belong to a membership warehouse club, consider it — perhaps with someone else," he said. "Individuals, couples and smaller families may overlook clubs for groceries. But not all products come in oversized quantities, plenty are nonperishable, and there are many multi-packs of healthy and nutritious food options. Coordinate with friends, neighbors or family members to split larger purchases."
More From GOBankingRates