10 Brilliant Budgeting Tips From Momfluencers

9 min Read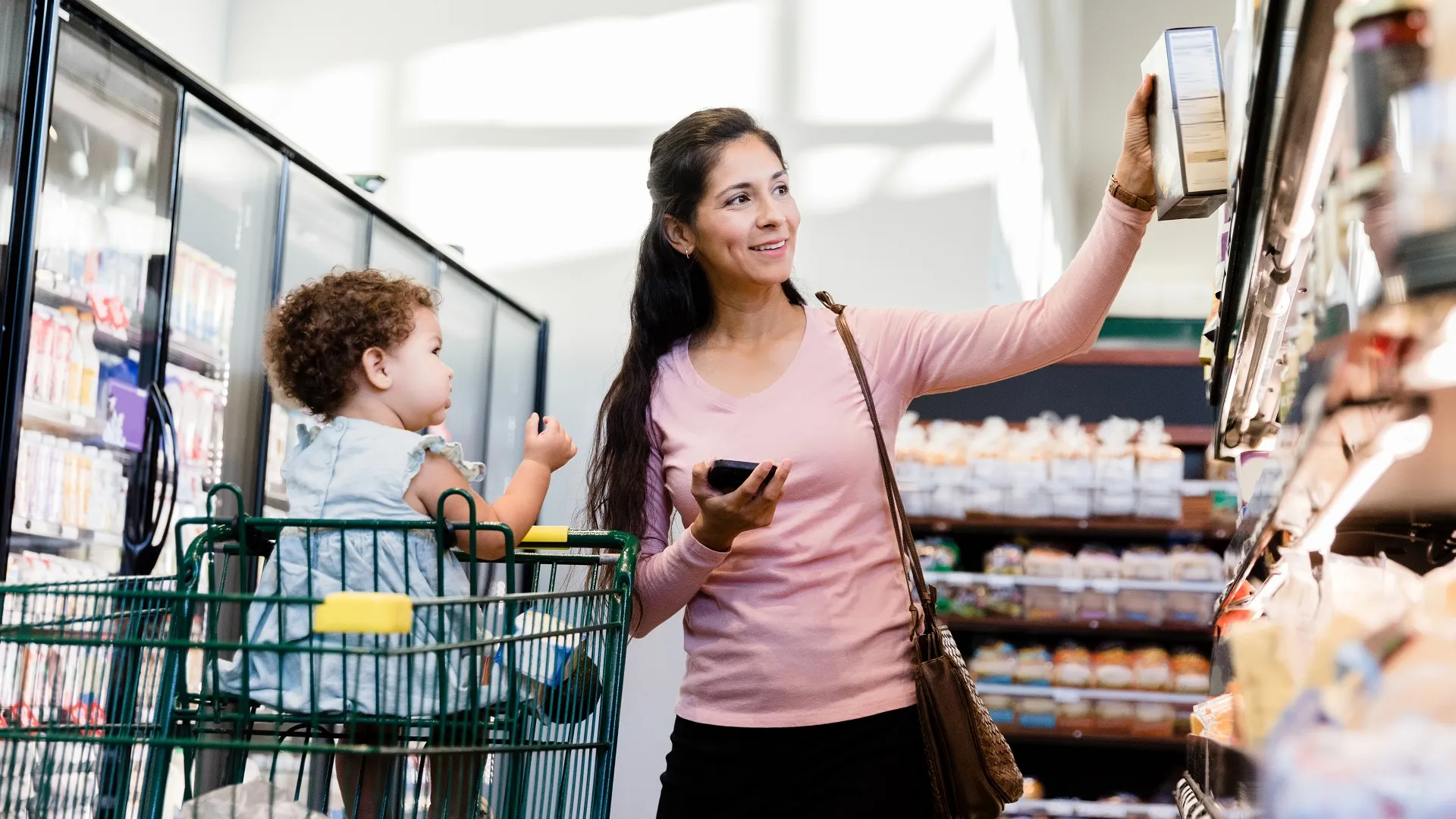 Being a mom is a lot of things — challenging, rewarding, fun, and incredibly hard. But one of the things not talked about enough is that it can also be quite expensive! From groceries to clothing to activities, the costs associated with parenthood can add up quickly.
However, with some smart budgeting strategies, moms can take control of their finances. We reached out to a handful of popular mom influencers, or "momfluencers," to get the practical tips and tricks to make the most of being a mom on a budget.
Talk About Your Finances With Your Partner
When you have kids, it's more important than ever to create a shared understanding of financial goals and responsibilities. Open communication about money can help avoid misunderstandings, prevent financial surprises, and allow for joint decision-making. It can also help couples identify potential areas of conflict and develop strategies to address them. 
"Some people have a very hard time talking about money," says Lindsey Konchar, of Coping with Lindsey. "But money and kids are the ONLY two things that impact every decision we make in life. So you and your partner must be able to talk about money. It can be a really sensitive topic because money is never simple. The reality is money has a lot of emotions wrapped around it."
Smart Money Moves: 9 Bills You Should Never Put on Autopay
Cut Costs: Unplug These Appliances That Hike Up Your Electricity Bill
Lisa Alemi, founder of MoveMamaMove,com, agrees. "Both adults in the family must be on the same page with spending and saving. Get specific with expectations of what future spending should look like. Be honest with your wants and needs while being open-minded to your partner's wants and needs. Set up regular meetings with each other to discuss and review the budget."
Make Your Money Work for You
Include the Whole Family
Victoria Taylor, founder of BestCaseParenting.com, recommends taking this approach a step further. "Involve your entire family in the budgeting process so everyone understands where money is going and why. This can also create a sense of accountability when trying to stick to the budget."
Take Our Poll: Who Has Given You the Best Money Advice You Have Ever Received?
It's a good idea to involve the whole family in financial discussions because it helps everyone feel like they're part of the team. Plus, it's a great way to teach kids about money and how to be responsible with it. When kids are involved in these talks, they can get a better idea of what's going on with the family's finances and learn how to make smart choices with their own money.
Set Financial Goals
"Setting short-term and long-term goals can help keep your family on track," says Taylor. "Whether it is saving for a vacation, paying off debt, or setting aside money for retirement, having goals gives you something to work towards."
By setting specific goals, families can create a roadmap for their financial future and track their progress along the way. This can also help encourage everyone to work towards a shared financial vision. 
When families set financial goals together, they can make their dreams a reality. Everyone can look forward to a fun trip or a big purchase together. This helps you make smarter choices about how you spend your money and brings the family together to work towards a shared vision. 
"Have regular (I suggest weekly, but bi-weekly works, too) meetings where you discuss finances," says Konchar. "It doesn't have to be long and in-depth. But this is where you should discuss goals and make sure your spending, saving, and investing habits align. It's also a fun place for mom and dad to just have a little time to dream together again!"
Allow Some Discretionary Purchases
It's good to have some wiggle room in your budget for fun stuff, especially when you and your partner don't always see eye to eye on spending. Everyone has different priorities and it's important to respect that. This way, you can both spend on things that make you happy without getting into arguments. 
"Partners might not always agree on each other's spending choices," says Konchar. "In our house it's my husband's incessant need for fishing gear. And my incessant need for shoes. We both want what we want. So we get an agreed upon dollar amount each month for any guilt-free, discretionary purchases. When the money for the month is gone, it's gone. Similarly, if you don't use the entire amount, it rolls over. Allowing you to save for bigger self-serving purchases."
Plan Your Meals Ahead of Time
By making a meal plan for the week, you can avoid running to the store for last-minute stuff and buying things you don't need. Plus, you can use up your ingredients more wisely and avoid wasting food.
"With the cost of groceries right now, going to the store without a plan or list is a recipe for spending twice as much as you planned," says Erica Baty, a mom and nutrition influencer at @itsaflavorfullife. "When you have a plan for the exact meals you will make this week, you can buy exactly what you need, use it up, and prevent both food and financial waste! Because who else has bought a head of cauliflower without a plan and watched it sit for weeks in the corner of the crisper drawer until finally throwing it out? Make a plan of 4-5 meals, anything you'll need for breakfast, lunch or snacks, stick to that list and you'll be shocked by how much you can save."
"Making homemade meals is a great way to save money and get creative in the kitchen," says Taylor. "Research recipes for cheaper meals, make interesting use of leftovers and look for online deals when grocery shopping."
Dollar Tree: 12 High-Quality Items To Buy in May
Make Your Money Work for You
Buy in Bulk
Buying bulk foods, or foods sold by weight, can be a smart way to save money and stay within your budget. Bulk foods are often priced lower than their packaged counterparts, which means you can save money on items like rice, nuts, or dried fruit. This can add up to significant savings over time and help you stretch your food budget further.
Gennifer Rose, creator of the motherhood blog SurrogacyMama.com, recommends, "This way, you can purchase as little or as much as you want of a product. If you just need a little bit of spice or grains for a recipe, you can literally buy 50 cents' worth instead of having to pay for a whole bottle. While you won't get the typical brand name food products, you can get very significant savings on dry foods such as pasta, grains, cereal, rice, beans, nuts, spices and much more. You can easily make meals for just a few dollars a person by buying these staples by the pound."
Buy Multiples of the Things Your Kids Love
Kids can be hard on their clothes, especially the ones they love the most. So, getting a few extra sets can help make them last longer and save you from having to buy new stuff all the time. Be especially mindful of this during sales. 
"If your kids love a particular jacket, dress, sneaker, leggings, or sports gear–shop for the next size up or a backup pair," says parenting expert Karen Aronian. "This way, you're always prepared, have a replacement at the ready, and don't have to waste time and money shopping again, again, and again!  My daughter's bestie asked her, 'How do you still have the same sneakers three years later (haven't you grown or worn out your treads?!' No:)–we just bought the next size up 2-3x!!!"
Take Advantage of Free Resources
Why spend money when you don't have to? Many communities offer free resources such as libraries, parks and community centers that are fun and educational. These resources can also be a great way to meet new people and build a sense of community.
"Libraries, buy nothing groups, and local mom groups are great places to find free books, toys, clothing, and other things for kids," says Alemi. "Connecting with local groups can help you find bargains or even pick up items others give away."
Costco's Best Deals? Employee Reveals 10 Standout Buys for Your Money
Make Your Money Work for You
Use Credit Cards To Help You Budget
Using different credit cards for different stuff can help you keep track of your spending. Use one card for groceries, another for gas, and so on. 
"For example, use one credit card for groceries and only groceries," says Alemi. "This makes budget monitoring easy because you can check the balance on the card weekly, knowing the only charges are grocery related. Other categories can include travel + car expenses and clothing + gifts purchases."
You'll also want to maximize your rewards by using the cards that offer the best rewards in each spending category. For example, use the card that offers the most points for grocery purchases exclusively for your groceries.
Treat Yourself Kindly
Perhaps the most important tip is to take it easy on yourself. You're not always gonna be perfect, and that's OK!
"Budgeting is challenging," says Konchar. "Especially in our instant gratification world. You probably won't get it right every time.. You might need to re-adjust some of the categories in your spending plan. And that's okay. In fact, it's good. You're learning. Show yourself some compassion."
More From GOBankingRates