How AI Can Decrease Your Cost of Living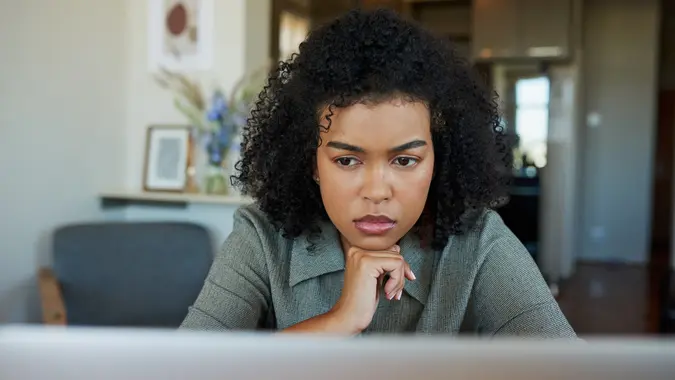 LaylaBird / iStock.com
The exploding surge of artificial intelligence (AI), namely via the rise of ChatGPT, has been making headlines for months. From ways to generate income to how it can make work more efficient, the technology's applications seem endless, even though it's in its nascent stages.
And now, AI can also decrease your cost of living in several ways. Here are a few of them.
Be Your Personal Finance Assistant
There are numerous AI-powered apps that can help you create a budget, stick to it and save along the way. For example, WallyGPT is a free personal finance app that helps people worldwide track and manage their finances, as well as improve their financial literacy.
Saeid Hejazi, founder at Wally, explained that once you've connected all of your bank accounts on the app, you can start talking to WallyGPT.
The tool can help you get insights into your spending patterns, including benchmarking to people similar to you, and also get personalized recommendations for restaurants that fit your budget and tastes.
It can also research pros, cons and details of financial goals such as retirement planning, wedding planning or debt repayment; get personalized recommendations on credit cards and insurance products and services; and research investment strategies, choosing ETFs, risk levels, stocks and investing levels, Hejazi said.
"If you asked ChatGPT how much is the cost for a 100-person, two-day wedding in Athens and how to save for it, you'll only get answers for the first part of your question. Why? Because ChatGPT doesn't know you or your financial situation," Hajezi said. "It can't take into consideration your income, savings, debts or spending patterns. The same applies to any financial decision people make on a daily basis."
Make Your Money Work for You
Cut Food Waste and Save Money (and the Planet)
Inflation has put a strain on Americans' wallets, with the price of food forcing many to be very careful and cut down on groceries.
At the same time, Americans toss out between $161 billion and $218 billion worth of food every year. What's more, the average family of four wastes an eye-popping $1,500 of food annually, according to Earth.org.
An aggravating factor of all of that food waste is that it contributes to 8% of all global emissions.
Enter CutWaste, an AI-powered app that helps households reduce food waste at home and save money in the process. It provides expiry reminders for food in your pantry, and it creates custom shopping lists based on what is in the pantry, explained founder Prateeksha Uday.
"It's easy to use," Uday said. "You take a picture of your grocery receipt, and the app uses AI to figure out everything being added to your pantry, as well as the expiry date for each item. You can find all your items organized by expiry date at any point and can meal prep more mindfully using up items expiring soon first."
Uday added that you also can mark food items as eaten or trashed once you're through with them so you can track how much you're saving monthly. For your grocery runs, the app also creates a custom shopping list based on your household consumption.
Help With Homeownership Costs
Homeownership is a dream for many, but it's a dream that also entails a lot of responsibilities, organization, maintenance and money. And yes, there are AI-powered apps for that.
Make Your Money Work for You
For example, HomeZada, an AI-enabled digital platform, can help homeowners manage the costs of homeownership — including loans, taxes, insurance, utilities, maintenance, repairs and remodels — to maximize the value of their single-largest asset, said John Bodrozic, co-founder of HomeZada.
Bodrozic explained that HomeZada integrates all expenses associated with homeownership into an integrated budget tracker and schedule. The AI chat assistant can then send real-time suggestions for minimizing home costs — such as labor and product — and maximizing value. He said the assistant also can manage and track all remodel and home improvement projects and receive real-time contractor, designer, brand, product and cost-cutting recommendations, as well as organize all home-related documents into a completely paperless library.
Help With Traveling Costs
Expedia, KAYAK and a slew of other travel sites launched ChatGPT plug-ins recently so users can get recommendations on places to go, where to stay, how to get around and what to see and do based on the chat, according to a press release by Expedia Group.
"A traveler can start a conversation directly on the ChatGPT site and select the Expedia plug-in to bring a trip to life," the release stated. "When they're ready to book, they go straight to Expedia."
As stated on KAYAK's website, the ChatGPT plug-in "will act as a virtual travel assistant, allowing for more conversational interactions with KAYAK's search engine. Users can head to ChatGPT and ask it questions in the same way they would ask a human."
Hopper is another one that uses AI to predict and analyze flights, hotel and rental car prices. According to the company, you can save an average of $65 per trip.
More From GOBankingRates
Make Your Money Work for You