Avoid Buying a Car at a Dealership on This Day of the Week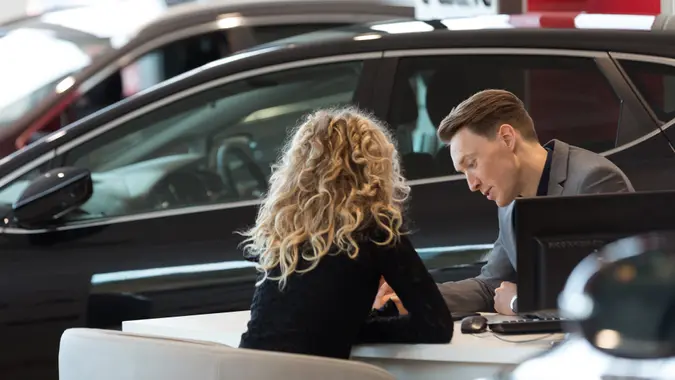 ©Shutterstock.com
Are you in the market for a new set of wheels? It might surprise you to learn that the day you choose to visit the dealership can have a major impact on your car-buying experience.
We've gone the extra mile and consulted with car-buying experts to bring you this advice. As you embark on your car-buying journey, remember that these tips are more like general guidelines since every situation is unique. Factors like location and specific dealership policies play a role. Here's some information on when — and when not to — buy a car.
Best Day To Buy a Car: Tuesday
"The best days to visit a car dealership are usually weekdays, particularly early in the week," said Nick Musica of Cash For Your Junk Car. "Mondays and Tuesdays tend to be less busy as many people are occupied with work and other weekday commitments. By visiting the dealership on these days, you're more likely to receive prompt attention from salespeople and have more negotiating power. Additionally, early mornings or weekdays around opening time are good options as you can avoid the later rush and have more time to discuss your preferences and options."
Different experts we talked to cited either Monday, Tuesday or Wednesday as the key days to go to the dealership. But all agreed by doing so you'd be sure to avoid competition from crowds and get one-on-one time with a salesperson.
Worst Day To Buy a Car: Saturday
As expected, Saturdays are likely to be the busiest day at a car dealership. With all the other buyers there, sales staff might be more rushed in working with you.
"Typically, weekends, especially Saturdays, tend to be the busiest and most crowded days at car dealerships," Musica said."This high foot traffic can result in longer wait times and less individual attention from salespeople. Therefore, if you want to avoid the rush and have a more personalized experience, it's best to avoid visiting dealerships on Saturdays."
Make Your Money Work for You
Picture this: long wait times, hordes of people and overwhelmed salespeople spread thin. Not exactly the personalized attention you deserve, right? So for a more relaxed visit, with the facetime you'll need to negotiate, do yourself a favor and skip the Saturday dealership madness. 
Other Times To Consider
"The worst day of the week is the first week of the month," said Lauren Fix, founder of the YouTube channel CarCoachReports. "They've already paid their financing on the vehicle and they're less flexible. As the month continues they are more flexible and pricing in the last day of the month is the best day."
Joe Giranda, director of sales and marketing at CFR Classic, agreed. "Time your purchase with the end of sales cycles and quotas, typically occurring on the last day of the month, quarter, or the fiscal year. Dealerships often receive bonuses or other incentives to meet their quotas, and they may be more willing to offer better deals as the day progresses. Taking advantage of this situation can save you money, especially when you've done your research on pricing and available discounts." 
When we combine all of this valuable advice, we discover that the prime time to pay a visit to the dealership would be on the last day of the month, preferably if it happens to fall on a Tuesday. 
In this way, you position yourself for maximum advantage. The dealerships will be looking to meet their sales targets, and they may be more willing to negotiate and offer enticing deals. And Tuesday is the sweet spot where the weekend rush has settled down, allowing you to enjoy the dedicated attention from the sales team.
More Ways To Save
Here are a few other tips to help you cut costs when buying your next car.
Do your research beforehand on the car you want, including its make, model, features and market value. This knowledge will empower you during negotiations, giving you confidence and ensuring you secure the best possible deal.
Determine your budget. Consider how much you'll need for the down payment, monthly payments and the total cost of ownership.   
Get preapproved for a loan if you're intending to finance the car. This step also improves your bargaining power during negotiations.
Test drive the car to make sure you like it and that the features work the way you expect. Also test-drive other cars to make sure you're getting the one that suits your needs and preferences. 
Above all, don't be afraid to negotiate. 
Make Your Money Work for You
More From GOBankingRates