The Car Market Just Flipped — But the Prices of These 9 Vehicles Remain High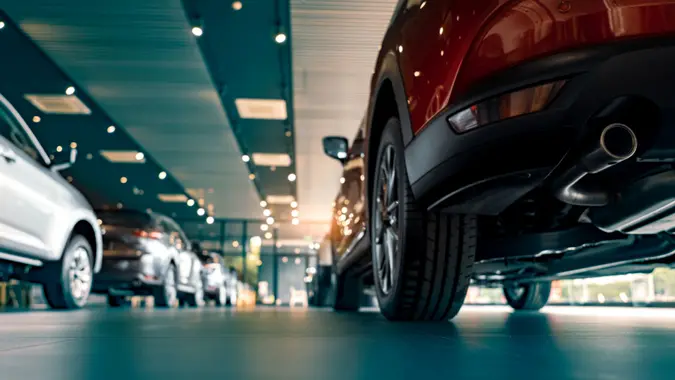 Fahroni / Getty Images/iStockphoto
Car buyers in the United States have finally gotten some good news thanks to a market that flipped in July 2023, bringing lower prices than earlier this year. The bad news is that plenty of vehicles are still expensive compared to previous years.
The average price paid for a new, non-luxury vehicle in July was $44,700, according to Kelley Blue Book. That was up 0.5% from the previous year but $471 lower than the previous month. The average price has dropped about 2% from a record high of $45,578 set in December 2022.
Electric vehicle prices are down about 19% from June 2022, KBB reported. Manufacturer incentives averaged $2,148 in July 2023 – the highest level since October 2021.
"New-vehicle price inflation has all but disappeared in 2023," Rebecca Rydzewski, research manager at KBB parent Cox Automotive, said in a news release. "New-vehicle prices, primarily driven by cuts in luxury and electric vehicles, are decreasing as inventory steadily improves. With higher inventories and incentives helping to keep downward pressure on prices, there certainly are good reasons for shoppers to be heading back into the market."
Meanwhile, used car prices in July fell across all categories, according to the Carfax Used Car Index. The declines were led by an average year-over-year price drop of about $300 for vans and minivans and $250 for SUVs.
But even with the recent declines, the prices of non-luxury vehicles – the kind most consumers buy – have held "remarkably steady" this year, according to KBB. It noted that only one new model transacted below $20,000 in July: the Mitsubishi Mirage, which had an average transaction price (ATP) in July of $19,205. As recently as July 2018, there were a dozen vehicles with ATPs below $20,000.
Make Your Money Work for You
Many of today's smallest vehicles – such as the Hyundai Venue, Kia Rio, Nissan Versa and Toyota Corolla – transacting "well over $20,000." Two of those cars are among those included on Consumer Reports' most recent list of "worst deals on new cars."
Here's a look at nine vehicles whose prices remain high:
Kia Telluride: Priced 16% over manufacturers' suggested retail price price range of ($35,890 – $52,985)
Kia Seltos: 15% Over MSRP ($23,340 – $28,840)
Kia Sportage: 15% Over MSRP ($27,490 – $43,190)
Nissan Kicks: 14% Over MSRP ($20,590 – $23,150)
Nissan Versa: 14% Over MSRP ($15,980 – $19,970)
Kia K5: 14% Over MSRP ($25,290 – $31,690)
Ford Ranger: 14% Over MSRP ($27,400 – $40,945)
Kia Carnival: 13% Over MSRP ($33,100 – $46,200)
Jeep Renegade: 13% Over MSRP ($27,850 – $32,970)
More From GOBankingRates