7 Costly Car-Buying Mistakes Almost Everyone Makes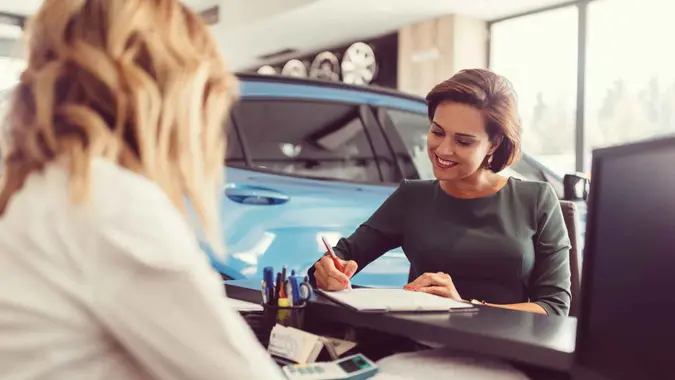 martin-dm / Getty Images
Buying a new car can be incredibly intimidating, and it's understandable why you might be overwhelmed. We all want to find the perfect car, but looking at all the features and dealing with pushy car salesmen can be exhausting.
Before you start your next car-buying journey, it's important to know some of the most common — and expensive — mistakes many people make so that you can avoid them at all costs.
Becoming Attached to a Single Car
One of the worst things you can do when buying a new car is become attached to a single car before you look at other models. While the first car you test might have the look and features you want, other models might be a better fit.
When you start your car search, identify a few models you want to consider. Make sure you thoroughly look at each before making a decision. Consider the features, safety ratings and reviews for each, and make sure you test-drive all of them. Once you've given each significant attention, you can decide which will be the best fit.
Buying From the Dealership Closest to You
Car manufacturers price their cars based on your location. While a dealership near your home might have a car listed for one price, that doesn't mean a dealership on the other side of the state will have the same price.
Make Your Money Work for You
Talk with friends and family to learn about their experience with different dealerships. You can also look at each dealer's Customer Satisfaction Index (CSI), developed by customer feedback and overall satisfaction. The CSI score will also impact the cars that each dealership receives from manufacturers. The higher the CSI score, the better the inventory is likely to be.
Skipping the Test Drive
The car you're considering might look good from the outside, but there's no way to know if it's right for you until you get behind the wheel and take it for a test drive. The last thing you want is to be surprised by how a car feels or handles after making the purchase. Always test drive a car to ensure it fits your needs in performance and handling.
Negotiating the Sticker Price
When negotiating the price of a car, never use the sticker price as the benchmark. Before starting negotiations, ensure you have all the information you'll need.
Start by looking at Kelly Blue Book or Edmonds, because both will help you understand the invoice car pricing in your area. This is how much a car dealer in your zip code actually paid for the car. It will almost always be a few thousand dollars less than the MSRP.
If you're negotiating with a dealer, they might offer you a price below the MSRP, but it could still be thousands above what they actually paid for the car. You should aim to get the price as close to the invoice price as possible. This means you'll be getting the best deal.
Make Your Money Work for You
It's also important to avoid looking at the price in terms of the monthly payment.
"Salespeople can easily manipulate the numbers to make a car seem more affordable by extending the loan term, leading buyers to pay significantly more in interest over the life of the loan," said Patryk Doornebos, owner of Car Triple. "For example, a five-year loan on a car might have a total interest payment of $3,000, but stretching that same loan to seven years could see interest payments rise to $5,000 or more. So, while the monthly outlay seems manageable, the overall financial burden grows substantially."
Negotiating a Trade-In When You Negotiate the New Car Price
Most car dealers love to negotiate everything at the same time. The reason is that it's much easier for them to have the advantage. While you might get a great deal on the price of the car, your trade-in price might not be very competitive.
Make sure you start by negotiating the price of the car only. Once the price is settled, tell them you'd also like to trade in your existing car. This will help you get the most money possible for your existing car.
Buying the Dealer Extras
Car dealerships don't make much money when they sell a car. Instead, they make money when customers purchase the extras. This includes extended warranties, rust protection packages, fabric protection, anti-theft packages, etc. While these might sound beneficial to the buyer, most are a waste of money.
Not Being Preapproved for an Auto Loan
Before you even start your car search, take the time to get preapproved for an auto loan. This will help you understand your financial situation to know exactly how much car you can afford. Plus, once you find the car you want to purchase, you'll be able to focus on getting the best price instead of worrying about loan terms.
Make Your Money Work for You
"Car buyers who don't come into the dealership with a pre-approved loan often accept higher interest rates from the dealer's finance department," said Rory Donadio, CEO of Tribeca Capital Group LLC. "Comparing rates and terms from various lenders can help buyers secure a loan that best fits their budget and saves them money in the long run."
The Bottom Line
Purchasing a new car can be a fun but exhausting process. By ensuring you understand the things to watch out for, you'll be able to avoid making mistakes that can make your new car a little more expensive.
More From GOBankingRates