Denied a Car Loan? How To Fix Your Credit So You Get Approved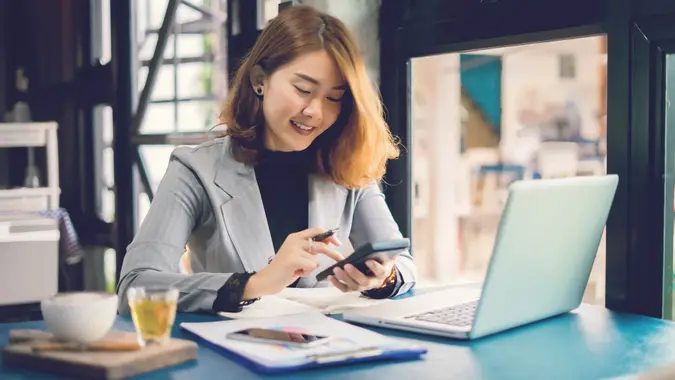 Have a nice day Photo / Shutterstock.com
More and more people are getting their car loan applications rejected. 
In July 2023, Kelley Blue Book cited figures from the Federal Reserve's Survey of Consumer Expectations Credit Access Survey that showed that more than 14% of car loan applicants were rejected over 12 months ending in June 2023. 
Those who experience a car loan rejection can start taking strategic actions now to fix their credit and carefully increase their credit score. If you're denied a car loan, here's how to fix your credit so you can get an approval.
Reduce Credit Card Utilization
According to Erik Beguin, founder and CEO of Austin Capital Bank, one of the fastest ways to immediately improve your credit score is to reduce your credit card utilization.
What's credit utilization? Kendall Meade, certified financial planner at SoFi, said this is the amount of credit you're currently using compared to what is available to you. Typically, the lower this amount can be the better. 
A good starting point is to reduce usage below 30%. From there, Beguin said you can start reducing credit card utilization to below 10% to optimize your score.
Make a Payment Before the Statement Date
What if you utilize more than 30% of your credit card's available credit during a month? Beguin recommends making a payment right before the statement date for your card. 
Make Your Money Work for You
Doing this will not only reduce utilization below 10% but will immediately improve your credit utilization and credit score when the card is reported by the lender to the credit bureaus.
"Most people don't understand the difference between the statement date and the payment due date and the impact on their credit score related to each date," Beguin said. "You can instantly improve your credit by reducing the amount of available credit used before the statement date. The statement date is what most lenders use to report credit to the credit bureaus."
Explore a Goodwill Request
Those with good credit make sure to always pay on time. They never pay late or miss a payment.
What if you have an account with a good payment history and only one or two late payments? Beguin recommends making what is known as a goodwill request. This is where you can ask the lender to remove the late payments from the account.
Set Up Autopay
One of the largest factors in determining your credit score is your payment history. According to Meade, anything less than 100% of bills paid on time and in full will bring down your credit score.
To prevent any future issues with your payment history, Meade recommends setting up autopay. This ensures all bills are paid on time and in full each month. 
Don't Close Old Credit Cards
Even if you don't use these cards, Beguin said to keep old credit cards open especially if they don't have an annual fee. 
Make Your Money Work for You
"Closing an old established credit card will harm your length of credit, utilization and credit mix," Beguin said.
Do you have a no-fee credit card you could use occasionally? Keep it open. According to Beguin, this card can benefit more than 50% of your credit score.
Check Your Credit Score
While every item mentioned above can help improve your credit score, ultimately there's no one-size-fits-all approach. 
Meade recommends checking your credit score to see which factors are pulling it down. Once you know what the issues are, you can begin to formulate a plan for what will make the biggest impact for you personally.
More From GOBankingRates