Electric Vehicle Industry Changes That Could Affect Your Wallet in 2023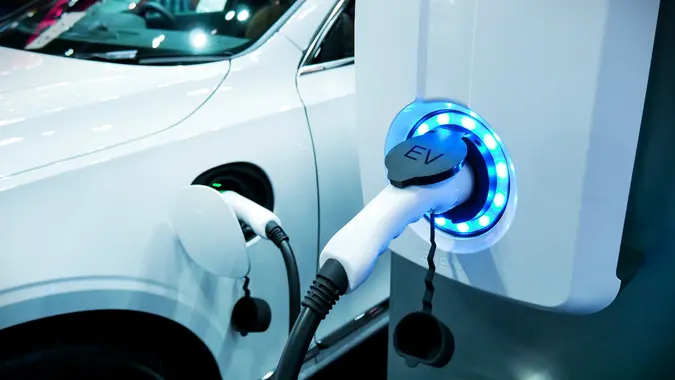 ©Shutterstock.com
If you were thinking about buying an EV during last year's gas inflation but didn't pull the trigger, you'll have to get back up to speed before you decide — a lot has changed since then. This year will bring new models, tax credits, surcharges and possibly a wave of used models that could lower the cost of entry. The electric segment is evolving yet again, so if you're thinking of finally taking the plunge and saying goodbye to gas — or even if you already have — here's what you need to know about how an EV in 2023 might affect your wallet. 
See: 5 Hidden Costs of Electric Vehicles
Helpful: Get Your Credit Score on Track with These 3 Tips for Success
This Might Be the Year You Can Finally Afford To Buy One
The tradeoff with EVs has always been lower long-term ownership costs in exchange for a higher upfront purchase price. But that gap is narrowing in 2023 as there is now greater EV/ICE price parity than ever before. 
Make Your Money Work for You
"For those looking to purchase an electric vehicle, 2023 is shaping up to be a good year," said Bryan Mark, CEO of Bryan's Garage. "Cheaper models will become available as production costs continue to fall, making ownership more affordable for those on a budget." 
According to Edmunds, at least 10 of 2023's new electric models start at less than $48,681, which is the median price for a new car in the U.S. market overall, according to KBB. Three are sub-$50,000 luxury EVs. Another three start in the $20,000s.
The Year Brings Big Changes to Federal Tax Credits
The Inflation Reduction Act of 2022 changed how tax credits will be applied to EV purchases in 2023. The legislation creates new income and purchase price limits for the long-standing $7,500 federal tax credit, which is nonrefundable, meaning you don't keep anything left over after bringing your tax obligation down to zero.
But the big news is that the law gives a second chance to brands like General Motors and Tesla, which became ineligible for the credit after reaching a predetermined sales cap that existed until 2022.
Make Your Money Work for You
"The 200,000 vehicle production limit on EV tax credits is being phased out in 2023," said Jonathan Buckley, owner of Rav4 Resource. "However, this does not mean that all EVs will be eligible." 
The new rules require EVs to be made — or at least assembled — in North America in order to claim the credit. That means many previously eligible makes and models will no longer qualify.
"For example, the Toyota RAV4 Prime is no longer restricted by the 200,000 production limit, but it is still ineligible because its final assembly does not take place in the United States of America," Buckley said. "Consumers must do their research to determine which EVs qualify for a tax credit."
Take Our Poll: Do You Think Student Loan Debt Should Be Forgiven?
2023 Could Give Rise to a Plentiful, Affordable Used EV Market
It's clear that renewed eligibility for the most popular models from the most popular brands will spur demand for new EVs.
"The Inflation Reduction Act will be a boon to electrification, as prospective Tesla and GM buyers will once again be eligible to take advantage of a $7,500 tax credit," said Aaron Luque, co-founder and CEO of EnviroSpark, a minority-owned EV charging company in Atlanta.
Make Your Money Work for You
But the legislation's most lasting impact might be found in a smaller credit that has the potential to cause big waves.
"Equally important, the new bill will also create the opportunity for used EV buyers to take advantage of a $4,000 credit," Luque said.
It's the first-ever federal tax credit for used EVs, and Luque thinks that it — combined with the proliferation of affordable new models that might convince current owners to trade up and trade in — could turn 2023 into the year of the previously owned EV. 
"Competition between legacy automakers, Tesla and newer entrants, such as Lucid and Rivian, should translate into some level of downward price pressure," he said. "The combination of a much larger used pool of EVs from 2022 and previous years plus this new credit will put EV ownership into the reach of a much greater number of consumers, and unlock key benefits of EV ownership to this new group of first-time EV buyers, such as significant reductions in fuel and maintenance costs." 
Most States Now Charge an Extra Fee for Registering an EV
State gas taxes pay for improvements to roads and bridges — which EV drivers use without chipping in for their construction and maintenance. Many legislatures have compensated by charging a special fee to EV owners.
"Some states add an electric car surcharge to your annual automobile registration," said Sarah Lee Marks from My Car Lady. 
According to the National Conference of State Legislatures, 31 states currently impose surcharges on EV registrations to compensate for the gas tax their drivers don't pay.
Marks said that right now, most states charge a flat fee of $100 to $200, which "will graduate to pennies per mile, per year, by 2026." 
More From GOBankingRates
Make Your Money Work for You