The Most Expensive Cars Coming Out This Year From Around the World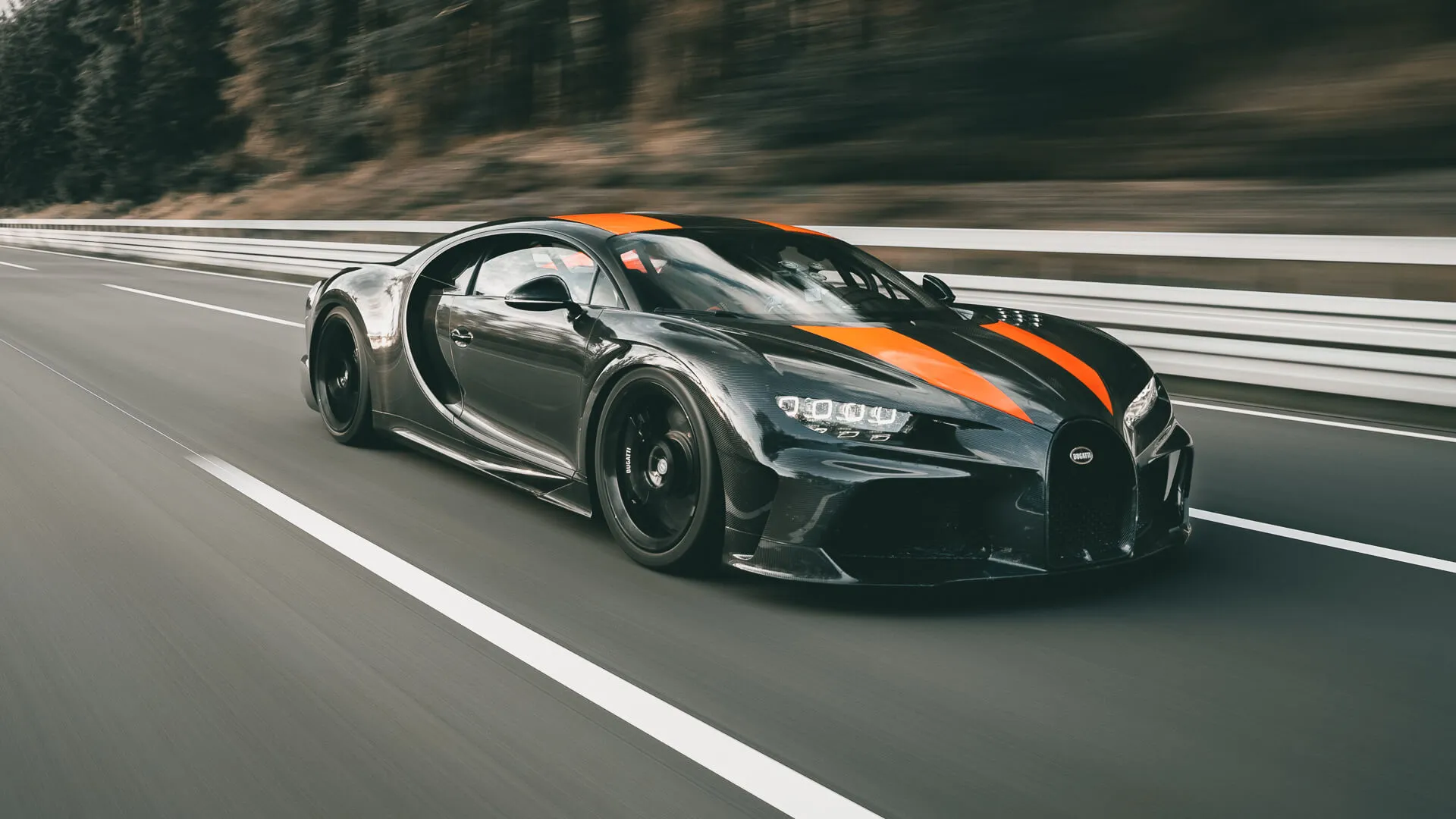 It looks like 2021 is shaping up to be quite a year for deep-pocketed car buyers. Some of next year's models from BMW, Mercedes, Bentley, Porsche, Bugatti and other high-end brands are stunning, even by the standards those companies have already set. Although prices are tentative and specs are subject to change, here's a look at the high-end luxury and performance cars for model year 2021.
Last updated: Jan. 24, 2020
Make Your Money Work for You
2021 BMW M3
Code-named G80, the 2021 BMW M3 is built on the conventional 3 Series, but the wheels and spoiler are upgraded, the diffuser and splitter are more aggressive and cooling is dramatically improved thanks to much larger air intakes. There's not much improvement in the interior, according to AutoWise but under the hood, you'll find a 3.0-liter twin-turbocharged engine capable of drumming up 470 horsepower.
2021 Rivian R1S
Kelley Blue Book points out that the Rivian R1S is an unproven vehicle from a brand-new brand. The publication is also quick to note, however, that the big, all-electric vehicle has a range up to 400 miles — and you won't just be coasting. It boasts a massive 750 horsepower and races from zero to 60 mph in a head-snapping 3.0 seconds. It seats five or seven passengers and claims an impressive 7,700-pound towing capacity. The new-kid-on-the-block Rivian company is currently accepting $1,000 deposits.
2021 BMW M4
A 3.0-liter twin-turbo engine will be the heart of the next-gen BMW M4, just like the M3, according to AutoWise. Depending on the package, however, you'll have the choice of 473 or 503 horsepower. It's believed that both the manual and automatic versions will be available in both all- and rear-wheel-drive configurations. Luxury materials are expected in the interior of even the base models, but higher trim packages will be tricked out with top-of-the-line tech.
2021 Audi e-tron GT
The up-and-coming Audi e-tron GT is an all-electric sedan powered by two motors that combine for 590 horsepower, according to CarBuzz. Audi's Quattro all-wheel-drive system transfers all that power to the road, taking it from zero to 60 mph in 3.5 seconds. It features a 90-kilowatt-hour battery with an 800-volt wireless charging system that can bring that battery from empty to 80% in 20 minutes. Expect a driving range just shy of 250 miles.
Make Your Money Work for You
2021 Cadillac Escalade
According to CNET, the 2021 Cadillac Escalade will debut on Feb. 4 and make an appearance at the Academy Awards a few days later. Caddy has been tight-lipped, but what is known is that it will come with Cadillac's semi-autonomous Super Cruise technology. You can also expect a 10-speed automatic transmission, available air suspension, two updated V-8 engines and an independent rear suspension. Also, in keeping up with the growing Chevy Tahoe and Suburban, it will likely be a bit bigger than this year's model.
2021 Audi A8
Audi's flagship A8 sedan isn't expected to change too radically from the current models, although the company is expected to debut an ultraluxe offering designed to compete with the Mercedes-Benz Maybach S600, according to AutoWise. The vanilla A8 models will continue to utilize the same luxury materials that Audi lovers have come to expect along with the choice of a 3.0-liter twin-turbo V-6 or a 4.0-liter twin-turbo V-8, which generate 335 and 453 horsepower, respectively. Each is assisted by a multihybrid system.
2021 Chevrolet C8 Corvette Z06
Chevy plans to make history by unveiling the first-ever turbocharged Corvette later in 2020, according to TopSpeed. The C8 Corvette Z06, a souped-up version of the eighth-gen Vette, also brings another first to the car's vaunted lineage — it's the first model of its kind with a mid-engine layout. Nestled comfortably between the C8 Stingray and the upcoming C8 ZR1, the C8 Z06 will have 700 horsepower capable of doing zero to 60 mph in 2.7 seconds and a top speed of 200 mph.
Leased Luxury: 30 Luxury Cars You Can Lease for $1,000
Pictured: 2020 Chevrolet Corvette Stingray
2021 Porsche Taycan Cross Turismo
Estimated Price: $100,000
In 2021, Porsche plans to put Tesla on notice that there's a new kid in electric town. The Taycan Cross Turismo is an e-wagon that boasts some impressive statistics — and in the looks department, it's all Porsche. Those statistics include 590 horsepower and a range of 300 miles, according to Car and Driver. If Porsche's calculations are correct, its charger could bring 275 of those miles back from the dead in just 15 minutes. Built from a mix of aluminum, carbon fiber and steel, the body is based on none other than the Taycan sedan.
Make Your Money Work for You
2021 Jaguar XJ
Estimated Price: $100,000
Jaguar's XJ sedan ended its production run last summer, but fans of the sleek XJ need not worry — an all-electric replacement is on the horizon. According to Car and Driver, the 2021 model will have an all-wheel drive powered by two motors. It's projected to have a range of 300 miles and a charging capability that rivals the Tesla Supercharger.
2021 Lexus LC
Estimated Price: $100,500
The 2021 Lexus LC will look and feel a lot like it has since the luxury coupe arrived in 2018 — with one glaring exception. Finally, the clamoring of Lexus fans has been answered and the LC is available as a convertible. Available in beige or black, the drop-top can open in 15 seconds at speeds up to 31 mph — it closes in 16 seconds. What you can't see is equally impressive, according to MotorTrend. Its 5.0-liter V-8 drums up 471 horsepower.
2021 Porsche Taycan 4S
Estimated Price: $106,410
If the Porsche Taycan Cross Turismo weren't enough to make Tesla wince, perhaps the Taycan 4S will do the job. Due to arrive in the spring, according to Car and Driver, the Taycan 4S tops out at 155 mph and can jaunt from zero to 60 mph in 3.8 seconds. The base model, set to hit the market in June, is powered with by what Porsche is calling a Performance Battery that's listed at 79.2-kWh. You'll also be able to opt for an upgraded 93.4-kWh battery, which is standard in the much more expensive Turbo and Turbo S models.
2021 Maserati Alfieri Trofeo
Estimated Price: $120,000
The 2021 Maserati Alfieri lineup will include four options, according to Car and Driver: the GranLusso for around $90,000, the GranSport for $100,000, the GTS for $100,000 and the top-of-the-line Trofeo. The concept car stunned audiences, and most of the aesthetics are expected to remain in the production model. The most likely power source is a twin-turbocharged 2.9-liter V-6, but there's no shortage of speculation about a V-8, an electric powertrain or an option among both.
Make Your Money Work for You
2021 Chevrolet C8 Corvette ZR1
Estimated Price: $122,000+
TopSpeed put a lot of work into the educated guess that the 2021 C8 Corvette ZR1 will cost $122,000 at the most conservative. Everyone in 'Vette-world has seen the astonishing renderings and speculated on the gorgeous trim to be found inside. It was Car and Driver, however, that came up with the best answers to the only real question: What's inside? The most likely scenario is a 5.5-liter flat-plane-crank V-8 that cranks out within a few hundred ponies of 1,000 horsepower.
2021 Porsche Cayman 718 GT4 RS
Estimated Price: $125,000
The rumor mill has been turning for a long time, but now it's all but certain that 2020 will see the arrival of the 2021 Porsche Cayman 718 GT4 RS, according to Car and Driver. Expectations are high for a naturally aspirated 4.0-liter flat-six engine and horsepower in excess of 450. TopSpeed estimates a price of $125,000, while Car and Driver would only venture to guess that it will be "significantly higher" than the 2020 718 Cayman GT4, which cost $100,450.
2021 Porsche Taycan Turbo 4S
Estimated Price: $187,610
The big brother of the Taycan 4S, the Porsche Taycan Turbo S already has tens of thousands of orders on backlog, according to MotorTrend. It's more expensive, but it can hit 161 mph, as opposed to 155 for the 4S. Also, instead of climbing from zero to 60 mph in 3.8 seconds, it shaves a full 1.2 seconds off for a lightning-fast 2.6 seconds to reach that benchmark. It's powered by Porche's bigger 93.4-kWh Battery Plus and comes with 21-inch alloy wheels instead of 19s. For all those extras, you can expect to pay $81,200 more.
2021 Aston Martin DBX
Estimated Price: $189,900
An all-wheel-drive SUV that seats five, the Aston Martin DBX is powered by a turbocharged V-8 that musters up 542 horsepower. According to Edmunds, it's the first SUV in the history of Aston Martin, which couldn't resist cashing in on the crossover craze. It can go from zero to 60 mph in 4.3 seconds — quite a feat for a vehicle in this class — and ensures a smooth ride thanks to adaptive air suspension.
Treat Yourself: 16 Cars That Are Worth the Splurge
Make Your Money Work for You
2021 Mercedes-Maybach GLS 600
Estimated Price: $200,000
Imagine a Mercedes-Benz GLS sprinkled with a hefty dose of magical Maybach luxury. Imagine no more — the Mercedes-Maybach GLS 600 is set to arrive in the second half of 2020. According to Kelley Blue Book, its 4.0-liter bi-turbo V-8 will produce 550 horsepower and 538 foot-pounds of torque. Inside, it's Maybach all the way, with luxury options that include available business-class-style Executive rear seats.
2021 Bentley Flying Spur Speed
Estimated Price: $215,000+
According to AutoWise, the engine that will power the 2021 Bentley Flying Spur Speed is still a mystery, but everything is pointing to a 4.0-liter twin-turbocharged V-8 tied to an electric motor. If that's the case, horsepower will likely come in at 671. Less likely is a 6.0-liter twin-turbo V-12 from the regular model. What is certain is that it will have a new quad exhaust, a new mesh grille and gloss black trim to replace most of the chrome accents we've gotten used to.
2021 Bentley Bentayga
Estimated Price: $235,000
The Bentayga is the most famous and bestselling offering in the Bentley line, and the 2021 model is getting a makeover. According to AutoWise, the exterior is getting only modest tweaks, but the interior is getting an entirely new infotainment center and a slew of new safety features and driver aids. Shipments are expected in mid-2020, and engine options are likely to include a 4.0-liter twin-turbo V-8 and a 6.0-liter twin-turbo W-12 for 542 and 600 horsepower, respectively.
2021 Aston Martin Lagonda EV Sedan
Estimated Price: High $200,000s
According to Car and Driver, the Lagonda EV Sedan is Aston Martin's way of challenging Rolls and Bentley for a portion of the electric-for-the-elite market. Built at Aston's brand new factory in Saint Athan, Wales, the blacked-out, Batmobile-esque electric Lagonda will likely have individual electric motors powering each wheel and will deliver performance equivalent to a V-12 or better. They'll hit the road in 2021.
Make Your Money Work for You
2021 Ferrari SF90 Stradale
Estimated Price: $500,000+
Believe it or not, the most powerful Ferrari ever built will be a plug-in hybrid. According to TopSpeed, the 2021 SF90 Stradale's 986 horses will make it faster than even the vaunted LaFerrari. Capable of driving on electricity alone — albeit for only 15 miles — it rockets from zero to 124 mph in an impossible 6.7 seconds. It has three electric motors, designed mostly to reduce emissions and support the 4.0-liter, V-8 ICE engine. With plans to build 10,000 annually, the SF90 Stradale is truly a production vehicle.
2021 Aston Martin Valhalla
Estimated Price: $1.3 million
The 2021 Aston Martin Valhalla is the third creation of the joint Aston Martin/Red Bull Formula 1 racing team. Only 500 will ever be built and although it hasn't yet entered production, they'll be ready for delivery in 2021, according to Car and Driver. Ultra-sleek and almost perfectly aerodynamic, the Valhalla is designed to take on the likes of the McLaren Sena. Although the nitty-gritty details about power output and displacement are still Aston Martin's secrets, what is certain is that the mid-engine Valhalla will be powered by a turbocharged V-6 engine backed up by a hybrid system.
2021 Koenigsegg Jesko
Estimated Price: $3 million
The Swedish supercar known as the 2021 Koenigsegg Jesko features a carbon-fiber body, dive planes, multiple air intakes and a rear wing fit for a Cessna. According to Car and Driver, its 5.0-liter V-8 produces 1,600 horsepower and 1,106 foot-pounds of torque. A rapid-shifting nine-speed multiclutch automatic transmission has the unenviable job of trying to control all that power.
2021 Bugatti Chiron Super Sport 300+
Estimated Price: $5.74 million
The 2021 Bugatti Chiron Super Sport 300+ earned its name by successfully breaking the 300 mph mark in 2019, according to TopGear. If you want one, you'd better get your name on the waiting list fast — only 30 will ever be made. If you can part with the nearly $6 million needed to own one, you'll be driving home with a monster hiding inside a super-sleek, aero-efficient body. Under the hood, you'll find a beast nicknamed Thor: an 8.0-liter, quad-turbo W-16 that moves it along with 1,578 horsepower.
2021 Bugatti Centodieci
Estimated Price: $8.9 million
With an angular design that couldn't be confused for the Chiron or Veyron, the 2021 Bugatti Centodieci is an homage to the early '90s — and one you'll have to pay close to $9 million to drive, according to Bloomberg. Only 10 will be built, all by hand in Molsheim, France, and if you've got the cash, deliveries begin in 2021. Aside from a nearly completely flat roofline, your money will be good for an 8.0-liter W-16 engine that generates a mind-boggling 1,600 horsepower.
More From GOBankingRates
Photo Disclaimer: Please note some photos are for representational purposes only and might not feature exact models, base models or the cars' specific trim levels. As a result, some of the cars in the photos might have different MSRPs than the current models listed in this article.
About the Author