3 Hybrid Cars That Won't Actually Save You Money on Gas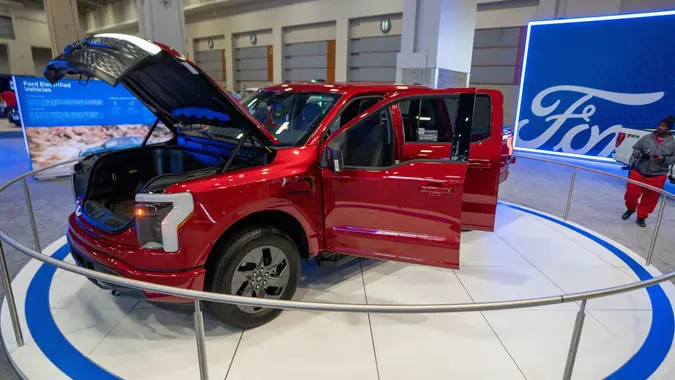 SHAWN THEW/EPA-EFE/Shutterstock / SHAWN THEW/EPA-EFE/Shutterstock
It's only a matter of time before the auto industry goes fully electric, but hybrid models are still a popular choice wanting to make a change but unwilling to embrace becoming an EV owner. Hybrids can save on gas and cut a driver's carbon footprint without making them deal with range anxiety or the need to charge at home.
Hybrids are known to have far better fuel economy ratings than their gas-powered counterparts, but not all hybrids are created equal. Higher MSRPs and overly long-expected savings return periods are shared factors that make some models unwise purchases.
Since 1936, Consumers Reports (CR) has been testing cars and each year continues to evaluate dozens of vehicles over thousands of miles independent of government EPA figures. By comparing hybrid models against their non-hybrid, or conventional, counterparts, CR analysts can identify shortcomings in a number of areas, including when you'll start saving money, or the payback period, on hybrids.
Here are three hybrid vehicles that take years to save you money on gas.
1. Ford F-150 Hybrid
Amid slower-than-expected electric vehicle sales, Ford recently announced it was going to double production on the hybrid version of its F-150 pickup truck as it looks to simplify its models, "making them easier to build, sell, and make money on," notes MotorTrend.
Make Your Money Work for You
Although Consumers Reports loves the popular Ford Maverick Hybrid, which will start saving you money as soon as you drive it off the lot and about $660 a year in fuel savings, it's less complimentary about the F-150 Hybrid, which will now come with fewer combinations and parts and suffers from a poor fuel economy.
"The PowerBoost hybrid we tested registered 20 mpg overall, just 1 mile better than the 2.7-liter turbo V6 non-hybrid, even though it costs $3,300 more. At that rate, it would take you 28 years to make up the difference!"
2. Kia Sorento Hybrid SUV
Starting at $36,690, the Kia Sorento Hybrid is pricier and, according to U.S. News & World Report, not as fuel-efficient as some of the models in its class. While it comes with a long list of standard features, the Sorento doesn't give you much bang for your buck or savings at the pump.
By comparing the sticker price difference between the Kia Sorento Hybrid and gas-powered Kia Sorento with the average fuel cost for both, it would take over a dozen years before drivers started saving on fuel. And though it boasts an EPA-estimated 39 mpg in the city and 35 mpg on the highway, Consumer Reports claims that the Sorento Hybrid only gets a fuel economy of 28mpg overall.
"At 28 mpg overall, this version gets only 3 mpg more than the conventional Sorento, and it would take 13 years to pay off the initial price difference," says Consumer Reports.
3. Honda Accord Hybrid
According to Consumer Reports, manufacturers freshen and redesign models during their five-to-seven-year lifespan and some redesigns will incrementally grow or shrink the size of the car, affecting its fuel economy. Additionally, the more extensive or complicated the redesign, the higher the risk of reliability problems.
Make Your Money Work for You
For CR's testers, the most recent Honda Accord redesign added years to when you'll actually start saving money. "We like this sedan for many reasons, but Honda's 2023 redesign cut fuel economy from 47 mpg to 40 mpg. As a result, the payback period for the hybrid increased to eight years."
More From GOBankingRates