As Interest Rates Continue To Rise, Should You Consider Buying Out Your Car Lease?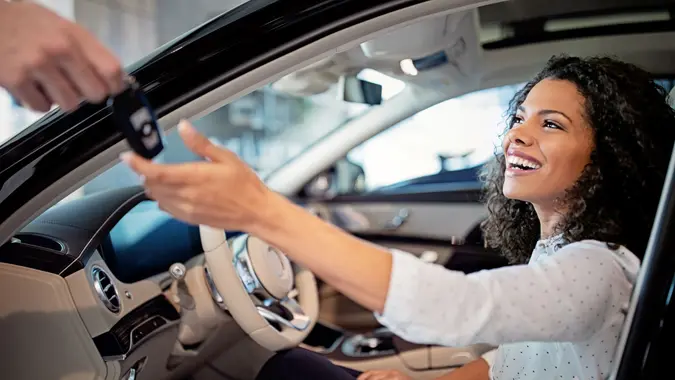 praetorianphoto / Getty Images
The pandemic-induced chip shortage and supply chain issues made it a difficult — and pricey — landscape for potential car buyers in recent years. As of Jan. 15, Bloomberg reported that analysts expect a reversal for 2023, with a drop in prices due to a resuming of supply and lower demand. However, prices continue to be high due to soaring interest rates.
See: Your Biggest Money Etiquette Questions Answered
Read: 3 Ways Smart People Save Money When Filing Their Taxes
Find: How 2023 Recession Will Differ From 2008 and How You Should Prepare Differently
Per Kelley Blue Book, the average new car sold in November cost a record high of $48,681, which is $422 higher than in October and $2,250 higher than December 2021. The average buyer has paid more than the manufacturer's suggested retail price every month since July 2021, according to Kelley Blue Book.
Against that backdrop, consumers whose lease might soon end are faced with a difficult choice, as "it will likely cost them hundreds more a month to either get a new lease for the same car or to lease a newer version," according to Bloomberg. In turn, because of high interest rates, it might be wiser to stop leasing and go ahead and buy a car.
Make Your Money Work for You
"If you can afford to put more money down, you could wind up with a similar monthly payment as leasing, but own the car outright," Bloomberg added.
Another benefit is the trade-in value, as prices for used cars have dropped from their recent pandemic-induced highs. Indeed, the index for used cars and trucks dropped 2.5% in December, according to the latest Consumer Price Index (CPI) data.
Consumers should note, however, that a lease buyout probably means the end of any service warranties.
Automotive research company Edmunds found that consumers who buy a car today "are at risk of going underwater on car loans down the road as financing costs rise, [and] used car values decline."
Take Our Poll: If Elon Musk Offered You a Job Paying You More Than You Make Today, Would You Work for Him?
More: 4 Reasons You Should Not Buy an Electric Car in 2023
Financing a new or used vehicle is growing more expensive than ever for consumers, as the average annual percentage rate (APR) on new financed vehicles soared to 6.5% in Q4 2022 compared to 5.7% in Q3 2022 and 4.1% in Q4 2021.
Make Your Money Work for You
Meanwhile, the APR on used financed vehicles rose to 10% in Q4 2022 compared to 9% in Q3 2022 and 7.4% in Q4 2021, Edmunds noted.
More From GOBankingRates
Make Your Money Work for You