Men Are 6 Times More Likely To Buy a New EV Than Women When Car Shopping, Survey Finds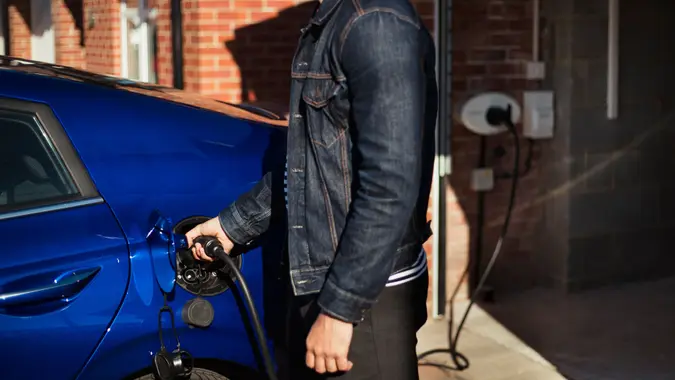 SolStock / Getty Images/iStockphoto
The majority of Americans are continuing to buy gas-powered vehicles, but among those who are buying electric cars, men are the majority. A recent GOBankingRates survey found that among Americans who purchased a vehicle in the past year, 6% of men purchased a fully electric new car or truck, while only 1% of women did.
Here's a closer look at what may be causing the gender gap in EV purchases.
Men Are More Enthusiastic About Electric Vehicles
A separate survey conducted by Edmunds found that men have more positive feelings about EVs than women, which could explain why they are more likely to purchase these vehicles. According to the survey, 55% of men said that they like EVs versus just 22% of women. Women were more likely to feel impartial toward EVs, with 33% considering themselves neutral versus 22% of men.
"It's dangerous territory for potential customers to be neutral or not have an opinion about EVs since car buying can be an emotion-driven process," Jessica Caldwell, head of insights at Edmunds, wrote in an analysis of the survey. "Unique selling points and practical reasons for purchasing an EV need to be proactively communicated to the female buying audience so they can connect on a personal level with a potential EV purchase."
Make Your Money Work for You
Price May Be a Barrier
The Edmunds survey found that women have a higher desire for lower-priced EVs than men — 34% of women said they would like to pay less than $30,000 for an electric vehicle versus 16% of men.
"According to Edmunds transaction data, EVs are selling near $60,000 on average, and women surveyed indicated that they're waiting for a crop of less expensive options before committing to purchasing an EV," Caldwell wrote in the analysis. "Over one-third of women cited wanting an EV for under $30K, which isn't a realistic price range for the EVs in the market at this time. Men are more realistically aligned with the current market with their EV price expectations more evenly distributed across a variety of price ranges."
Survey methodology: GOBankingRates surveyed 1,091 Americans ages 18 and older from across the country between Aug. 14 and Aug. 16, 2023, asking 20 different questions: (1) Have you had trouble paying your utility bills (gas, electric, heat, internet, etc.) in the last six to 12 months?; (2) Which of the following bills/expenses has been the hardest to keep up with over the past year?; (3) Have you bought a car/truck in the last six to 12 months?; (4) Have you ever been on food stamps?; (5) Have you or would you use artificial intelligence (AI) to earn a passive income?; (6) Where do you shop for the best deals on groceries?; (7) What is your current annual income?; (8) How much were you able to contribute to your savings this year?; (9) How much have your savings/investments decreased over the past year?; (10) Next year's (2024) Social Security Cost of Living Adjustment (COLA) will be 3% instead of the 8.7% it saw in 2023. Will this affect you?; (11) What assets do you have in your retirement portfolio? (Select all that apply.); (12) How much money do you currently have saved for retirement?; (13) How much personal savings do you currently have?; (14) What's the first step you would take if you were starting a small business?; (15) If given the choice between your current job and starting your own business, which would you choose?; (16) If you have any plans to start a small business, what is the timeline?; (17) How much do you currently spend on rent?; (18) How much do you currently pay monthly on your mortgage?; (19) How much has your housing (rent, mortgage, etc.) gone up over the past year?; and (20) How long do you believe it will take you to save, in order to buy a house? GOBankingRates used PureSpectrum's survey platform to conduct the poll.
Make Your Money Work for You
More From GOBankingRates