New 2024 US Budget Expands Free Community College — Here's How Much You Can Save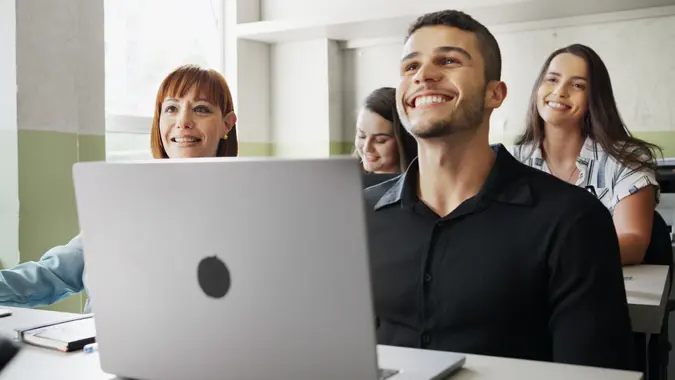 AJ_Watt / iStock.com
On March 9, the Biden administration released a budget outlining his vision and proposals for the 2024 fiscal year. Many of Biden's plans include earlier proposals to raise taxes on the wealthy and corporations to fund the expansion of social safety nets. One of his initiatives is to make college more accessible for all Americans.
The budget proposal calls for a $500 increase to the Pell Grant maximum — currently $7,395, according to the Federal Student Aid office. This grant is awarded to roughly seven million low-income college students every year. The maximum has been increased by $900 over the past two years, but CNN noted that the grant historically covered a larger share of college tuition than it does now.
Biden's budget plan also calls for $500 million for a new grant program to help make a two-year degree from community colleges free for students "enrolled in high-quality programs that lead to a four-year degree or a good paying job" through a new Federal-State partnership.
The plan also requests a $620 million increase in funding for the Office of Federal Student Aid, which didn't receive additional funding this year despite likely having to support borrowers with restarting payment after a three-year pause, CNN pointed out.
In addition, the plan would fund two years of subsidized tuition for students from families earning under $125,000 per year enrolled in a four-year Historically Black College and University (HBCU), Tribally Controlled College and University (TCCU) or Minority-Serving Institution (MSI).
Make Your Money Work for You
Biden's budget proposal still needs to go through Congress, but House Republicans already plan to reject the proposal as it stands. The GOP has no counteroffer, AP News reported.
More From GOBankingRates