5 Best College Savings Plans for Military Families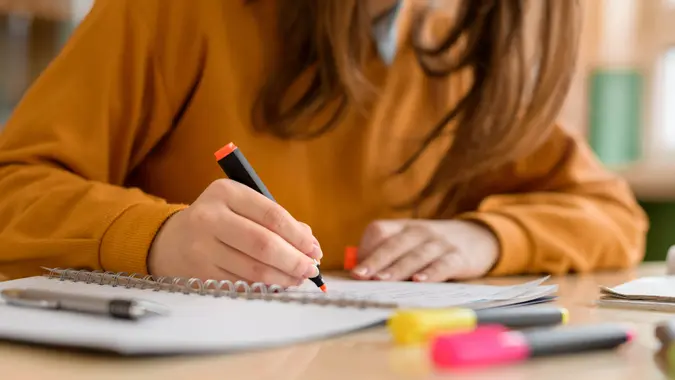 AndreaObzerova / iStock.com
Service members and veterans can receive valuable education benefits for themselves and their families. Best-known is the GI Bill, which helped millions of World War II veterans attend college and was expanded after 9/11 to help family members of long-time service members with college costs, too. Members of the military and their families can also receive other education benefits and scholarships that they may not realize are available.
Support Small: Don't Miss Out on Nominating Your Favorite Small Business To Be Featured on GOBankingRates — Ends May 31
1. Free College With the GI Bill
If you served on active duty in the military for at least 90 days after Sept. 10, 2001, you may be able to receive benefits from the Post 9/11 GI Bill. This version of the GI Bill can cover the full cost of in-state tuition and fees at public colleges for up to 36 months (four academic years), or up to a maximum dollar amount per year for 36 months at private colleges ($26,042.81 for the 2021-22 school year). It also provides money for books and supplies, and you can receive a housing allowance if you attend school more than half time.
You can use GI Bill benefits for undergraduate or graduate school, certificate programs, apprenticeship programs, vocational and technical training and other eligible programs. To qualify for the full benefits, you must have served on active duty for at least 36 months, or less if you were discharged due to a service-connected disability; you can qualify for partial benefits with shorter service time. See the VA's GI Bill Rates for more information. You can use the GI Bill Comparison Tool to look up eligible schools and estimate benefits.
Read More: A Parents' Guide To Saving for Education
2. GI Bill Benefits for Your Children and Spouse
If you serve in the military for a long time — generally if you've served for at least six years and agree to serve for four more — you can transfer your GI Bill benefits to your spouse or children. Your spouse can use the transferred benefits right away, but children must wait until you've served at least 10 years and they must use the benefits before they turn age 26. The family members can receive the same amount of benefits you could have used yourself — full in-state tuition at public colleges or up to the dollar limit for private colleges ($26,042.81 for the 2021-22 school year) for up to 36 months, plus the stipend for fees and books and housing allowance (spouses can't receive the housing allowance while you're on active duty).
Make Your Money Work for You
You can split up the benefits among several family members and can change the allocation, but you must transfer the benefits before you leave the military.
"One of the main things that active duty service members need to know is that they must transfer Post /11 GI Bill benefits to their dependents prior to transitioning out of the military, allowing time for any additional service requirements," said Tamara Hicks, student affairs coordinator, Ft. Benning Office, of Columbus Technical College, who helps service members and veterans use their education benefits to pay for college. For more information, see the VA's Transfer Your Post 9/11 GI Bill Benefits page.
3. Extra Education Benefits From Yellow Ribbon and Other Programs
If you or your family members go to an out-of-state or private college, the GI Bill may not cover the full tuition costs. But the school may offer a yellow ribbon scholarship to help make up the difference. The availability and amounts of these scholarships can vary by school and can change each year. Some schools offer different levels of scholarships for undergraduate and graduate programs. See the VA's Yellow Ribbon Program page for more information.
Find Out: COVID-19's Economic Impact on Education
To qualify, you or your children must be eligible for the maximum benefit rate under the Post 9/11 GI Bill (serving at least 36 months on active duty or qualifying for full benefits because of a service-connected disability). The Yellow Ribbon program is currently available only to veterans and children who are using transferred benefits, but will be extended to active duty service members and spouses starting on Aug. 1, 2022.
Some schools have tuition waivers for service members and veterans that can be even more valuable than the Yellow Ribbon program, said Hicks. Depending on the state, you may qualify for a tuition waiver even if you haven't served long enough to be eligible for the Yellow Ribbon program.
Make Your Money Work for You
Discover: 20 Jobs That Aren't Worth Their Education Requirements
Servicemembers may also be able to receive education payments from the Tuition Assistance program.
4. Scholarships From Military Aid Societies
Every branch of the service has a military aid society that provides grants and interest-free loans to help service members and their families cover unexpected expenses, and many of these aid societies also provide scholarships for service members and their spouses and children. For more information, see the Air Force Aid Society, Army Emergency Relief, Coast Guard Mutual Assistance and the Navy-Marine Corps Relief Society.
Did You Know: Where Jeff Bezos, Elon Musk and 49 Other CEOs Went To College
5. Tax-Advantaged College Savings in a 529 Plan
One of the best ways for any family to save for college is in a 529 plan. These accounts let you build tax-free savings for college tuition, room and board, fees, a computer and other education expenses (you can now use up to $10,000 per year for kindergarten through 12th grade tuition, too). You can generally contribute to any state's 529 plan and use the money at any eligible college in the U.S. and many foreign colleges, too. About two-thirds of the states offer state income tax deductions for contributing to their own state's plan, and a few offer a tax break for contributing to any state's 529 plan. See www.savingforcollege.com for details about each state's tax breaks.
More From GOBankingRates
Last updated: May 13, 2021