The Best $100 You Can Spend on Back-to-School Items, According To Parents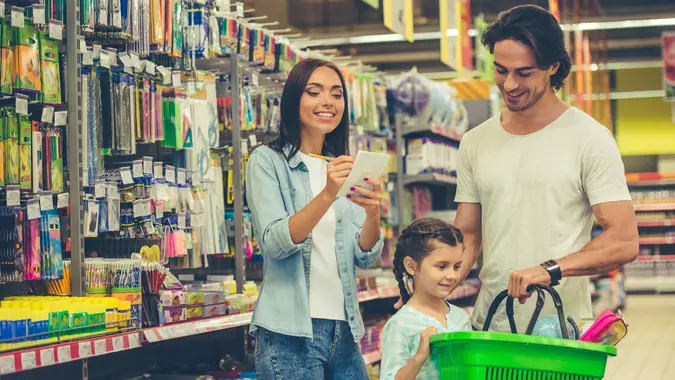 George Rudy / Shutterstock.com
Every dollar counts when you're shopping for back-to-school supplies, especially this year. A July 2023 study from Bread Financial revealed 9 in 10 back-to-school shoppers said inflation is impacting their spending plans.
As shoppers sharpen their skill sets for finding the best deals, they want to know the best ways to make $100 go the furthest. GOBankingRates spoke to Melissa Cid, consumer savings expert at MySavings.com and mom of two school-aged boys, for a parent's perspective on savvy ways to save money as you shop.
Here's the best $100 you can spend on back-to-school items, according to a parent.
Don't Scrimp on Quality
As much as shoppers may feel tempted to buy everything on the supply lists as cheap as possible, Cid said it's important not to scrimp on well-made supplies.
"We want bookbags, lunchboxes and folders which last all year long," said Cid. "While it may cost you a little more upfront, you can ensure that you won't need to replace these items halfway through the school year."
Head To Department Stores
If you're looking for high-quality backpacks and lunchboxes at affordable prices, Cid recommends visiting department stores to score these essentials for less.
"Macy's and Kohl's both have backpacks including brands like Adidas, Nike and JanSport for great prices and often have special promotions to earn store cash back on purchases," Cid said.
Make Your Money Work for You
Shop School Supplies at Target and Walmart
For all your school supply needs at low prices, Cid recommends shopping at Target and Walmart. 
Pick up supplies including paper, pencils, folders, crayons and more. Cid said shoppers who use the Target Circle Rewards program will also be able to find additional coupon discounts on supplies.
Shop Lunch Accessories at Dollar Tree
For just $1.25 each, Cid said parents can stock up on ice packs, plastic sandwich bags and storage containers for school lunches.
Shop Online for School Clothes and Shoes
"I shop online for clothes and shoes when stores have sales, plus the ability to use a coupon code," said Cid. "If I get store cash back from Macy's or Kohl's, even better!"
Utilize Coupons and Rebate Apps
While you shop, Cid recommends using both digital and print coupons to save on purchases like school lunches and snacks. Back-to-school shoppers may combine these coupons with store sales.
To take your savings even further, Cid said to utilize rebate apps like Ibotta and Fetch to earn cash back on your purchases.
More From GOBankingRates