20 Colleges That Have Changed Their Reopening Plans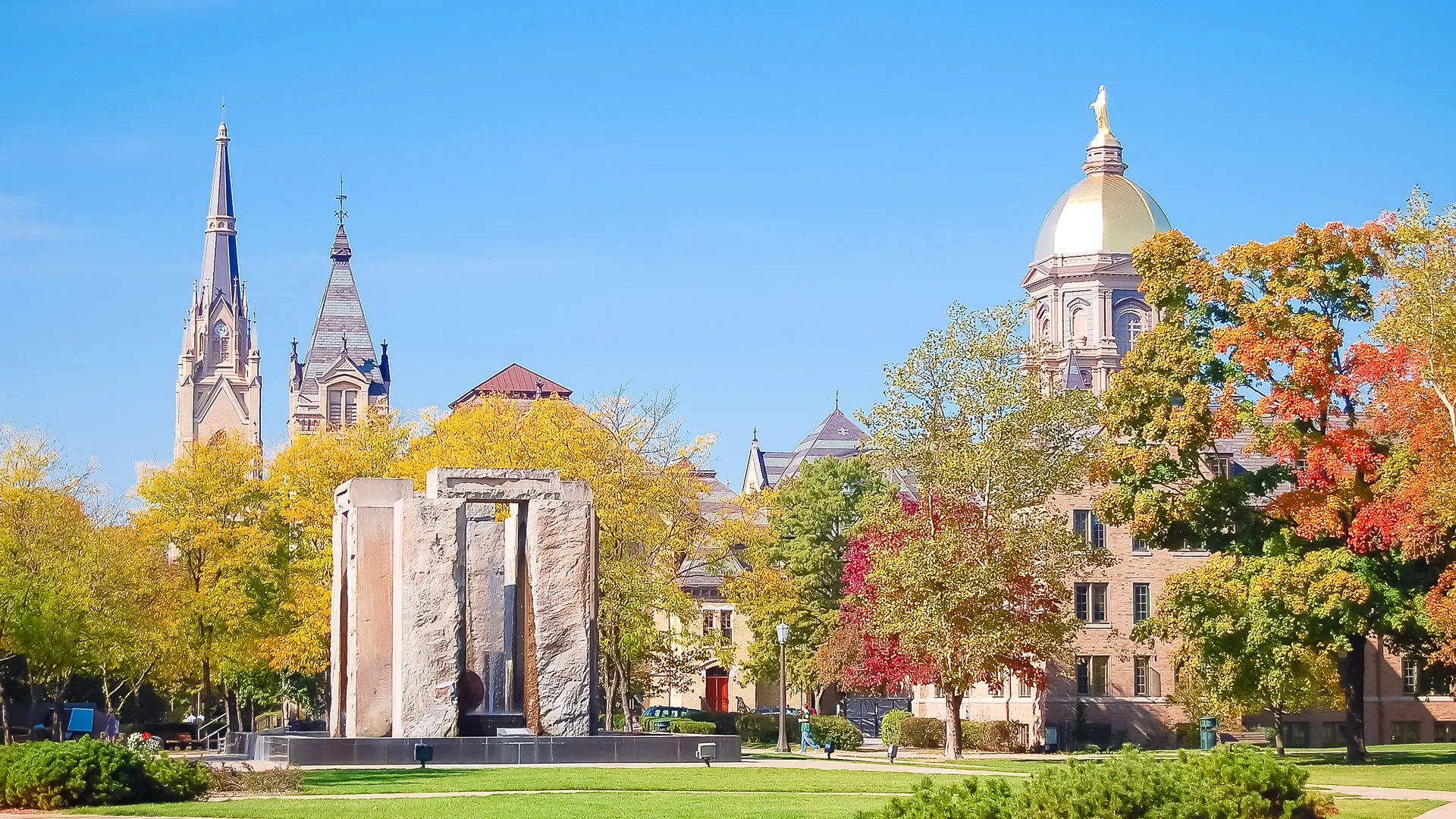 On Aug. 18, University of Notre Dame President Rev. John Jenkins announced that the school would be moving to online classes and closing public spaces for at least two weeks in an effort to curb the spread of the coronavirus on campus, the South Bend Tribune reported. The university had reported a total of 147 infections since the beginning of August. Notre Dame spokesman Paul Browne said that the increase in cases was due to a lack of cooperation from students in adhering to safety protocols, with many of the cases tracing back to an off-campus party where students did not wear masks or practice social distancing.
Notre Dame is just one of several colleges that have had to rethink their plans to open for in-person schooling due to coronavirus outbreaks, either on campus or in the greater area. Here are 19 other schools that have changed their reopening plans for the fall 2020 semester.
American University
2020-21 tuition: $24,259 for fall semester only
"Evolving health conditions and government requirements now compel us to adjust our plan and offer fall semester undergraduate and graduate courses online with no residential experience," American University officials announced in a July 30 letter to the university community. "This difficult decision is not what any of us hoped for, and we know you are as disappointed as we are."
The university is providing a 10% discount for fall tuition, waiving the Sports Center fee for the fall semester and reducing student activity fees.
Berklee College of Music
2020-21 tuition: $33,275 (includes reduced costs for the fall semester)
Berklee College of Music in Boston originally planned to offer hybrid instruction for the fall semester, but President Roger H. Brown later announced that the school would be going fully remote for the fall semester.
"When we look at the facts as they are unfolding across the country and abroad, we simply don't feel confident that it would be healthy and safe for our community to be on campus this fall," he said in a letter to members of the Berklee community.
Brown announced a number of cost-saving measures for the semester, including eliminating the 3.45% tuition increase planned for the year, waiving the comprehensive fee for students who enroll this fall, providing a one-time Back to Berklee Remote Learning Grant of $2,500 to all full-time degree students to help pay for equipment, instruments, software, technology or space rental and offering all full-time students two tuition-free credit-bearing courses to be taken in summer 2021.
"Taken together, these initiatives amount to an almost 60% savings for our students," Brown said.
Make Your Money Work for You
Brown University
In July, Brown announced a three-semester model for the 2020-21 school year with the hopes that all returning students could be on campus in the fall. Under this plan, first-year students would be returning in the spring and completing the academic year during the summer semester.
On Aug. 11, President Christina H. Paxson announced a change of plans with a phased reopening of the campus for all grades, with a limited number of students returning before Labor Day and the remainder of the students due to be on campus in the fall returning at the end of September. For those returning during the second phase, room and board fees will be prorated to account for the shorter time on campus. First-year students will still return in the spring.
"This staggered arrival of students over a longer time period will better position Brown to address challenges, including quarantine and isolation for any students who test positive for COVID-19," Paxson said in a letter to the Brown community. "This plan also is in keeping with the data-based and public health-based decision making that has driven our planning since the beginning of the pandemic."
Columbia University
Columbia University President Lee C. Bollinger announced on Aug. 14 that all undergraduate classes will be taught remotely in the fall.
"Though six weeks ago we thought that we could safely house 60% of Columbia College and Engineering undergraduates in our residence halls, today we have concluded that we must drastically scale back the number of students we can accommodate in residence on campus, thereby limiting residential-style living only to Columbia College and SEAS undergraduates who must be present on campus due to personal or academic circumstances," Bollinger said in the letter.
Georgetown University
2020-21 tuition: $57,384 for in-person instruction, $51,646 for remote instruction
In early July, Georgetown announced that it would be allowing approximately 2,000 undergraduate students — including members of the first-year class — to attend school in person at its main campus.
"We have revised this approach based on current pandemic conditions," the university later announced on its website. "We will not be able to bring to campus the members of the entering undergraduate class, the class of 2024, at this time. We will limit the density of our undergraduate residence halls by housing only students who have been approved through the Housing Stability Application process, students who have been invited to return to campus because of academic requirements and members of the incoming first-year class who are F1 visa holders."
Make Your Money Work for You
Goucher College
"Two months ago, when we began the process of planning for this fall, the public health data supported a decision to return to campus," Goucher College President Kent Devereaux stated in a July 31 letter to the school's community, announcing that the fall semester would take place entirely online.
"The number of new coronavirus cases and deaths in Maryland and surrounding states was declining, and the availability of testing was increasing each week. However, much has changed in the past month. At present, the public health metrics do not meet the pre-arrival criteria set by the Fall Reopening Task Force that might indicate a return to campus was not only possible but a viable and safe option."
Ithaca College
On Aug. 18, Ithaca College President Shirley M. Collado announced a revised plan for fall opening: "I am announcing today that Ithaca College will be extending remote instruction for students through the fall semester," she wrote in a letter to the school community. "This means that we will not be welcoming all students back to campus this fall as we had hoped. This was an agonizing decision that I made in consultation with the members of my senior leadership team, informed by the best thinking of so many members of our college community and data around the evolution of this pandemic."
Johns Hopkins University
2020-21 tuition: $54,160, including a 10% discount for the fall semester
On Aug. 6, Johns Hopkins University President Ronald J. Daniels announced in an email to the university community that all undergraduate classes will be offered online for the entire fall semester, The Johns Hopkins News-Letter reported. This marks a change from the plan announced in late June, which would offer hybrid classes for students who decided to return to campus.
The letter stated that tuition would be reduced by 10%.
Loyola University Maryland
"Our carefully researched and well-formulated plans to welcome students in person were predicated on a model that expected COVID-19 to die down over the summer," Loyola University President Rev. Brian F. Linnane wrote in a message to the school's community on Aug. 6. "That transition would have given us the opportunity to open the university as scheduled. Unfortunately, the data have proven that did not happen."
The letter announced that the school would only be offering online instruction for the fall semester.
Make Your Money Work for You
Michigan State University
2020-21 tuition: $25,046 for in-state students, $50,352 for out-of-state students
Michigan State University preemptively decided to have a fully virtual fall semester before students arrived back to the campus to prevent the spread of the coronavirus, NPR reported.
"Effective immediately, we are asking undergraduate students who planned to live in our residence halls this fall to stay home and continue their education with MSU remotely," the school tweeted on Aug. 18.
Mount Holyoke College
At the end of June, Mount Holyoke announced plans to bring around half of the school's enrolled students to campus, but in an Aug. 7 letter, President Sonya Stephens announced a change to that plan.
"We made the very difficult decision to not bring students back to campus this fall," Stephens wrote. "We concluded that the current path of COVID-19 in the United States, and its devastating consequences, present too great a risk to our reopening plan."
Princeton University
Princeton announced in an Aug. 7 letter from President Christopher L. Eisgruber that its undergraduate program would be fully remote for the fall semester.
"When I last communicated with you, just over a month ago, we anticipated welcoming undergraduates from the classes of 2022 and 2024 to campus in late August," Eisgruber said in the letter. "We noted at the time, however, that we would continue to monitor the course of the pandemic, and that we might have to change our plans if it worsened. In the weeks that followed, infection rates soared around much of the country, with nearly 2 million new cases reported over the last month."
Salem College
On Aug. 4, Salem College announced that it will not be offering residential education for fall 2020 and will operate remotely with online classes.
"The decision to pivot to full remote learning was made because of heightened concerns about the risks of exposure and transmission of the coronavirus in a residential school setting," the school stated in a news release.
Make Your Money Work for You
Smith College
"Given new scientific evidence, as well as recent and troubling trends nationally and in Massachusetts, I have come to the difficult conclusion that we should not bring students back to campus for the fall semester," Smith College President Kathleen McCartney announced in an Aug. 5 letter titled, "Announcing a Change to Our Fall 2020 Plan."
"Instead, to keep our campus and local community as safe as possible during this period of high risk, we will offer all courses in the fall semester, including those for graduate and post-bacc students, remotely."
Stanford University
In June, Stanford announced plans to invite first-year, sophomore and new transfer undergraduate students to be in residence on campus for the autumn quarter, but on Aug. 13, the university's president, Marc Tessier-Lavigne, announced a change in plans due to the spread of the coronavirus in California.
"We (…) are planning for almost all undergraduate instruction to be delivered remotely during the autumn quarter, with very limited in-person offerings," Tessier-Lavigne stated in a letter to the Stanford community. "We will continue to offer on-campus housing for those undergraduates who were previously approved to be in residence due to a special circumstance and who continue to wish to be on campus, despite the plan for mostly remote instruction."
University of Maryland
2020-21 tuition: $8,824 for in-state students, $34,936 for out-of-state students
The University of Maryland hasn't entirely scrapped plans to conduct the fall semester in person; instead, the school announced on Aug. 10 that the first two weeks of the semester would take place online and that in-person schooling would resume on Sept. 14.
"I know this two-week delay is disappointing, but it will permit us to phase in the resumption of on-campus activities and allow us to implement campus-wide virus testing," the university's president, Darryll J. Pines, said in a letter to the school community.
University of Massachusetts Amherst
2020-21 tuition: $16,439 for in-state students, $36,427 for out-of-state students
In an Aug. 6 letter, Chancellor Kumble R. Subbaswamy announced "significant changes" to the University of Massachusetts Amherst's fall reopening plan.
"The worsening conditions of the COVID-19 pandemic nationally have led us to make the difficult decision to significantly reduce our campus population for the fall," he wrote. "While we remain committed to our previously announced instructional plan, regrettably, we are reversing our previously announced offer to provide on-campus housing for students whose coursework is entirely remote."
Make Your Money Work for You
University of North Carolina-Chapel Hill
2020-21 tuition: $8,980 for in-state students, $36,159 for out-of-state students
UNC-Chapel Hill reopened its campus for the fall semester with residence halls at less than 60% capacity and classrooms at less than 30% capacity, but despite these precautions, two weeks after students returned to campus the coronavirus positivity rate rose from 2.8% to 13.6%, university leaders announced in an open letter on Aug. 17. The letter stated that the school would move to remote learning, effective Aug. 19. Students can cancel on-campus housing requests with no penalty.
University of Southern California
On Aug. 5, the University of Southern California announced that classes will resume in the fall with completely online instruction, with some limited exceptions for clinical education, CBS Los Angeles reported. The announcement is a change from what USC officials stated in July. The university originally planned to have most classes online with 10% to 20% of classes conducted in person.
More From GOBankingRates