My Dad's Veteran Status Got Me Out of Student Loan Debt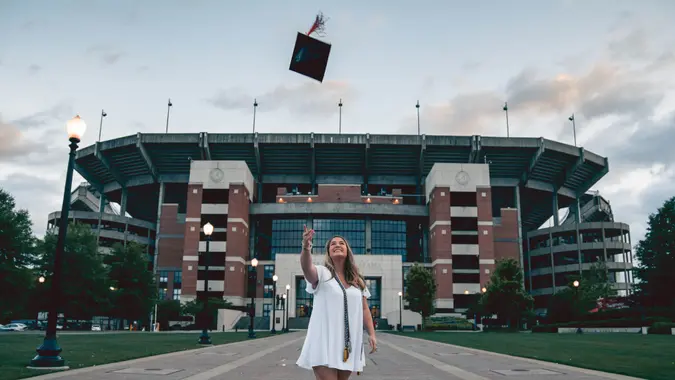 Jonathan Daniels / unsplash.com
Choosing a college has got to be one of the most defining moments in a young person's life. Many factors are taken into account: where you get in, what programs the school offers and–maybe most important of all–the cost. It costs more to go to school out of state, for example. Private schools can cost much more than public. But one thing that is for sure is that minimizing a lifetime of student loan debt is usually a pretty good goal to have.
For me, choosing a college was a little bit different. This is because my dad is a veteran. He fought as a cargo pilot in the Vietnam War. Through him, I've learned that there are tons of different veteran benefits, one of which was getting me out of paying for college.
Read More: Ideal Salary Needed to Afford College in Your State — Without Loans
Veteran and Service Member Benefits
In the state of California, there are these things called California Veteran Education Benefits. These are usually valid within a certain period of a veteran's service and extend to their spouses and dependents. However, these benefits can be extended to a lifetime, if the veteran has a service-related partial or total disability, death or medal of honor.
Make Your Money Work for You
Since my dad has a service-related disability (hearing loss), the California Veteran College Fee Waiver applied to me, his dependent, when I was ready to go off to college. It allowed me to have my tuition waived at any University of California, state or community college. So, when I was faced with the choice between a UC school or another school I had been accepted into, what do you think I did? Yeah, I'll take freedom from student loan debt, please.
More on Student Loan Debt: Average Student Loan Debt in Every State
Helping Me Chase My Dreams
You can call me lucky, or you can call it a fair exchange for what my dad went through during his years of service to this country. He spent his entire young life training in the Air Force, living on-base, doing intense jungle training, being on reserve and being shot at often while transporting cargo in Vietnam. I can't even begin to imagine what he went through. I am just fortunate enough to reap the benefits of his service — or to save him the money he might have spent on tuition for me otherwise.
Make Your Money Work for You
Being free from student loan debt has afforded me so many opportunities. I was able to save up during college to move abroad after graduation, start my adventure and festival travel blog, and chase my dreams without as much monetary fear, like many other people my age.
Related: I Wanted to See the World — So I Made Travel My Job
Explore Your College Payment Options
The moral of this story is that there are tons of ways to pay (or not pay) for school. There are so many different programs at different schools, scholarships for different majors and even service-related benefits you might not realize exist.
According to website TheBestColleges.org, for instance, if you're a talented bagpiper, you can get a scholarship to Carnegie Melon. If your name is "Zolp," congratulations–because you've just been accepted to Loyola University. Speak Klingon? Play marbles? Skateboard? Want to be a nudist, raise llamas, speak with the dead or plan for an impending zombie apocalypse? Well, there are scholarships out there for you.
If you're stressed out about student loans for yourself or your child, I implore you to look around at what is out there. I am so grateful to my dad for utilizing an option he had available. There are more opportunities out there than you think. Explore them all.
Make Your Money Work for You
Read More: 9 Creative Ways to Pay for College
More From Our Smart Money Squad: