10 Most Expensive College Towns in the US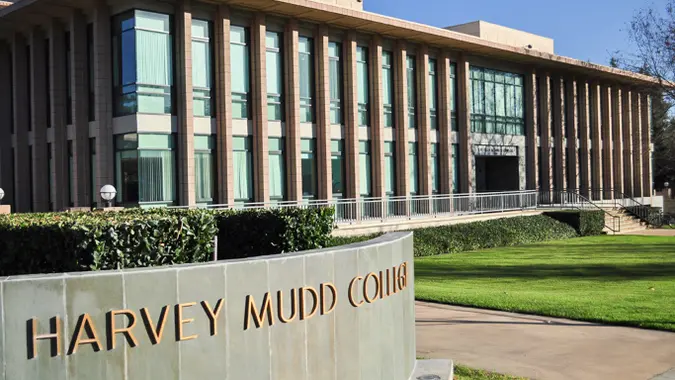 CampusGrotto / Flickr.com
As if higher education weren't expensive enough on its own, students in many college towns face steep costs this fall for rent, groceries, beer runs, late-night pizzas … you know, the basics.
GOBankingRates has checked out 70 of the most popular college towns across the nation and rounded up the 10 priciest. The findings are based on the Sperling's Best Places cost-of-living index, along with Zillow's average rent numbers for June of this year. We've blended those figures into an overall score to determine the rankings. (If you're curious about the 10 least expensive college towns, you'll find that list here.)
Seven of our 10 most expensive college towns are located in the western half of the U.S. That includes four spots in California, among them the list topper — a home to a UC school that's our grand pooh-bah of priciness. Two New Jersey college towns landed in the top 10.
Already feel like texting your parents for more money?
Read on for the full list. Just for fun, we'll throw in a college bar to check out in each city, where you can spend some of those relatively scarce dollars.
10. Flagstaff, Arizona
Situated about 7,000 miles above sea level, Flagstaff is home to Northern Arizona University, Coconino Community College and tiny Flagstaff College. The city's overall population in the 2020 census came in at about 145,000.
Make Your Money Work for You
College students may not find it particularly affordable, with housing costs 71% over the U.S. average, according to Sperling's Best Places. Groceries and utilities, however, are right around the national average.
9. Bozeman, Montana
Home to Montana State University, fast-growing Bozeman offers college students year-round outdoor activities, plenty of bars and a charming downtown. It does not offer them particularly affordable living. Housing costs are double the national average in this city of about 54,000.
8. New Brunswick, New Jersey
New Brunswick is a city with about 55,000 residents, located about 35 miles southwest of New York City. While it's no Manhattan in terms of living costs, it ain't cheap. Students attending Rutgers University will find housing costs significantly higher than national averages, though groceries and utilities are more in line with U.S. averages.
7. Davis, California
Located between San Francisco and Sacramento, Davis is a bicycle-loving town with a population of about 70,000. It's home to UC-Davis, one of the nation's top universities for agriculture, forestry and veterinary medicine. Living in Davis costs about 50% more than the U.S. average, with housing particularly expensive.
Make Your Money Work for You
6. Boulder, Colorado
Students at the University of Colorado can enjoy 300 days of sunshine a year, countless outdoor activities and top-notch nightlife. Trendy Boulder offers it all, but it can be an expensive place for the average college student. The city's cost of living is 67.6% higher than the national average.
Housing is pricey and grocery costs top the national average by about 6%. Students may get a relative break on utilities and transportation costs, though, with both coming in below the average.
5. San Luis Obispo, California
Home to California Polytechnic State University (better known as Cal Poly) and Cuesta College, San Luis Obispo can be found along California's central coast. Cal Poly is located just north of the city's Foothill Neighborhood, along Highway 101. Groceries, healthcare costs and miscellaneous expenses top national averages, and housing scores a whopping 282.9 on the cost-of-living index.
4. Princeton, New Jersey
You might have expected to find an Ivy League college town on the list. Princeton is one of two that made it. In addition to the eponymous university, the borough is home to multiple other educational institutions.
Like Ivy League schools, the borough of Princeton is an expensive place. Average rents top $3,000 and groceries, utilities and miscellaneous expenses are all well above the national average.
3. Claremont, California
This Los Angeles suburb is home base for the Claremont colleges, a consortium of seven private, liberal arts schools. College students may enjoy Claremont's small-town charm, but it comes at a high cost.
Make Your Money Work for You
In addition to average rents in excess of $3,300 a month, college students in Claremont will pay significantly more for groceries, gas, dining out and other expenses, according to Sperling's Best Places.
2. Cambridge, Massachusetts
One of the ultimate college towns — especially if you factor in nearby college-rich Boston — Cambridge boasts Harvard University, Massachusetts Institute of Technology, Hult International Business School, Lesley University, Longy School of Music of Bard College, and the Cambridge School of the Culinary Arts.
A lot of very smart people live in Cambridge, and they pay a lot of money to do so. Compared to the national average, cost of living in Cambridge include 321.4 for housing, 115.5 for groceries, 117.8 for utilities and 176.7 for miscellaneous expenses.
1. Berkeley, California
This Northern California city of about 125,000 is home to the University of California, Berkeley, as well as the Graduate Theological Union. Of all the expensive college towns out there, this one tops our list.
Though some lower-cost rent options do exist, average rents still top $3,000 — part of Berkeley's 521 cost-of-living score for housing. Groceries and healthcare costs soar past national averages. And if you're planning to stick around after college, the median cost of a home tops $1.3 million.
Methodology: For this piece, GOBankingRates looked at 70 of the most popular college towns in the United States and found the following factors for each town: (1) 2023 average rent as sourced from Zillow's June 2023 data and (2) overall cost of living index as sourced from Sperling's Best Places. Both factors were then scored and combined, with the highest score being the most expensive. All data was collected on and is up to date as of July 31, 2023.
Make Your Money Work for You
More From GOBankingRates