Here's Where More Than Half of Americans Get Their School Supplies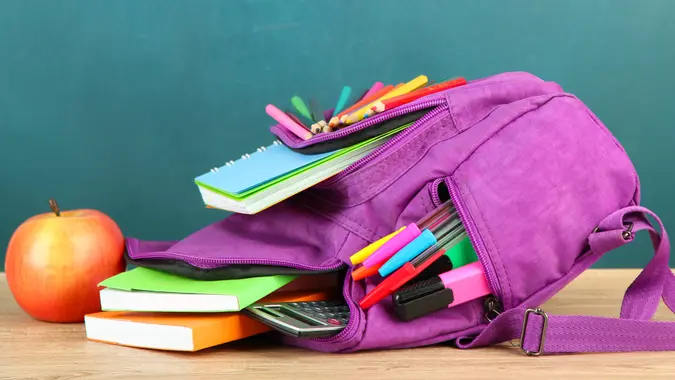 serezniy / Getty Images/iStockphoto
With inflation on the rise and back-to-school shopping in full swing, the question on every shopper's mind this fall is where to shop for supplies in order to enjoy the most savings.
Save More: Back-to-School Tips To Help You Cut Costs
Find Out: This Credit Score Mistake Could Be Costing Millions of Americans
To answer this question, GOBankingRates conducted a survey to gain insight into where students, teachers and parents are shopping this season, how much they are planning to spend and how inflation is affecting their purchases. Read on to discover survey findings, as well as the best savings hacks to take advantage of when back-to-school shopping.
Survey Results: Over 50% of Back-to-School Shoppers Are Shopping at Walmart
You heard it here first: Walmart — the world's largest retailer — is also the most popular spot for back-to-school shopping. Our survey of over 1,000 Americans found that 52% of back-to-school shoppers this year are shopping here for the supplies they need. While Walmart was the most popular back-to-school shopping destination by a landslide, Target took second place, with 22% of Americans choosing to do their school shopping at this retailer.
Make Your Money Work for You
In light of Walmart being the most popular school supply destination, let's take a look at the best ways to save when shopping at this store.
Live Richer Podcast: Parenting Hacks: Ways To Score Cheap School Supplies This School Year
How To Save on School Supplies at Walmart
With inflation hitting Americans hard this back-to-school season, shoppers are looking for new ways to cut back on spending. In order to counteract higher prices, over 34% of back-to-school shoppers are looking for sales and coupons, according to our survey. Additionally, over 30% are looking for cheaper alternatives to name-brand school supplies.
There are a number of ways to find sales and cheaper alternatives at Walmart in order to cut costs. Here are a few you might want to consider in order to get the most bang for your buck when shopping at this store.
Buy Walmart's Private-Label Brands
One of the easiest ways to save is by buying Walmart's private-label items instead of name-brand products. When buying school and office supplies, be sure to look out for Pen + Gear products. This brand features items such as pens, pencils, notebooks, organizers and paper products.
Make Your Money Work for You
You can save quite a bit by buying private-label products. For example, a 12-pack of Ticonderoga wood pencils costs $2.99 while a 12-pack pack of Pen + Gear No. 2 Wood Pencils costs 47 cents at Walmart.
Take Advantage of Free Shipping
Walmart's school supplies section can get pretty crowded and picked over during the months of August and September. If you're looking to avoid the rush and see more supply options, be sure to take advantage of Walmart's free two-day shipping on orders over $35. If you are looking to save as much money as possible while buying all the supplies you need, shopping online is a great way to go.
Remember: Low Prices Don't Always Indicate High Quality
Walmart features notoriously low prices on its products; however, sometimes those low prices signify a low-quality product. Be sure to make thoughtful purchases when buying school supplies and opt for a more expensive option on select items in order to avoid continually replacing broken products and losing money in the long run.
Make Your Money Work for You
Stick to the Basics When Shopping at Walmart
We all know that Walmart has an incredible array of affordable back-to-school options for students. In order to avoid items breaking and having to make additional purchases, prioritize buying low-cost, high-quality essentials from Walmart.
For example, items such as glue sticks, pencils, binders and folders have fantastic price points at this retailer. Don't forget to also shop Walmart's private label, Great Value, for general classroom supplies including cleaning wipes, tissues and paper towels.
Buy Backpacks and Notebooks From Target and Other Retailers
There are some back-to-school items that you might be better off purchasing from Target or other retailers.
For example, Target typically sells high-quality notebooks with a high page count and perforated sheets that allow for a clean removal when students need to turn in assignments. Additionally, check out Target's backpack selection before settling on a backpack from Walmart. Target's backpacks tend to be more durable and long-lasting.
More From GOBankingRates
Methodology: GOBankingRates surveyed 1,004 Americans aged 18 and older from across the country between July 21 and July 24, 2022, asking five different questions: (1) How much do you expect to spend on back-to-school supplies/items this year (for yourself or others)?; (2) How has inflation affected your back-to-school shopping?; (3) How are you shopping differently to spend less on back-to-school supplies this year?; (4) Where are you shopping for back-to-school supplies this year?; and (5) Has the current rise in prices and cost of living affected your college plans for you or your family? GOBankingRates used PureSpectrum's survey platform to conduct the poll.
Make Your Money Work for You