I Hounded My Kids to Apply for Scholarships — Why You Should Too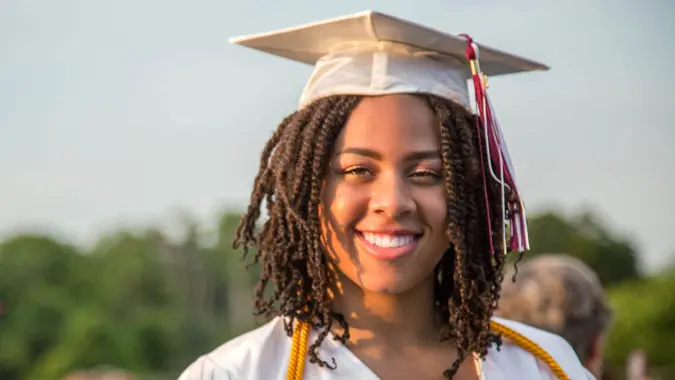 @SBphoto / Twenty20.com
When my kids were planning for college, I struggled to get them to apply for scholarships. I sat on scholarship committees, so I thought it was a no-brainer that they would listen to me but — nope. It was like pulling teeth and often ended in frustration for both of us.
One day, at a parent college information session, a father raised his hand. He said that he had the same challenge with his child. It was good to know I wasn't alone. It turns out, a lot of parents struggle with getting their children to apply for college scholarships. It seems students just don't see the benefit of applying for anything that isn't guaranteed. Of course, their schedules are often packed with after-school sports, activities and jobs, so they also don't have or won't make the time.
Read More: My Dad's Veteran Status Got Me Out of Student Loan Debt
So, why do I insist that you suffer through all of the attitude and tears from your teen? Well, because it will save you a ton of money. According to a 2017 College Board report, the cost of college (specifically public, four-year institutions) over the course of the last decade has increased at an average rate of 3 percent per year beyond inflation and shows no sign of stopping. It's important that your students chip in with some free money.
Though it was a battle, what I did with my children was a modification of what I did to get scholarships for my own education. Follow these steps and start as early as possible. You might be surprised to find that some scholarships are available starting in junior high.
Make Your Money Work for You
It's a Part-Time Job
There really is no way to sugarcoat this: You can't apply for five scholarships and hope for the best. Scholarship hunting is a part-time job. With my kids, I mapped out which days during the week they could commit to at least two hours a day of searching and applying. We often had to utilize the weekends.
I helped them create a scholarship schedule which was just a spreadsheet of each one they qualified for, the corresponding website, a description of the requirements, the deadline and the day they submitted the essay or application. There was no recreation until their commitment had been fulfilled. You can bend a little, sure, but each time you think about doing that, think about that tuition bill. You may be motivated to stay on top of it.
Related: 9 Creative Ways to Pay for College
Essay-Writing Skills
What hurts most students when it comes to scholarship applications (and SAT/ACT) is their struggle with writing. It's important that students master this art in order to win scholarships. I entered my children in essay-writing classes outside of their schools. I also had them proofread every one and get someone else to do it, as well. Kids often want to whip up a quick essay and press send, but I can attest that those essays will not be considered.
Don't Look for the Easy Route
Most scholarships ask for an essay, video, art project or science submission. They might also require applicants to read a book and write an essay about it. If all they asked us for was an email, we did not apply. This is because they are just going to spam you with emails you don't want. I don't think anyone ever wins those "scholarships." It's too easy. Put the work in, do the research and turn in a rockin' submission.
Make Your Money Work for You
Here's another tip: Many believe that the smaller scholarships don't matter and only go for the ones that are full ride or at least cover the cost of tuition. This is a big mistake. Five $1,000 scholarships go a long way. My kids also went for the $500 scholarships. Every dollar counts.
More on Paying for School: Ideal Salary Needed to Afford College in Your State — Without Loans
Be Encouraging
Despite the arguments and sulking, your student really does want to win money for school. But it's definitely hard work and it can be discouraging when they never hear back or get a rejection letter. It's your job as a parent to keep reminding them to stick it out and do their best. Every "no" gets you closer to your "yes."
If your child doesn't qualify for academic scholarships, there are many others out there based on activities, volunteer work and other criteria. It doesn't matter which ones they're going for. At the end of the day, as long as they know they put forth the effort, both of you can feel satisfied.
Read More: Paying for College — How to Include Your Child in the Process
More From Our Smart Money Squad: